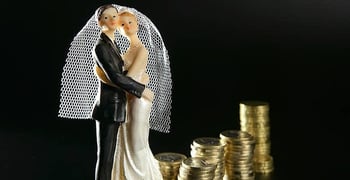 BadCredit.org publishes personal finance studies on the latest trends in the subprime marketplace. Our articles follow strict
editorial guidelines
.
A joint bank account might not seem like the most romantic thing in the world, but it is often the sign of a strong and loving relationship.
A new study found unmarried couples with a joint bank account are generally more committed to the long-term future of their relationship.
This study was run by researchers at the University of Iowa, who polled 900 unmarried men and women about their relationship and finances.
They asked participants about whether they thought their relationship would be long term, to rate how committed they were to the relationship, whether they had set plans to get married and whether they shared a bank account with their partner.
"Couples without a joint bank

account rated their relationship lower."
The results were equal whether or not the couple had set a date for marriage.
Couples without a joint bank account rated their relationship as lower quality, even if they had set plans to get married in the future.
Psychologist Dr. Sheila Keegan said if a couple is willing to share their finances, it shows they trust each other and have more faith in their future together.
Keeping only separate accounts shows uncertainty and a lack of trust.
If you are serious about your relationship and want to take things to the next level, perhaps you should go looking for a new bank account before the engagement ring.
Source: University of Iowa. Photo source: groomsadvice.com.