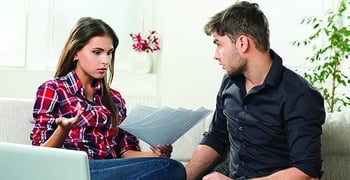 Experts share their tips and advice on BadCredit.org, with the goal of helping subprime consumers. Our articles follow strict
editorial guidelines
.
If you have come to the point in a relationship where the two of you are discussing opening a joint account together, there are some things you should consider.
First, having a joint account can be a terrific way to handle household expenses, share resources and responsibilities and begin building a financial life with your partner.
It is also a way to exhibit trust and create an open dialogue around money, which are all good things.
However, if one partner in the relationship is less financially responsible than the other, it can also lead to a credit nightmare for an unsuspecting partner.
A couple I encountered a few years ago:
Leslie and David* were in a committed relationship and had been living together for about six months when they began discussing opening a joint credit card account.
They had been managing their own finances before that and had been contributing to the monthly expenses of their rented condo.
It seemed like a logical thing to do, so they opened a joint checking account for bills and incidentals.
"One way to ensure a strong relationship is

to build a strong financial foundation."
Everything seemed fine until…
Leslie noticed there were overdrawn checks on their account. After a visit to the bank, Leslie learned David had not recorded some checks in the register.
He agreed to be better about it, and Leslie assumed it was a simple mistake. However, soon she began noticing charges to their credit card that were not related to living expenses.
Confronting David again made her uncomfortable, so she decided to wait and see how he handled the situation. However, soon their joint credit card account had a balance in the thousands.
David, who had been responsible for making the payments, was unable to keep up. He had been making the minimum payment for months and had accrued late fees.
When I heard their story, I asked David if he had problems with a credit card in the past. He told me this was his first credit card.
He had been too embarrassed to tell Leslie this, even when he got into trouble.
The unfortunate result:
Both David and Leslie ended up taking a hit to their credit scores. Unfortunately, Leslie suffered more, as her credit had been nearly excellent prior to that.
They had also planned on buying a property together, but now their scores prevented this from happening. David learned he had to do things differently, and he agreed to take credit counseling classes.
David and Leslie also learned assuming their credit history was similar had been a mistake.
I like to share this lesson to couples who are considering getting a joint account. I encourage them to have an in-depth discussion of their credit history.
It is worth a little discomfort or even embarrassment initially in order to avert a credit disaster in the future.
One way to ensure a strong relationship is to begin by building a strong financial foundation.
*Names were changed to protect identities. Photo source: Benzinga