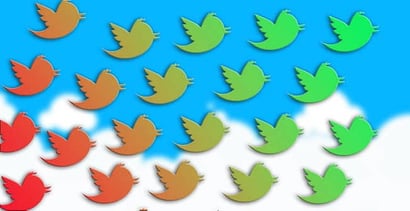 Social media has come a long way since the early days of Facebook and Myspace. What started out as a virtual social playground for (mostly) millennials has turned into the most efficient personal information aggregator in the history of mankind.
While it may be news to some consumers, many lenders and credit scoring agencies have started taking into account your behavior on social media networks when assessing your creditworthiness.
Researchers from the University of Pennsylvania and Boston University explore how individuals are beginning to manipulate their social network interactions in an effort to improve their scores in a new paper, "Credit Scoring with Social Network Data."
In a nutshell, the researches found, "the accuracy of network based scores is dependent mostly on information from the direct ties, i.e., the assessed consumers' ego-network," the paper reads. "This implies that credit-scoring firms can assess an individual's creditworthiness efficiently using data from a subset of the overall network."
In other words, birds of a feather flock together — a majority of a person's social network will consists of other individuals with similar credit scores.
I spoke with Pinar Yildirim, Assistant Professor of Marketing at the Wharton School of the University of Pennsylvania, to learn more about the changing dynamic between social network users and the companies that analyze them.
A brief overview of social network credit scoring
The big three credit reporting bureaus — TransUnion, Equifax and Experian — have never been entirely transparent when it comes to exactly how they evaluate a FICO credit score for a given consumer, but there have been hints as early as 2010 (and possibly earlier) that agencies have started gleaning data from social networks for credit risk assessments.
"There could come a time where certain social media could be predictive and we're looking at that," FICO spokesperson Anthony Sprauve told the Wall Street Journal in January. "But it isn't yet."
While social networking credit scoring is possible in the U.S., it's been a "sensitive" issue, Yildirim said, because such practices tiptoe a legal gray area with respects to discrimination and stipulations laid out in the Fair Credit Reporting Act of 1970.
Using social network scoring in developing nations
However, social network data has been instrumental in helping lenders in developing countries asses the credit risk of their would-be borrowers.
"Because these countries have very little infrastructure when it comes to having data on individuals… there's no such thing as credit history," Yildirim said. "For most countries, unfortunately the Internet revolution has not happened… There's not enough resources for a bank to collect enough information."
"For most countries, unfortunately the internet revolution has not happened… There's not enough resources for a bank to collect enough information."
But people in underbanked areas do have access to one important piece of technology — social media, typically by way of special smartphone packages. For example, Facebook provides mobile phone data plans in Thailand that allow users to just access Facebook, Yildirim said.
Lenddo, for example, provides credit assessment services in countries like Mexico, Colombia and the Philippines that relies in large part on social network information borrowers provide.
"We looked at the success microfinance was having in these communities and felt we could duplicate that with online social networks," said Lenddo CEO Jeff Stewart. "The more we learned about social dynamics, the more confident we became… A retired banker told us what we were doing was how lending worked for hundreds and hundreds of years prior to credit bureaus."
Since companies like Lenddo, Kiva and Kreditech started appearing on the scene, citizens of these underbanked communities have used this 21st-century approach to fund their education, pay for health care and launch their own small businesses.
How social fragmentation changes a borrower's credit score
"Once you release your information… The company analyzes the data from multiple perspectives," Yildirim said. "For example, if there's somebody in my network who I never communicate with, they're going to have less weight. If there's somebody I communicate with very frequently, that's somebody they can make further predictions from."
So if you make friends only with people who have better credit scores than you, then you'll be a better credit risk in the eyes of lenders, right?
Possibly. According to the paper, credit scoring accuracy becomes "ambiguous" when users start to fragment their networks this way.
"On the one hand, scores may more accurately reflect borrowers' risk as each agent will be located in a more homogeneous ego-network," the paper reads. "On the other hand, scores may become less accurate because smaller ego-networks provide fewer data points and hence less information on each person."
However, Stewart warns manipulating your network solely by adding and removing friends to get a better credit score "doesn't really work."
"We're not looking at who your friends are — we're looking at how you're connected with them," he said. "Just merely being connected to someone is not going to help you much."
"We're not looking at who your friends are — we're looking at how you're connected with them… Just merely being connected to someone is not going to help you much."
Repercussions of social fragmentation
When people begin to change their social networks to seem more creditworthy, interesting things begin to happen.
"Formation of networks in order to attain a high credit score can be an indirect way of discrimination because some individuals are systematically excluded from others' networks," the paper reads. Also, "individuals may observe each other's effort to improve score and discriminate based on personal effort."
And being too picky with your contacts can backfire — "Extreme selectivity leads to a smaller number of ties and so reveals the true low type [a person of a low credit score] of a borrower, reducing his chances of a favorable credit assessment."
"Extreme selectivity leads to a smaller number of ties and so reveals the true low type of a borrower, reducing his chances of a favorable credit assessment."
At the other end of the spectrum, users with low credit scores who don't make an effort to improve their score may face "disengagement" by his or her peers who would rather not be associated with someone who has a low score.
"These people are going to face more difficulty and will have to reveal their information more selectively to the credit providing institutions," Yildirim said. "These companies are perfectly aware… there might be some good people, purely because of their context, who are being denied credit."
Conclusion
While FICO scores remain the most popular way to assess credit risk in the United States, social network scoring is being used to provide underbanked communities access to capital they wouldn't otherwise have.
While lenders in those communities have trouble judging credit risk due to a lack of infrastructure, a crowd-sourced approach to lending may prove to be a healthy and practical alternative.
"Group lending has proven to be a popular way to address this problem," the paper reads. "An alternative and possible complement is to use additional available data to assess individuals' creditworthiness. Using social data is one such option."
Perhaps this idea is best summarized by a proverb featured in the paper — "noscitur ex sociis," or in English, "you are known by the company you keep."
Advertiser Disclosure
BadCredit.org is a free online resource that offers valuable content and comparison services to users. To keep this resource 100% free for users, we receive advertising compensation from the financial products listed on this page. Along with key review factors, this compensation may impact how and where products appear on the page (including, for example, the order in which they appear). BadCredit.org does not include listings for all financial products.
Our Editorial Review Policy
Our site is committed to publishing independent, accurate content guided by strict editorial guidelines. Before articles and reviews are published on our site, they undergo a thorough review process performed by a team of independent editors and subject-matter experts to ensure the content's accuracy, timeliness, and impartiality. Our editorial team is separate and independent of our site's advertisers, and the opinions they express on our site are their own. To read more about our team members and their editorial backgrounds, please visit our site's About page.