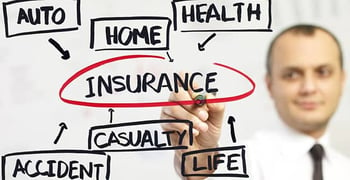 Experts share their tips and advice on BadCredit.org, with the goal of helping subprime consumers. Our articles follow strict
editorial guidelines
.
Did you know having a poor credit score can affect how much you pay for car insurance? It may seem strange, but it's true.
Almost all of the major auto insurance companies use the credit score of new policy holders as one of the factors for determining your insurance premium. And the better your credit score, the lower your insurance rates are likely to be.
According to the Insurance Information Institute, a trade group for the insurance industry, a person with bad credit can expect to pay 20 to 50 percent more for a policy than a person with good credit.
After all, your credit score isn't a measure of how much money you have but how responsible you are. It's also a good idea to know your credit score if you don't already.
Insurance companies figure the more responsible a person is about paying off their debts, the more responsible they're likely to be when behind the wheel.
Statistics seem to prove the point
A study conducted by a consumer protection group found drivers in the lower credit score brackets filed 40 percent more claims than those drivers with the highest credit scores.
But it isn't just car insurance you need to worry about. Your credit score can also impact how much you pay for homeowners or renters insurance.
Again, it's a matter of risk assessment. The National Association of Insurance Commissioners, or NAIC, says similar insurance claim rates exist for policies on personal property as for those on vehicles.
"Your credit score impacts how much you

pay for homeowners or renters insurance."
What's the method insurers use to check credit history?
The company that developed the three-digit credit scoring system, Fair Isaac and Company (FICO), has also developed a credit-based insurance score.
Now insurers can use a score that relies on credit history, but it also takes into account other factors when determining the risk of a person they are insuring.
These other factors include the type of credit a person has, their payment patterns and the total amount of available credit.
It goes without saying your credit score is important, but many people don't realize just how important it is. Having a bad credit score can cost you money in ways you don't even see.
The good thing is you have the ability to raise your credit score by following a few simple steps. If your credit is in need of serious help, consider contacting a credit repair firm.
Photo source: claudereynoldsinsurance.com.