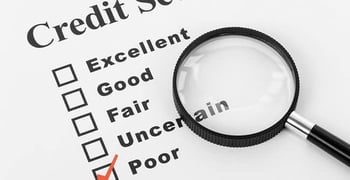 BadCredit.org publishes personal finance studies on the latest trends in the subprime marketplace. Our articles follow strict
editorial guidelines
.
A recent study shows one-third of all Americans are suffering the consequences of having a low credit score.
Lenders are reportedly tightening their belts and requiring a minimum credit score of 620 and significantly higher down payments for mortgages.
Zillow.com has shown one-third of Americans have lower credit scores and are being denied when applying for a loan.
The study analyzed data from 25,000 purchase requests and mortgage quotes during the first half of September.
"One-third of Americans have lower credit scores

and are being denied when applying for a loan."
However, what the data does not account for is any information that may be missing from applications provided by those who aren't quite ready to buy a home and are simply seeing what options might be available.
The good news is interest rates are at an all time low, and most Americans are able to take advantage of them.
Nearly half of the applicants had a credit score above 720 and qualified for 4.3 percent interest — the lowest interest rate currently available.
But many who have taken no financial missteps are still feeling the burden of bad credit. Debt-to-credit ratios are out of whack for many, thanks to the high dollar value of their mortgage when compared to the decreased value of their home.
Others have been unable to make their mortgage payments as they struggle to find work in a struggling economy.
The silver lining to this cloud of financial gloom and doom is lending standards are tighter than they have ever been before.
As lenders work their way out of the financial mess they've caused for themselves and the market stabilizes, things will return to normal and experts predict this could happen in as few as five years.
Source: Zillow.com. Photo source: goodcreditbadcredit.com.