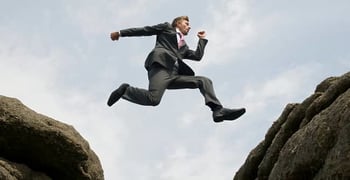 BadCredit.org publishes personal finance studies on the latest trends in the subprime marketplace. Our articles follow strict
editorial guidelines
.
According to a recent study conducted by a group of Cambridge researchers, the credit crisis of 2008 and beyond may have been made worse by bankers not taking enough risks.
While that conclusion may seem to run counter to reports we've heard since the crisis began, this study actually measured stress levels in real time and applied them to market conditions.
Researchers at Cambridge Judge Business School and Cambridge University's Institute of Metabolic Science measured levels of the stress hormone cortisol and found when volatility rose during the credit crisis, so did levels of cortisol.
According to researchers, this increase in cortisol caused a decrease in the levels of risk-taking by bankers at a time when more was needed.
"High levels of cortisol leads

to less risk-taking activities."
The Cambridge study involved cortisol levels in volunteers being raised over an eight-day period while researchers administered lottery-style challenges to them.
Higher levels of cortisol resulted in far less risk tolerance among participants.
It seems chronically high and sustained levels of cortisol leads to less risk-taking activities and is a potential factor contributing to the market meltdown.
John Coates, a leader of the study, said, "Any trader knows that their body is taken on a roller coaster ride by the markets. What we haven't known until this study was that these physiological changes – the subclinical levels of stress of which we are only dimly aware – are actually altering our ability to take risk."
While it's unclear how long or how stressful market turmoil must be in order to raise cortisol levels, it is expected some level of increase will occur.
If high cortisol levels are sustained, it can lead to panic, anxiety and fear – again.
Source: cambridge-news.co.uk. Photo source: alidavies.com