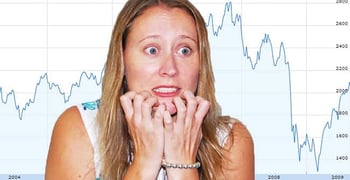 BadCredit.org publishes personal finance studies on the latest trends in the subprime marketplace. Our articles follow strict
editorial guidelines
.
The financial crisis and subsequent Great Recession of 2008 appears to shaping the long-term savings strategies of the nation's youngest Americans, according to the 2014 Wells Fargo Millennial Study.
Looking at a group of more than 1,600 men and women between the ages of 22 and 33, the study discovered a surprisingly conservative financial outlook in millennials: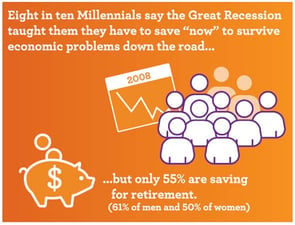 Although more millennials appear to be saving, 42 percent say student loans and credit card debt are their biggest financial concerns.
The study also shows a gap between both the earnings and savings rates of millennial men and women, with the median income of male households at $77,000 versus $56,000 for women.
This is likely a major reason why 61 percent of men and 50 percent of women report actively saving.
The study broke down the saving habits of millennials who have already started saving into the following pie chart:
Other findings of the study include:
More than half of millennials surveyed (56 percent) say they are living "paycheck to paycheck."


…
As a percentage of their income, 26 percent of men report putting more than 10 percent annually toward savings compared with only 9 percent of women saving that amount.


…
Of the 40 percent of millennials who don't save, 84 percent of them say they "don't make enough money to save."


…
While 75 percent of millennials say they're confident they will save enough to meet their retirement needs, 40 percent say they have no idea what that amount will be.

…
So what did millennials and baby boomers learn from the recession?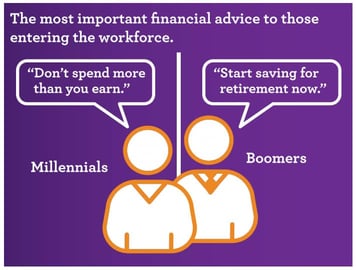 According to Karen Wimbish, director of retail retirement at Wells Fargo, "The silver lining of the recession is that a majority of millennials understand saving is a necessity and even equate it with 'surviving' tough times."
---
Photo credits: sarahsomewhere.com, wellsfargo.com