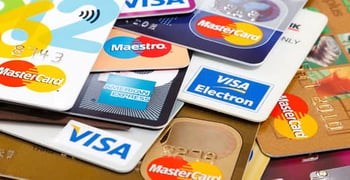 BadCredit.org publishes personal finance studies on the latest trends in the subprime marketplace. Our articles follow strict
editorial guidelines
.
A recent credit card debt study shows U.S. consumers continue to pay off credit card debt at a rate of $32.5 billion in the first quarter of 2014, which is great news.
Unfortunately that is just a 1 percent decline when compared with Q1 of 2013. This means the rate at which we're paying off our debt is noticeably slowing.
The study projected that 2014 will end with a net increase in credit card debt of nearly $42 billion – an increase of 8 percent over last year and 14 percent higher than 2012.
Perhaps the lessons of the Great Recession are wearing off, people are simply getting tired of being frugal or they have more financial confidence to continue carrying debt.
Net Result of Consumer Credit Card Debt Q1 2009 — Q1 2014*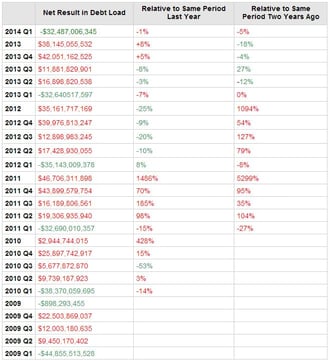 *Net Result in Debt Load – Green indicates consumers decreased their debt relative to the previous quarter. Red indicates they increased their debt relative to the previous quarter.
Relative to Same Period – Green indicates consumers either paid down more debt or accumulated less debt than they did in the previous two years. Red indicates they either paid down less debt or accumulated more debt than they did in the same quarter in the previous two years.
---
Prior to the financial meltdown, Americans held a record amount of consumer debt – around $12.68 trillion at its peak in 2008. From 2009 through 2011, however, they paid down debt at a record level.
Now those pay-downs seem to be leveling off, and debt loads are increasing once again.
Rounding out the study was another factor that may indicate the return of bad habits. Charge-offs and defaults among consumers seem to have bottomed at a rate of 3.32 percent, down just .3 percent from 2013, and may soon begin to rise.
Total charge-offs are expected to come in at $30.53 billion for all of 2014. This could lead to a significant credit crunch, according to the study.
Consumer Credit Card Debt and Charge-off Data (in Billions)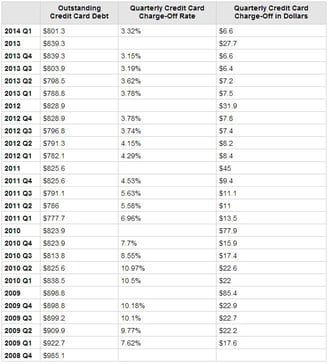 The Great Recession hit most Americans pretty hard. We're still recovering and getting back the household net worth we had six years ago.
But if there's a silver lining to the near disaster we experienced, it's that we're more aware of our debt and spending habits than we were before.
---
Photo, table credits: Parade.com