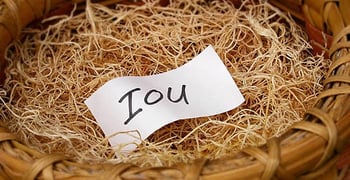 BadCredit.org publishes personal finance studies on the latest trends in the subprime marketplace. Our articles follow strict
editorial guidelines
.
Many Americans are still in a tough spot financially. According to a recent survey, about one in four Americans has more credit card debt than savings.
More than a thousand adults around the country were asked which was greater: their current credit card debt or the amount of money they had in savings.
Twenty-four percent of respondents said they had more debt, 55 percent said they had more savings, 16 percent had no credit card debt or savings and the remaining 5 percent didn't know or refused to answer.
The study also found men were more likely to have more savings than women, families with young children had more debt than families without young children and those making more than $75,000 a year had more savings than those making less than $30,000.
"Twenty-four percent of respondents

had more debt than savings."
Greg McBride, a financial analyst from Bankrate.com, believes the bad economy has contributed to these problems. Since many workers are struggling to find jobs and wages are stagnant, they are having trouble paying off debt.
The good news is these results are about the same as surveys from 2011 and 2012. American debt problems aren't getting worse.
However, they aren't getting better either. Only 14 percent of respondents felt their savings was in better shape than a year ago, whereas nearly 40 percent feel they are in worse shape than a year ago.
McBride isn't sure whether the situation will improve once the economy gets stronger. He worries as workers get more money, they might just spend more rather than paying down their debt.
Source: LifeInc.Today.com. Photo source: Investopedia