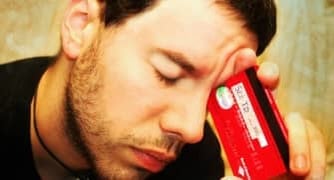 BadCredit.org publishes personal finance studies on the latest trends in the subprime marketplace. Our articles follow strict
editorial guidelines
.
American consumers are still addicted to credit, buried in debt and embarrassed about it, according to recent data published by the U.S. Federal Reserve.
Although the amount has dropped slightly since the Great Recession highs, our total credit card debt still amounts to $850 billion. Total consumer debt rose to a massive $3.13 trillion overall.
More embarrassing than weight
Of the things Americans list as the most embarrassing, credit card debt is near the top. According to the National Foundation for Credit Counseling, credit card debt was more embarrassing to the average American than weight, bank account balance and age.
With the average household carrying more than $7,000 in credit card debt, we're in a financial danger zone. A recent Gallup Personal Finance poll showed as many as 40 percent of us are concerned we will not be able to pay off our current debt load.
Further, 36 percent worry about paying monthly bills, and 16 percent are concerned they won't be able to make even minimum payments when they hit retirement.
Consumer-debt bubble on horizon?
With unemployment still above average and wages not keeping pace with the cost of living, many Americans are taking on more debt to meet their living expenses.
If the trend does not abate, we could find ourselves in another recession – this one driven by consumer debt.
Photo source: moneytalksnews.com