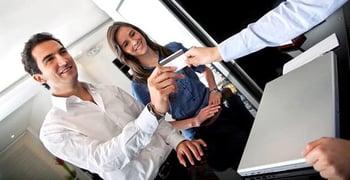 BadCredit.org publishes personal finance studies on the latest trends in the subprime marketplace. Our articles follow strict
editorial guidelines
.
In a recent study of small- to medium-sized businesses, it was found many business owners use their personal credit cards to help finance business operations.
The study was conducted by the UK-based crowdfunding company RebuildingSociety.com, a peer-to-business lending platform.
The study showed 37 percent of business owners who plan to borrow in the coming year will use personal credit cards to do so. It also showed this is the second most popular form of borrowing behind bank loans.
By contrast, peer-to-business (P2B) lending was only being considered by 12 percent of small businesses.
According to Daniel Rajkumar, managing director of RebuildingSociety.com, cash withdrawals using credit cards are an inefficient form of business borrowing.
"Thirty-seven percent of businesses that plan

to borrow will use personal credit cards."
With interest rates of nearly 30 percent, credit card borrowing can quickly swamp a small business.
The recommendation of this research report is for businesses to see P2B lending as an alternative to credit card borrowing. The terms can be very good and businesses know in advance what the payments will be.
Terms can range from six months to five years and lenders are anxious to fund businesses.
"They (businesses) should consider a business loan instead and protect their personal finances – the regular repayments are easy to manage and all costs are revealed in advance," Rajkumar said.
This is a relatively new form of business lending, but so far the acceptance has been growing.
Source: crowdfundinsider.com. Photo source: cardpay.net