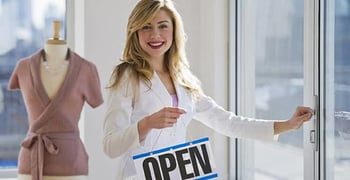 BadCredit.org publishes personal finance studies on the latest trends in the subprime marketplace. Our articles follow strict
editorial guidelines
.
For small business owners, finding financing is tough. Since the financial crisis, banks have tightened lending standards, which puts many new businesses in a tough spot.
What makes the situation even worse is many business owners don't understand all the financing options they have available.
According to a new survey, out of 50 small business owners who were polled, 54 percent didn't understand how a merchant cash advance works, while 38 percent of respondents had never heard of this financing method at all.
A merchant cash advance is an alternative to regular loans. With this financing, business owners aren't actually taking a loan. Instead, they are selling off a percentage of their future credit card sales to a lender.
"Thirty-eight percent of respondents had

never heard of this financing method."
This financing is often easier to qualify for than a bad credit loan and doesn't force the business owner to put up a lien against the business or personal assets to qualify.
Nick Del Deo, VP of Sales at Principis Capital, believes this lack of financial knowledge is contributing to the struggling economy.
There are a number of different financing methods available for new businesses, including merchant cash advances.
However, if business owners don't know they have these options, they won't use them. As a result, they run into a cash shortage and risk going out of business.
Del Deo believes it's important to continue promoting financial literacy in the small business community so business owners can make the most of their financing options.
Source: prweb.com. Photo source: Lexington Law