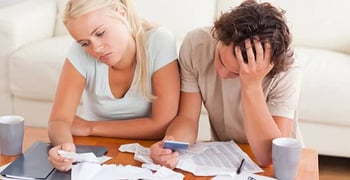 Experts share their tips and advice on BadCredit.org, with the goal of helping subprime consumers. Our articles follow strict
editorial guidelines
.
When my husband and I got married, we realized a few weeks after our wedding that between the two of us, we had approximately $45,000 in debt, including a car loan, student loans and credit card debt.
We were broke at the time and had no clue what we were going to do to bring ourselves out of debt. We simply knew we had to do something and that we could not continue to ignore the problem.
We stuck to these steps:
1. You need an action plan.
We came up with an action plan that was doable. While we were committed to getting out of debt, we also realized we were young and still wanted to have some fun and enjoy our years before having children.
For this reason, we compromised to try to pay off debt as quickly as possible while still setting aside funds for travel. With my husband barely earning a little more than minimum wage, we did what we had to do to get out of debt.
"In order to put money toward our

debt, we had to cut our living expenses."
2. You need to make sacrifices.
We downsized from a one-bedroom apartment to a guesthouse studio that was in someone's backyard. I lovingly called it our dilapidated shack.
I started a second job as a freelancer in order to make more money. We stuck to a strict budget and used coupons whenever possible. At one point, we were so short on money that we each had $40 per month in spending cash, and that was it.
We packed our lunches every day. There were no trips to Starbucks and no expensive dinners out. A special date night consisted of a Redbox DVD and a grocery-bought pizza.
3. You still need to live.
While it was difficult to forgo some fun events simply because we did not have the funds, we also made certain things a priority, like traveling.
During our get out of debt phase, we still managed to travel to Seattle, Palm Springs, Las Vegas, San Francisco and a slew of other short weekend trips.
Knowing the more debt we paid off, the easier it would be to afford travel, it was easier to justify clipping coupons and spending a Saturday night in.
After three and a half years of marriage, we have paid off almost all of our debt, except for $5,500 left in student loans, and if you take these steps, you can too.
Photo source: savemoneytips.com.