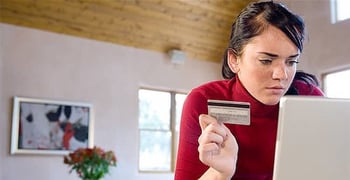 Experts share their tips and advice on BadCredit.org, with the goal of helping subprime consumers. Our articles follow strict
editorial guidelines
.
A few years ago, my boyfriend and I were trying to rent a car for a day trip. I was under 25 and we didn't want to pay the extra underage charges, so he filled out all the paperwork on his own. He was denied the rental because he didn't have a credit card.
He'd never missed a bill payment in his life and made well over a six-figure salary, but none of that mattered.
We offered to leave a large cash deposit, forms of ID and any collateral we could think of, and that didn't matter either. The policy required a credit card.
That experience made me question whether it's possible to live without a credit card.
1. Travel
As you can tell from my anecdote, travel expenses, be they renting a car or reserving a hotel room, are difficult to secure without a credit card.
Many companies require a credit card at check-in to cover possible incidentals and/or damage.
You may be able to use a debit card from a major provider like Visa or MasterCard instead, but that often comes with a sizeable hold on your checking account.
You'll want to make sure you have enough money in the account to cover any funds put on hold.
2. Secure spending
While you can use a debit card to make both in-person and online purchases, credit cards have more protections in place to prevent fraud.
Debit cards are directly linked to your bank account and once the cash is gone, it's gone. Whereas with a credit card, you can call your credit card company to cancel the card, stop or withhold payment, prevent further loss and even recoup stolen funds.
"Unfortunately, debit card use does

not appear on your credit report."
3. Tracking
Credit card statements serve as an excellent way to track spending, which can be quite helpful come tax time.
If you're sticking to cash, you'll have to come up with a comprehensive and well-organized system for all your receipts.
4. Emergencies
In an ideal world, emergencies should be covered by the savings in your designated emergency fund, but having a credit card can serve as a back-up plan, providing some additional peace of mind.
5. Credit building
On time and reliable payment of bills is a huge factor in determining your credit score. Unfortunately, debit card use does not appear on your credit report, so it can't help you build or improve your credit.
Is it possible to live without a credit card? Yes, but it can be quite inconvenient, even dangerous.
You may need to dedicate some extra time to researching alternatives in all situations where credit card use is customary.
Photo source: chatelaine.com