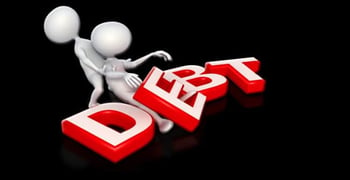 Experts share their tips and advice on BadCredit.org, with the goal of helping subprime consumers. Our articles follow strict
editorial guidelines
.
I can remember it like it was just yesterday, paying off the last bit of my original $25,000 in credit card debt.
It has been 10 years since I paid off my debt, and I still remember the feeling.
The feeling was a mixture of sickness that I had spent five years paying the debt off, but it was accompanied by relief. I was rejoicing that my debt was finally gone for good.
1. Why did you get into debt?
Many of us have experienced debt at one level or another, whether it was student loan debt or credit card debt.
While there may be some instances where debt is generally innocent, often it is because of a spending problem.
If that is your case, then looking at how and why it happened can be a great exercise of self-discovery. This will help you deal with any underlying issues that got you there.
As I look back at my debt experience, realizing how and why I got into debt in the first place was one of the most helpful things to me. It allowed me to begin to climb out of my debt hole.
2. Create a plan.
If you have just finished paying off your debt, then you likely now have a good bit of money each month that is free to be used on other things.
This can be a good problem to have, but it's one that should be handled wisely. As opposed to going crazy buying things that you were not able to previously, begin to create a plan for your spending.
Whether you call it a budget or a simple way to track your spending, find what works for you and run with it. Set goals to reach and get excited about trying to reach them.
You want to take that same fervor you had at paying off your debt and direct it toward your goals to make decent headway.
Remember though, you will need savings. Allow yourself a certain amount of fun money, but do it within reason so you still have plenty of your money working for you.
"It was that day I vowed I would

never be in that situation again."
3. Never forget.
As I look back at paying off that previously mentioned debt, I remember the taste I had in my mouth as I made each payment. I hated it!
I used that awful memory for many years, and still do at times, to push me to continue to make my money work for me. I no longer want to be enslaved to making payments on credit card debt.
That motivation is what kept me going in the early months and years when I was tempted to spend money I did not have.
All I had to do was remember what it was like to make those payments and it was an instant smack on the head to not spend foolishly.
By using that personal experience, I found the motivation was easy to draw upon. Ultimately, it was what helped me stay out of debt for good.
 Photo: www.debt-consolidation-program.net.