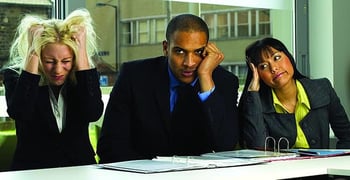 Experts share their tips and advice on BadCredit.org, with the goal of helping subprime consumers. Our articles follow strict
editorial guidelines
.
No one can argue about the convenience of carrying a credit card in your wallet for those urgent times when you don't have enough cash.
In fact, credit card use has become such a way of life in our culture that we seldom even think about pulling out that piece of plastic.
But what we do not pay attention to can come back to bite us. Even if you have years of experience managing credit successfully, there may be some things you do not know.
Here are the seven most important things we all need to know about credit.
1. A credit score and credit report are two different things.
Many people use these two terms interchangeably, but they have different meanings.
Your credit score is a number between 300 and 850, with the higher score being better. It represents your level of credit risk to potential lenders.
On the other hand, your credit report is a history of your financial life. It can include things like missed payments, tax liens and even overdue child support payments.
2. Your credit score affects more than just your interest rate.
If you happen to have missed some payments or have otherwise taken a hit to your credit score, you should be prepared to pay more in interest charges.
However, what you might not be prepared for is being turned down for a rental or denied a job because of it.
It is not only creditors who use your score to determine how responsible you are. Landlords, employers and cell phone providers are among those looking as well.
3. Closing a credit card can actually hurt your credit score.
It may seem counterintuitive, but there are times when closing out a credit card can hurt your overall credit score.
That is because a percentage of your score is determined by the amount of debt you have compared to the overall credit available to you.
By closing a credit card that has no balance on it, but that has a high credit line, you may reduce your debt-to-available credit ratio. This can lower your overall credit score.
4. Your credit history is an open book.
The three major credit bureaus share information with each other and with those potential creditors who request your information.
This means you have little chance of getting away with even a small financial infraction. That way the only things reported will be positive.
"Stay on top of your

debt obligation payments."
5. Missing a credit card payment can cost you thousands of dollars.
As we mentioned earlier, your credit score affects the interest rate you are charged. By missing as little as two payments, your score can be impacted.
The difference between an 8 percent interest rate and a 28 percent interest rate on your card can add up to thousands of dollars in extra interest payments over the life of the card balance.
6. Making the minimum payment each month can cost you double.
The minimum payment on most credit cards can be as little as 2 percent of the balance. Paying the minimum amount each month means the time it takes to pay off the card is extended for years.
This may result in interest payments that you would have otherwise paid – and that can mean you are paying double or more than the original amount charged.
7. Your credit report may not be telling the truth about you.
By some estimates, up to 25 percent or more of all consumer credit reports contain errors. These errors could be innocuous, or they could be damaging your credit score.
The best thing any consumer can do is to regularly check their credit report and dispute any errors found. This will ensure your credit score is accurate and that you get the financial benefits you deserve.
Photo source: phasetwolearning.wordpress.com