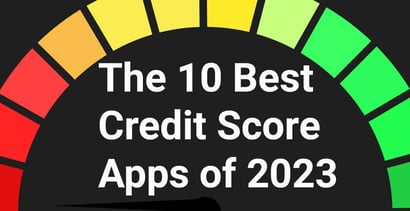 BadCredit.org publishes personal finance studies on the latest trends in the subprime marketplace. Our articles follow strict
editorial guidelines
.
Your credit score is your window to financial opportunity, but only if you take control.
Many top lenders and insurers use FICO scores to judge creditworthiness. VantageScore offers a competing score methodology. Three US credit bureaus — Experian, Equifax, and TransUnion — produce scores with detailed reports that can give lenders even more flexibility.
Bureau reports are distinct because each one uses a different methodology to collect and analyze data. Financial providers report data to the bureaus voluntarily, and not all providers report to all three bureaus.
Scores range from 300 to 850. Naturally, people with very good or exceptional scores qualify for the best credit rates. And if your score is poor, you've got some work to do.
You can build and improve your scores in many ways, and there are plenty of apps to help. After much reflection, our team narrowed down a categorical list of top credit score apps based strictly on merit. We regularly speak with financial technology providers nationwide and look for apps with original features that are polished and easy to use.
There are some big names in this list but some up-and-comers too. No matter which direction you go, we're sure there's an app here for you.
Best for Comprehensive Support: ScoreSense

Consumers are responsible for correcting errors and discrepancies in their credit reports. But each bureau has a specific procedure for doing so, and things can get lost in the shuffle.
ScoreSense provides live support from qualified credit specialists to guide users through the best strategies for following up with the bureaus. It's also an excellent example of a credit score app that combines several features without compromising ease of use.
ScoreSense provides access to scores and reports from the three bureaus, monitors scores daily, and alerts users about changes or unauthorized activity. It includes identity protection and $1 million in identity theft insurance. Tools and insights help users understand their credit scores and how their financial behavior affects them.
To top it off, comprehensive support from the ScoreSense team helps users make sense of the complex world of credit scores.
More About ScoreSense
Live credit specialists are available by phone or chat during office hours and on weekends
ScoreSense provides a blog covering credit-related topics and detailed FAQs about membership, app features, and credit basics
The app includes a score simulator to help users judge the effects of various financial strategies on credit scores
Insights in the app shed light on the differences between the bureaus and how they consider payment history, outstanding debt, credit mix, credit age, and credit inquiries
Best for Increasing Scores Quickly: Experian

When contemplating a significant credit purchase, the last thing you want to hear is you don't have the score to make it happen.
Experian, one of the three major US credit bureaus, offers the Experian Boost feature in its app to connect consumers' bank information to Experian to generate a near-instant FICO score improvement.
Experian markets credit reports to millions of US consumers and businesses. Boost works with bank information consumers use to pay online for video streaming services, mobile data access, utilities, and rent. When you connect your accounts to the app and add positive payment history data to your Experian credit file, Experian immediately communicates the info to FICO.
The app also includes access to your Experian credit report and FICO score and includes Experian credit monitoring and alerts.
More About Experian Boost
Boost will automatically look for bills with positive history to add to your Experian credit file when you connect your bank, credit card, or service provider
Put your Netflix, Disney+, and Hulu subscriptions on autopay and connect them Boost for a no-effort credit score increase
Boostable bills include mobile and landline phone, internet, cable and satellite, gas and electricity, online residential rent payments, video streaming services, water, power and solar, and trash
Boost can help consumers with as little as six months of active financial and credit report history
Best for Personalized Planning: SmartCredit

Financial planning is great until it isn't. The ScoreBuilder feature in the SmartCredit app helps users plan in ways that work for them.
Since 2003, SmartCredit has helped millions of Americans improve their credit scores and finances. The SmartCredit app includes a money manager, $1 million in privacy and fraud insurance, and tools to track, build, and boost credit.
The ScoreTracker feature gives visibility into your different types of credit scores, where you stand, and how your scores progress over time. ScoreBoost predicts the positive (and negative) consequences of financial behaviors on future credit scores and monitors cards and reports for changes and fraud.
And ScoreBuilder allows users to build better credit scores through unique 120-day plans. Each personalized plan highlights those positive and negative behaviors and analyzes strategies for course correction or higher financial achievements.
More About SmartCredit
A personalized plan through SmartCredit's ScoreBuilder feature allows consumers to quickly qualify for loans with the best rates
SmartCredit designed its reports from the three credit bureaus to be visually accessible and easy to understand
Action Buttons in the app make removing credit reporting errors, mitigating identity theft, and asking questions more convenient
The SmartCredit website includes extensive financial guidance and credit literacy resources
Best for Credit Score Education: CreditWise

The adage that knowledge is power definitely applies to credit. CreditWise helps consumers understand how the technical aspects of their credit scores relate to their specific financial behaviors. And then it finds helpful ways for them to improve.
CreditWise is an app from CapitalOne, one of the world's largest financial institutions and credit card issuers. But you don't have to be a CapitalOne customer to use it to evaluate the key factors that make up your credit score and offer personalized suggestions for improvement.
CreditWise monitors your accounts and sends alerts when something changes on your TransUnion or Experian credit report. It also allows you to take action if your data ever appears on the dark web.
More About CreditWise
Receive a weekly TransUnion VantageScore 3.0 credit score through CreditWise to monitor for errors, theft, and fraud
A credit simulator in the app allows users to experiment with spending and saving scenarios to get the best credit results
CreditWise also links to CapitalOne financial education resources, including information on how to build a credit score from scratch and tips to rebuild credit after a setback
The app works for everyone, but if you're a CapitalOne customer, you won't need to create a new username and password
Best for Building a Payment History: Kikoff

Every credit card issuer wants the same thing: to sign consumers with positive payment histories to large credit lines. But if you're starting from scratch or you've made a mistake or two with money, they'll pass you by.
Kikoff has an original approach to fixing that. The app sets up a credit account and reports it to the bureaus as a $750 credit line. All the user has to do is make small purchases of as little as $10 for various items in Kikoff's store to start building a positive history.
These small purchases result in a very low credit utilization rate for the user. Lenders want customers with good credit and low utilization, and Kikoff helps consumers achieve that.
More About Kikoff
Data from Kikoff shows customers with credit scores under 600 improve by almost 60 points if they make consistent on-time payments during their account lifetime
A minimum deposit of only $50 is required to begin building a credit history
Signing up for an account with a physical card qualified the user to access 55,000 Allpoint ATMs worldwide
Kikoff charges no annual fee or interest and requires no credit check
Best for FICO Scores: myFICO

The company that produces industry-standard FICO scores has a popular app, myFICO, to help consumers understand factors that influence scoring, review three-bureau credit reports, and receive alerts from the three bureaus when circumstances change on their credit history.
Three-bureau reports display data in a side-by-side comparison to make spotting and fixing errors and understanding score differences easier. The app's emphasis on data visualization translates into a smooth, compelling user experience.
myFICO provides tools to enhance credit insights, protects against identity theft, offers insurance to cover breaches, and maintains a 24/7 team of live experts ready to spring into action when needed.
More About myFICO
Score reporting in myFICO includes variations for mortgage, auto, and credit card lending
A FICO Score Simulator reports the impact of various consumer financial behaviors on creditworthiness and suggests strategies to improve
Data visualization tools include a Score History Graph for tracking scores over time
Detailed information about credit changes gets to the bottom of score volatility
Best for Credit Card Offers: Credit Sesame

Think of credit card issuers as companies competing for your business. You're better positioned to appreciate the differences between the cards and pick the ones that are right for you.
CreditSesame combines credit score monitoring, insights, and alerts with card offers that fit consumer needs, given their credit status, financial priorities, and future goals.
The app presents the best card offers based on credit profile and can predict the odds of acceptance in advance, making applying quick and easy. It also offers access to home mortgage and refinancing options, debt consolidation loans, and lower-interest auto loans.
Through CreditSesame's credit builder account, prepaid Sesame Cash debit cards allow users to build credit from scratch and improve their credit health with no credit check required.
More About Credit Sesame
Credit tips and insights shed light on the impact positive and negative financial behaviors have on credit status
CreditSesame helps users pay down debt without the fees and negotiations of traditional debt consolidation and settlement services
Proprietary technology assesses individual credit profiles to surface offers with high approval prospects
Receive alerts when lenders introduce new offers that are right for you
Best for Savings: Self

Typically, depositing funds in a savings account does not affect your credit score. That's one example of positive financial behavior the bureaus don't consider in their reports.
Self changes that with Credit Builder Loans that allow users to pay into an installment loan to establish a positive payment history. There's no credit check required, only the commitment to make on-time payments in exchange for a reward at the end.
Self reports each on-time payment to the three bureaus, and the funds go into a savings account. Paying off the loan opens access to the funds in that account, minus fees and interest. It's a win-win situation.
Self also helps users report rent and bill payments to the bureaus, opening up more opportunities to build credit.
More About Self
Plans start at $25/month, and all loans have 24-month terms
Self's plan for small credit builders requires less financial commitment than its plans for medium, large, and extra-large builders, but the credit score payoff also changes
Self focuses on goals rather than scores to help users achieve the results they want in return for disciplining their spending
The app has a goal-oriented approach, but it still tracks scores and alerts users when their report histories change
Best for User Friendliness: Up Credit

Up Credit is an up-and-coming app that prioritizes user experience. The team continually updates the app with new and exciting features based on user feedback and encourages users to contact support to receive an individualized response.
Up Credit offers step-by-step solutions to help users pay off debt and account management tools for near real-time insight into upcoming due dates and financial details. It accesses data from all three bureaus, offers an Equifax report, and provides an optional upgrade to a three-bureau report.
The app's score reports follow a VantageScore model, and the checks it performs do not affect credit scores. The team has built a unique machine-learning algorithm to examine report details and recommend strategies to improve credit.
More About Up Credit
Up Credit includes gaming elements like earning badges, scoring points, and leveling up to make improving your finances fun
Real-time account management tools allow users to manage all their credit accounts from a single app
Up Credit is available for iOS devices, with an Android version coming
Built on an advanced database platform for cutting-edge security and performance
Best for Overall Financial Health: WalletHub

The more knowledge a consumer has about how the parts of a financial strategy work together to produce the desired results, the better. WalletHub is aptly named because it sits between the user and the lending marketplace to find the best deals at the best time for each user.
As the user pays down debt based on a clear action plan, WalletHub automatically searches for better credit deals, enabling consumers to save thousands on credit cards, mortgages, auto loans, student loans, car insurance, and other products.
WalletHub's customized credit-improvement plans analyze credit reports to identify strengths and weaknesses. WalletHub then runs simulations to determine how different actions impact credit standing. Each personalized plan includes a comprehensive credit scorecard.
More About WalletHub
A knowledgeable user community adds a variety of real-world viewpoints to the app's product recommendations 
Free credit monitoring keeps tabs on the user's TransUnion credit report and can send alerts via text message 
Personalized tips and offers change as the user's credit score improves
The WalletLiteracy score measures the user's financial knowledge
---
Although credit scores reduce your financial behavior to a number, financial providers don't think of consumers that way. Scores are best understood as tools for eliminating unnecessary information, such as age, gender, and race, from credit decisions.
Ultimately, you control your record, but the financial industry wants to help. It needs financially healthy consumers to thrive, and credit reports are tools to help you realize your financial goals.
The apps we've listed here give you many options for building a better score through constructive and diligent financial behavior. Plus, they're easy and enjoyable to use. We hope you give one or more a try.