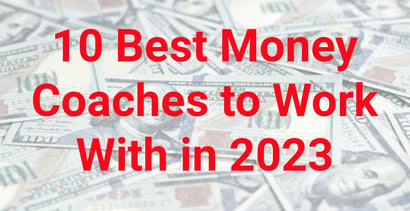 BadCredit.org publishes personal finance studies on the latest trends in the subprime marketplace. Our articles follow strict
editorial guidelines
.
Some people are happy going online and putting the financial advice they find there into action without much supervision. For the rest of us, money coaching is available to set expectations and accountability and help push toward goals.
Luckily, the modern world of websites and communications platforms enables anyone who wants and needs live financial coaching to find a compatible partner for success. As with most things online, the challenge is sorting the wheat from the chaff.
That's where we come in. If you're in a situation where formal coaching is the right way to go, this list of the 10 best money coaches in 2023 should do the job. Good luck on your journey.
Best for Wealth Building: Delyanne the Money Coach

Delyanne Barros accumulated six figures of debt to get through college and land what she thought would be her dream job as an attorney. But the challenge of getting there was a way for her to obscure her feelings of discontent about the way her life was going.
Then, she discovered the stock market and learned step-by-step how to invest toward financial independence. Now, she plans to retire by age 45, and her only regret is not starting sooner. In her new persona as Delyanne the Money Coach, Delyanne offers a course to help you slay the stock market and reach financial independence.
More About Delyanne the Money Coach
Delyanne is a Brazilian-born US Citizen who speaks Portuguese and Spanish, grew up in Miami, and moved to New York to attend the prestigious Pace Law School
Class participants gain insight into Delyanne's highly successful investment strategy and can examine her portfolio
Best for Goal-Driven Professionals: Financially Thriving

At Financially Thriving, Walli Miller offers financial coaching and money mentoring to help people like her move from overspending and compulsive shopping to achieving debt-free status and building a multiple six-figure investment portfolio.
Walli recommends balancing current wants and needs with a plan for achieving your desired financial future. She's not one to counsel deprivation. Instead, she wants her clients to retain the things that bring joy while spending with intention.
More About Financially Thriving
Walli's target audience is high-achieving, goal-driven, ambitious professionals
Her Retire Early Bootcamp is a three-day course that teaches millennials to have financial security and become work-optional
Best for Values Focus: All the Colors

At All the Colors, CERTIFIED FINANCIAL PLANNER™ Diana Yáñez wants everyone to know it's possible to set your sights on building lasting wealth and financial independence without compromising who you are. Because financial stress is one of the leading causes of mental health issues, Diana counsels self-acceptance and compassion to overcome inevitable setbacks and to keep moving forward.
Diana provides coaching for individuals and couples and offers community-focused workshops to spread the benefits of financial empowerment.
More About All the Colors
La Bougette et La Lune is Diana's self-guided budgeting course for creating supportive cash flow practices
Everyone who appreciates the interconnectedness of well-being is a candidate for her services, but she focuses on women of color entrepreneurs
Best for the Psychology of Money: Make a Money Mind Shift

Maggie Klokkenga is the mind behind Make a Money Mind Shift, a coaching service dedicated to understanding why people do what they do with their money, even when it's financially counterproductive.
Coaching for individuals and couples (especially for women experiencing life transitions) focuses on creating a safe space for frank discussions about past financial transgressions and working together to create a future where financial success predominates.
More About Make a Money Mind Shift
Maggie is a CERTIFIED FINANCIAL PLANNER™ with more than 25 years of experience in the financial services industry
Services for women in transition help individuals going through a divorce, the loss of a spouse, a career change, or the start of a business
Best for Couples: The Couples Financial Coach

Adam Kol, The Couples Financial Coach, knows that getting two people on the same page when it comes to money doesn't necessarily come naturally. Depending on your personal history and proclivities, it may be the hardest thing in the world to sit down with your partner and work things out.
That's why Adam offers various pathways to prosperity, including a do-it-yourself approach for couples with a basis for quality communication and several more involved coaching structures for those who need more help.
More About The Couples Financial Coach
Among many professional certifications, Adam is a certified financial therapist with a focus on wellness
Participants in Adam's premier coaching program receive 10 private coaching sessions and leave with a custom financial plan
Best for Financial Wellness for Women: Financial Bliss

Financial Bliss is Kelly Long's coaching service for smart, responsible women with analysis paralysis about money. Kelly aims to replace fear associated with money-related decision-making with confidence and clarity.
Previous professional roles helped Kelly learn behavioral change principles and gain experience as a coach addressing various money facets. Through Financial Bliss, Kelly provides one-on-one coaching to ambitious female professionals.
More About Financial Bliss
Kelly offers a free checklist to help women understand their financial challenges and prioritize steps for moving forward
She also offers a free 15-minute intro call to help potential candidates decide which coaching package is right for them
Best for Achieving Financial Freedom: Jacob Wade

For Jacob Wade, money can either be a tool for achieving a well-lived life or an impediment that keeps you mired in repetitive and counterproductive financial patterns. Jacob's focus is helping young professionals and families achieve a better financial future by inspiring change and putting clients on the road to financial freedom.
Clients have several options for working with Jacob, including a one-on-one coaching session and three- and six-month programs with video calls and biweekly phone check-ins.
More About Jacob Wade
Jacob's idea of financial freedom is avoiding being trapped by money and achieving the freedom to live as you see fit
He managed to save money even when earning only $14/hour and now travels the country in an RV
Best for Confident Money Decisions: Be Awesome Not Broke

At Be Awesome Not Broke, Garrett Philbin explores why money is a roadblock from saying yes to things we love and expressing our most authentic selves. As a coach, Garrett leads clients to feel more financially confident and secure, so money isn't a limiting force but a window into opportunity.
He teaches clients to explore their self-worth, understand how money affects their relationships, and change their relationship to money. Sometimes, that requires deep conversations where people feel vulnerable and open.
More About Be Awesome Not Broke
Garrett looks for values-based clients who want to learn how to use money ethically and responsibly
The goal is always to remove feelings of shame, guilt, anxiety, stress, and fear about money
Best for Health and Fitness Professionals: MVMT Life Planning

MVMT Life Planning is a bit of a niche coaching service that focuses on financial health and fitness, especially for personal trainers. But the financial principles that lead those types of professionals — with their emphasis on freelance work — to achieve success can apply in many other occupations where freelance work is the norm.
That said, if you're in the health and fitness industry and struggle with budgeting and financial planning, Founder and Life Planner Eric Leider and the MVMT team have just what you need.
More About MVMT Life Planning
MVMT services include life planning, financial coaching, prioritizing values and goals, and money personality assessments
The team offers ongoing life planning and financial coaching, one-time and project-based engagements, and a DIY course for personal trainers and movement professionals
Best for Single Women: Time Well Spent Financial Coaching

Jenn Steliga is a CERTIFIED FINANCIAL PLANNER™ on a mission to empower single women to be their best financial selves. Her approach at Time Well Spent Financial Coaching combines easy-to-understand, tailored planning with accountability, and she reaches out beyond her primary audience to military veterans.
Jenn speaks from experience in observing that many single women spend money without intent. Her coaching strategy teaches clients to move beyond the talking stage into walking the walk regarding financial responsibility.
More About Time Well Spent Financial Coaching
Jenn started her career as a cadet at the U.S. Air Force Academy, serving as a logistics readiness officer after graduation
She's also a mother, which helps her understand how to transition from single life into a mode where money is more precious and meaningful
---
Our list of the 10 best money coaches to work with in 2023 is for individuals and families who need structure and accountability in their journey to financial success. A coach can be a great help if you're frustrated with money or unsure of what steps to take to get to the next financial level.
We wish you the best as you take positive steps toward financial health and independence for you, your family, and your future.