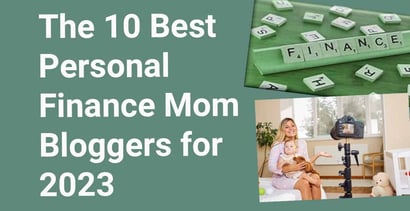 BadCredit.org publishes personal finance studies on the latest trends in the subprime marketplace. Our articles follow strict
editorial guidelines
.
Parenthood isn't easy. Maintaining a healthy budget isn't easy. And when you put those two together, you get a whirlwind of stress, confusion, and sometimes unsolicited advice. This last one is especially true: Whether it's from your wise mother-in-law, your Wall Street bro of a brother, or a random internet stranger on Facebook, advice comes in all forms. Sorting out who to listen to is its own challenge.
And when you factor in the findings that mothers in 2023 are more stressed about finances than ever, it becomes clear that the need for reliable guidance is crucial. Issues like affordable child care, sky-high student loans, and the unaffordable housing market are straining the budgets of families across the US.
That's where our list of the 10 best personal finance mom bloggers comes in. Amid the chaos that can come from juggling parenthood and responsible financial decisions, these bloggers provide excellent resources to help you take command of your family's finances.
Disclaimer: Although we've carefully selected this group of personal finance bloggers, always do your own research before making any financial decisions. 
Best for Financial Courses: Bola Sokunbi, Clever Girl Finance

If you're a visual learner, you probably already know you digest information better through videos and demonstrations. So when it comes to financial literacy, interactive courses are some of the easiest ways to understand the basics of personal finances.  
Bola Sokunbi of Clever Girl Finance gives you 30+ free courses and resources covering essential topics, including Foundational Finance, Investing & Business, and Financial Wellness. Each category is complete with videos broken down into easy-to-understand chapters that guide you, educate you, and help you easily create your own financial plan or checklist. 
More About Bola Sokunbi
Best for Finance & Budget Tracking: Rebecca Lake, Boss Single Mama

Keeping track of everything your family spends money on isn't always the major undertaking you might think it is. With the help of Rebecca Lake and her blog Boss Single Mama, you too can go from staying afloat to having extra spending money at the end of each week. 
Despite its name, Boss Single Mama is an invaluable resource for every type of mother. From frugal tips to investing advice and savings challenges to debt payoff strategies, Boss Single Mama is about staying money-smart through clever budgeting and money-saving tactics, including the 50 15 5 Rule or creating a sinking funds categories list.
More About Rebecca Lake
Rebecca has been featured in tons of publications and companies, including SoFi, Investopedia, The Balance, and Forbes Advisor
Rebecca is a Certified Educator in Personal Finance (CEPF)
Best for Affordable Living: Kim Anderson, ThriftyLittleMom

If you're a mother with more than one child, you have to keep up with several schedules, chore charts, playdates, and birthday parties. Kim Anderson of ThriftyLittleMom knows how you feel — but the good news is she's mastered the art of affordable living even with all the duties of being a super-active mother.
With money-saving tips and tricks, inexpensive DIY how-tos, budgeted party planning, and gift-buying, ThriftyLittleMom provides you with all the resources you need to pay the lowest possible cost without compromising on quality or fun for the family. Kim also shares personal stories, like "How We Paid Off Our Mortgage In Two Years on One Income," which is a comforting reminder that she, too, knows what most mothers are dealing with financially. 
More About Kim Anderson
Kim and her work have been featured on Insider, Money, USA Today, and "Good Morning America" 
You can check out ThriftyLittle Mom's Etsy store for premade templates available as digital downloads
Best for Middle-Aged Moms: Tana Williams, Debt Free Forties

Did you know that the average American family has a household debt of $101,915? This is up 10% from 2020, which is shocking, but not so much when considering inflation and the rising cost of living. Learning how to manage debt in a world where everything is expensive is exactly why Tana Williams started Debt Free Forties.
By the time she got to her late 30s, Tana realized she thought she'd be further along financially — not $27,000 in debt like she and her family were. But within a year and a half, Tana and her family were able to pay off this looming debt. Now, Debt Free Forties helps teach other middle-aged mothers how to prevent debt buildup and become financially free by their 40s.
More About Tana Williams
Tana has been featured in several publications, including Forbes, Finance Superhero, College Investor, Wallet Wise Guy, and BadCredit.org
Best for Single Moms: Fo Alexander, Mama & Money

Single motherhood is no walk in the park: Everything seems to be doubled, especially your responsibilities and expenses. Fo Alexander of Mama & Money started her blog as a reliable way to provide practical guidance, relatable stories, and easy strategies for single mothers striving to become "financially free."
Being financially free means having enough money to live comfortably without looming debt and expenses you can't keep up with. So from posts like "How to Make Money from Flipping Clothes" to "Realistic Ways to Save Money on Groceries," the Mama & Money blog has some incredible tips and resources to help you make simple yet effective money decisions in your everyday life.
More About Fo Alexander
Fo has been featured on Yahoo! Finance, Debt.com, Gerber, and the Penny Hoarder
Fo is also a marketing and business coach who helps small businesses establish their online presence
Best for Savvy Spending: Lisa, Adapt Your Dollars

One of the hardest parts about sticking to a budget is identifying where your money should (and sometimes shouldn't) go. Of course, knowing the difference between wants and needs is a great place to start, but Lisa of Adapt Your Dollars can walk you through every aspect of savvy spending.  
Adapt Your Dollars is our favorite blog for learning how to modify your saving and spending habits because there's something for everyone. Browse articles on managing money, frugal living, and making the most of your income with side gigs, work-from-home tips, and business ideas. While Adapt Your Dollars is run by Lisa, other writers contribute to the growing library of articles — which we love because then you know you're getting a ton of variety! 
More About Lisa
Best for Financial Literacy: Maria Smith, Handful of Thoughts

Understanding financial jargon is one of the most daunting things about learning to manage your money. Between determining your debt-to-income ratio and deciding whether you should opt for a Roth or traditional IRA, it's tempting to ditch your personal finance journey by the wayside.
But Maria Smith of Handful of Thoughts makes it easy. Aside from a chock-full of blog posts on everything you need to know about personal financial planning as a mother, you can also check out her three-part Financial Management Series covering net worth statements, goal setting, and creating a budget. By the end of the day, you may be surprised how straightforward starting your financial literacy journey can actually be. 
More About Maria Smith
Best for Product Discounts: Brynne Conroy, Femme Frugality

Some mothers are coupon clippers. Others religiously watch items on eBay. Many love to refurbish old furniture or clothes so they look brand-new. If any of this sounds like you, then look no further than Brynne Conroy's blog, Femme Frugality.
Whether you're looking for a wise home investment or are struggling to find gifts at great prices, Femme Frugality has tons of hacks on staying under budget with product discounts and getting the most out of your healthcare coverage. The best part is you can also find the best deals for family fun, including free days at national parks. 
More About Brynne Conroy
Best for Saving Money: Catherine Alford, Mom's Got Money

Saving money isn't just about denying yourself the pleasure of spending on things you like. It's about having the financial freedom to enjoy the things that really matter. Enter Catherine Alford's Mom's Got Money blog, designed to empower mothers and help them take control of their financial journeys with timeless money-saving tips. 
We love Catherine's website because it has many articles that offer money-saving tricks and provides free access to Catherine's Mom's Got Money Starter Pack. But it's her community-based monthly program, Mom's Got Money Club, that's most unique. This club aims to help mothers improve their financial lives by addressing topics that include managing money and how to start a business. 
More About Catherine Alford
Catherine owns The Alford Media Group, which Mom's Got Money and her other website, Millennial Homeowner, operate under
Catherine is an award-winning finance writer and author of the book "Mom's Got Money"
Best for Making Money: Michelle Schroeder-Gardner, Making Sense of Cents

If you go to Google and start typing "ways to…" odds are the algorithm will finish your sentence with, "…make money" or "make money online." This is a popular search because so many people wonder: Is there another way I can make some money? The problem isn't that there aren't enough options. It's that there are too many.
Michelle Schroeder-Gardner of Making Sense of Cents offers many money-making resources, including money-making apps, paid online surveys, advice on how to start a business, and even tips on finding your next job. Michelle also personally interviews company representatives looking to pay for side gigs so you can trust the company's authenticity and learn about the details before diving in.
More About Michelle Schroeder-Gardner
Michelle is the author of the free eBook "80+ Ways to Make Extra Money"
Michelle has been featured in major publications, including Forbes, CNBC, Time, and Business Insider
No matter where you are on your financial journey, there's something on this list for you. From budgeting and side gigs to investment education, understanding the ins and outs of your family's finances is within reach. Happy spending and saving!