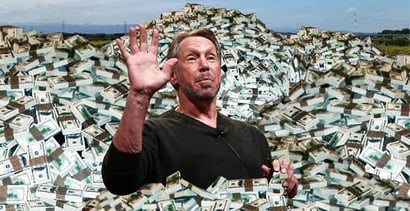 From big names to up-and-comers, BadCredit.org experts share their picks for the top resources in the personal finance industry.
There's an old mantra that says "the rich get rich and the poor get poorer." It's a popular sentiment, but it's not always true.
We found eight CEOs who started with next to nothing and clawed their way to the top with their ingenuity and sheer willpower alone.
Ralph Lauren
CEO of Ralph Lauren Corporation


Bragging rights: company valued at $14.67, according to Forbes
A child of immigrants, Lauren found himself teased for his last name: Lifshitz. He dropped out of college and worked as a salesman. His pitch for a European-style tie was rejected, so he started his own company to sell them. Neiman Marcus bought 100 dozen, marking the beginning of his journey to become a fashion mogul.
Business Social Clout: 7.8m likes, 75k followers
URL: ralphlauren.com


Bragging rights: Facebook bought company for $19 million
Raised in the Ukraine, Koum immigrated to the U.S. as a teen. While he was living on food stamps, he found it extremely expensive to call his family back home. When he saw how much Skype reduced the price of international calls, he decided he wanted to do the same thing with texting. Thus, WhatsApp was born.
Business Social Clout: 11.4m likes, 2m followers
URL: whatsapp.com
Howard Schultz
CEO of Starbucks


Bragging rights: worth $2.1 billion, according to Forbes
Schultz grew up in low-income housing, making a name for himself with his athletic ability. He used his athletic ability to attend college on an athletic scholarship, which landed him a degree and later a job with Xerox. He became acquainted with small Seattle coffee company on a business trip. One thing led to another and Schultz became CEO of Starbucks.
Business Social Clout: 36.9m likes, 95.1k followers
URL: starbucks.com
Larry Ellison
CEO of Oracle Corporation


Bragging rights: worth $52.1 billion, according to Forbes
As a baby, Ellison's mother put him up for adoption. His adoptive father was callous, telling him he would never make anything of himself. After dropping out of college and bouncing from odd job to odd job, Ellison found his success by founding Oracle, the software company of which he is now CEO.
Business Social Clout: 424k likes, 248k followers
URL: oracle.com
Ursula Burns
CEO of Xerox


Bragging rights: first African-American female CEO of a Fortune 500 company
Burns grew up public housing projects with a single mom — people often told her the cards were stacked against her. Fortunately she didn't listen and went on to study mechanical engineering. An internship with Xerox led to a full-time position, and she's been climbing the corporate ladder ever since.
Business Social Clout: 853.9k likes, 134k followers
URL: xerox.com
Guy Laliberte
CEO of Cirque du Soleil


Bragging rights: worth $1.9 billion, according to Forbes
A lover of the arts, Laliberte dropped out of college to perform on the streets. Three days at a "real job" told him he was meant for something different. He joined together with friends to win a grant from the Canadian government for the arts, and Cirque du Soleil saw amazing success.
Business Social Clout: 2.4m likes, 623k followers
URL: cirquedusoleil.com
Do Won Chang
CEO of Forever 21


Bragging rights: worth $5.7 billion with his wife, according to CelebrityNetWorth
After immigrating from Korea with his wife, Chang found himself working three jobs just to make ends meet. After three years in the U.S., the couple opened Fashion 21 – now known as Forever 21. The store made approximately $700,000 in its first year, and the rest is history.
Business Social Clout: 9.5m likes, 1.5m followers
URL: forever21.com
Maria das Graças Silva Foster
CEO of Petrobras


Bragging rights: Petrobras' first female CEO ("The Iron Lady of Oil")
Foster grew up in an extremely poor neighborhood in Rio de Janeiro with a mother who worked all the time, so she took to collecting cans and paper to make extra money. She began as an intern with Petrobras and later became the first female head of engineering. Her work ethic kept pushing her higher within the company.
Business Social Clout: 1.2m likes, 117k followers
URL: petrobras.com
Photo credits: regmedia.co.uk; vialogue.wordpress.com, biography.com, forbes, zaidiboy.blogspot.com, businessweek.com; Wikimedia Commons