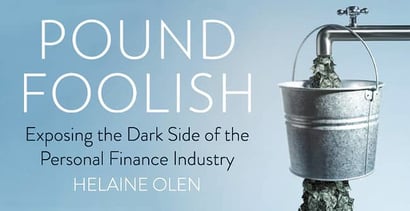 In a nutshell: Acclaimed author and journalist Helaine Olen takes an in-depth look at America's personal finance industry and its often misleading advice. She critiques financial "gurus," sexual discrimination and the economic challenges unique to middle- and lower-class citizens.
When our wallets are empty, we feel vulnerable — many people suffering from debt, bankruptcy and poor finances are desperate for advice to turn their lives around.
According to author and journalist Helaine Olen, much of the personal finance industry was developed to capitalize on that fear.
Olen's book "Pound Foolish: Exposing the Dark Side of the Personal Finance Industry" introduces readers to the hidden subtext of so-called financial "gurus" (i.e Suze Orman, Dave Ramsey, Jim Cramer, et al.) and the financial networks that support them.
While these gurus occasionally offer helpful nuggets of advice — spend less, save more, invest in retirement — Olen claims their advice doesn't adequately prepare average citizens for larger expenses like market crashes, medical emergencies and job layoffs.
Rather, larger systemic problems such as stagnating wages and political gridlock negate the penny-pinching practices gurus advocate.
"We'd been sold a dream of savings and investing that had no basis in any history or reality," Olen writes. "We were participants in a vast experiment, a hope that personal finance and investments would do it all for us. We now know that for all too many people, it did not."
But how did this come to be? How did these gurus become the be-all and end-all of personal finance knowledge for everyday Americans? I spoke with Olen to find the answers.
The Origins of Pound Foolish
Olen's tale begins in 1996 when she was asked to write a piece for the L.A. Times' "Money Makeover" column ("All I knew about personal finance was that writing about it paid more than the lifestyle features and breaking news coverage I'd been doing.")
Despite her lacking financial knowledge, she became a hit with readers and editors alike, finding empathy and common sense logic to be the only tools she needed. Give readers the illusion of control and all the chips would fall into place.
Fastforward 13 years later — Slate asked Olen to write an essay summarizing her experience as a "Money Makeover" columnist.
"I posed the question, 'Does this really help us?' We'd given these kind of simple formulations: put 10 percent of your salary in a mutual fund, stir and in 20 years your IRA will be worth $2 million," Olen said. "By making it sound that simple, had we misled people? And I came to the conclusion yes, we had. We presented a simple formula for what was a very complicated problem — the financialization of our lives."
Lattes Lead to Debt and Other Misleading Mantras
Every A-list financial guru has a shtick, according to Olen:
•Orman makes personal finance truly "personal" by connecting all financial success and failures to an individual's own choices.
•Ramsey treats debt like a drug, encouraging a "just say no" approach to taking on any debt whatsoever.
•Robert Kiyosaki highlights his C-student past to show how ordinary people can become wealthy and successful.
•David Bach encourages people to stop "latte-ing away their financial future" by avoiding retail coffee chains and similar daily splurges.
In her book, Olen admits there is some merit to these catchy quips but argues they don't address larger systemic problems that lead people to debt and bankruptcy, such as growing income inequality and market crashes.
"To some extent, they're not wrong. Yes, saving money will help you. But it's not like most people aren't saving because they can't resist a good sale at Macy's or Kohls," Olen said. "We've created this world where 'these personal finance tools exist and if you use them properly, you'll be fine.' It's like selling people beach umbrellas and sandbags to protect against Hurricane Sandy."
"We've created this world where 'these personal finance tools exist and if you use them properly, you'll be fine.' It's like selling people beach umbrellas and sandbags to protect against Hurricane Sandy."
The Changing Landscape for Women
Olen highlights the unsettling dynamic between women and the personal finance industry — although women are generally the financial heads of their households, making a majority of decisions, there has been a stereotype since the dawn of modern banking that women aren't confident or savvy enough to handle their own finances.
"It's an extremely condescending world to women," Olen said. "Women do have financial issues but also control a lot of money, in part because they outlive their husbands and inherit their money. Women do not seem to respond to a lot of what the financial services industry is doing … There's this assumption that a man who likes to invest is normal and good, and everyone else is somehow functionally flawed and needs to be fixed."
Olen makes it a point to include powerful feminine voices in her book: financial adviser Manisha Thakor, Senator and student loan crusader Elizabeth Warren [D-Mass.] and even financial journalism pioneer Sylvia Porter make frequent appearances throughout.
But the despite the great strides made by women for women in finance — such as sites like DailyWorth and LearnVest — gender inequality still rears its ugly head. For example, a critic at investorjunkie.com referred to her book as a "bitchfest."
Financial Literacy No Longer a Magic Bullet
If we can't trust the words of financial gurus, then surely financial literacy will help average people avoid debt, right? According to Olen, that hasn't been the case.
"Unfortunately… no one has been able to prove financial literacy actually works," Olen writes. "In fact, by almost every available measure, the financial literacy of the American public has remained dismal in the almost two decades since the movement began."
To make matters more complicated, Olen points out that a majority of financial literacy programs are either created by financial institutions or majority-funded by them — even Sesame Street's "Sesame Workshop" has a board of trustees with strong ties to national consulting firms and financial institutions.
To demonstrate just how strongly the odds are stacked against low-income workers, Olen highlights an online poverty simulation game called "Spent" (funded by American Express, by the way), where players have to avoid going bankrupt on their minimum wage jobs.
Despite playing Spent more than a dozen times, Olen admits she "never, ever made it to the end of the month."
Conclusion
"Personal finance can't do it all," Olen concludes in her book. "It can make a valuable contribution, allowing us to plan, to get out of and stay out of debt… but there is no personal finance or investment scheme that can fully protect us from downward spirals or plain old ill luck."
However, Olen's conclusion is not entirely pessimistic. She suggests we, as a society, start an honest discussion about the systemic problems that make us look for financial advice in the first place.
Overall "Pound Foolish" is an excellent introduction to the modern personal finance industry and the issues plaguing it. If anything, it'll help readers pull back the curtain from our modern-day financial gurus and how they play off the fears of the indebted and bankrupt.
Or, in the words of Sun Tzu:
"When your weapons are dullied, your ardor damped, your strength exhausted and your treasure spent, other chieftains will spring up to take advantage of your extremity."
Photo credits: LinkedIn.com, Encyclopedia Britannica, frontpagemag.com, moneyzen.com, apple.com, Flickr/Tim Pierce (photo of Sen. Warren)
Advertiser Disclosure
BadCredit.org is a free online resource that offers valuable content and comparison services to users. To keep this resource 100% free for users, we receive advertising compensation from the financial products listed on this page. Along with key review factors, this compensation may impact how and where products appear on the page (including, for example, the order in which they appear). BadCredit.org does not include listings for all financial products.
Our Editorial Review Policy
Our site is committed to publishing independent, accurate content guided by strict editorial guidelines. Before articles and reviews are published on our site, they undergo a thorough review process performed by a team of independent editors and subject-matter experts to ensure the content's accuracy, timeliness, and impartiality. Our editorial team is separate and independent of our site's advertisers, and the opinions they express on our site are their own. To read more about our team members and their editorial backgrounds, please visit our site's About page.