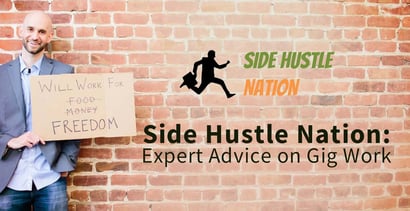 In a Nutshell: In an expanding gig economy, side hustles represent an effective way to achieve financial independence and pursue early retirement. That's why Nick Loper, veteran gig worker and side hustler, operates Side Hustle Nation to help entrepreneurs and freelancers learn to increase earnings and accelerate saving. Loper recommends that aspiring side hustlers take an inventory of their personal and professional skills and identify ways to leverage them for extra income. He also advises people try many different gigs, pursue ones that work, and cut their losses on those that don't.
Cleaning up after pets isn't something people typically enjoy. In fact, they probably tackle the chore with as much enthusiasm as they bring to scrubbing the toilet or replacing the filter in their air conditioner. But they do it anyway for the sake of sanitation.
One resourceful entrepreneur built a business around pet waste removal. For a small fee, she travels to homes and picks up animal waste from her clients' yards, so they're clean and safe for their pets and their kids.
Some might say she discovered the magic side hustle that turned dog poop into dollars.
"She was making $1,000 a week picking up dog poop," said Nick Loper, Chief Side Hustler at Side Hustle Nation, a podcast and community that aims to help gig workers maximize their earnings. "I don't really like picking up my dog's poop in the backyard, but if I don't like it, other people don't like it. And if people are going to pay me to do it, I could probably get over it."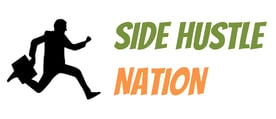 Loper has had many side hustles over the years, but his greatest success has been in creating content around the topic of side hustles itself. Side Hustle Nation brings insight and experience to a growing audience of gig workers.
For many people, gig work is a way to put food on the table and keep a roof over their heads. But for others, the work presents an opportunity to pursue FIRE (financial independence, retire early). The FIRE movement has gained ground in recent years, especially among millennials dissatisfied with the rat race and desperate to be masters of their own paychecks. The movement is founded on three core tactics: increase your income, maximize saving, and minimize expenses.
"Side hustles can absolutely help accelerate that," Loper said. "The main number to pay attention to is your saving rate. That's how you can cut decades off your working career. If you can increase your income and keep your expenses the same, then the saving rate goes up."
All of that is sound financial advice for everyone. But it's especially valuable for those turning to side hustles to supplement their income and fast-track their financial independence.
A Podcast and Community Dedicated to Side Gigs
Loper's first side hustle was as an online shoe salesman. He developed an online platform that pulled catalogs from online retailers and told users where they could get the best deals on the shoes they wanted. That venture was successful enough that Loper ditched his day job and focused on other gigs full time.
Eventually, he started producing Side Hustle Nation to share all the information and experience he'd gathered about making gigs and side hustles work for others.
"I started the blog and podcast to talk about things that were interesting to me," Loper said. "What ended up taking off was the podcast. I thought of myself as a writer, and the podcast was kind of an afterthought. But within the first year, it was clear that the audio portion had gained a lot more traction. I said, 'I'll double down on that.' Even then, it took a lot of years to consider myself a podcaster. It's become a labor of love, and, now, I'm eight years into it."
A vibrant community has also grown up around the work of this veteran hustler. Much like the podcast, Loper created an official Side Hustle Nation community page on Facebook as an afterthought. However, Side Hustle Nation's popularity benefited from having time to simmer — which is another piece of wisdom for anyone running an online content- or community-based hustle.
"If you start it on day one and it's a ghost town, it's hard to get it going. So there is an advantage to waiting a little bit," Loper said. "The advantage was it took the conversation from one-to-many in a broadcast to many-to-many. Other people who have nothing else in common, other than they were interested in this topic, can now ask and answer questions amongst themselves and support each other. That was cool to see, and the Facebook group is the main hub of that. We're now over 42,000 members."
Personal Strengths and Skills Drive Successful Projects
Side hustles and gig work appeal to people for two primary reasons. First, many want to escape their cubicles and take their time, labor, and financial futures into their own hands. And second, just as many want to put their free time to good use earning a little extra money.
In both cases, the best bet is for someone to find and fill a market need by leveraging something they enjoy and excel at. And Loper has those people covered.
"Sidehustlenation.com/ideas is my laundry list of different options," Loper said.
But Loper adds that people don't have to use his ideas — they can come up with their own through a personal skill audit. The best place to start is with their résumé, which can help them evaluate the work they've done in the past that was lucrative and rewarding. They can also ask their friends and family to help identify their strengths and brainstorm opportunities.
Watch on
Second, he tells people to think about how they enjoy spending their time and how they might leverage those activities. For example, there's a gig category on Fiverr where gamers can get paid to play online with others. If someone excels at Fortnite or another popular online game, that type of gig could be an excellent opportunity.
Also, they can consider personal or professional problems they've overcome and applied those solutions to meet the needs of potential clients. As Loper said, "If I was able to figure this out, there are probably other people struggling with this same idea." One suggestion is cleaning out people's storage rooms and garages then selling their unwanted items on consignment via eBay or Craigslist.
Finally, Loper advises fellow side hustlers to consider providing both products and services, and not to limit themselves to one or the other. Offer dog-walking service and try selling stuff online to get a feel for each. After they've built up some experience, they will have a better idea of which is more effective.
Strategic Advice and Expertise from the Hustler-in-Chief
Loper encourages everyone to pursue multiple concepts, experiment with different gigs, and find what's most lucrative and fulfilling. If something works, stick with it, but don't be afraid to expand and try new things.
"I ended up starting a bunch of other side hustles, which I think is a common thread," Loper said. "Once you're in motion, you start one thing, then you start the next thing. That seems to be the trend."
Another key to successful hustles is to differentiate yourself from competitors, and that is especially important when working online. The internet has opened the door to the mass output of content and services, and these spaces are crowded. Offering something novel, or something that at least seems novel, will help people stand out.
Loper emphasizes the age-old truth that entrepreneurs must be willing to take risks. He said that is one of the key personality traits that allows side hustlers to succeed.
"One thing that separates the successful side-hustle show guests from the people who get stuck on the sidelines is the willingness to experiment, the willingness to fail," Loper said. "I don't know the outcome. I don't know steps 3 through 100, but I do know step 1, and I can figure out step 2, and then I can figure it out as I go along. That willingness to get started without necessarily any clear vision of the outcome seems to be a pretty important trait."
But just as importantly, side hustlers must be willing to walk away from a project that just doesn't work. It's futile to agonize over sunk cost or wasted time. It may not have been a success, but it was a learning experience, and they can apply that knowledge to future gigs.
"I've had dozens of failed projects and projects I've shut down, but I take a lot away from each of those," Loper said. "I know what not to do next time. You do a postgame analysis on what you liked and what you didn't like, what worked and what didn't."
Working Smarter, Not Harder, is Essential to Achieving Lifelong Financial Independence
Even with all the emphasis on gig work and creative entrepreneurship, Loper doesn't recommend side hustles to everyone. Some people should just stick with their day job because that is the best way to increase their income.
"Your day job may be the best side hustle for you if you are a high-earning worker and have the opportunity to put in overtime, and don't mind the work," Loper said. "If FIRE is your ultimate goal, that could help shortcut it versus trying to build something completely random, completely speculatively in your spare time."
Loper offered the example of nursing. Professional nurses can often pick up extra shifts, earn overtime, and dump that money into investments and savings. It's more work in the short term, but it pays off when they retire at age 40 and have decades of free time ahead.
But for those who don't have that option, smart speculation — and using Loper's tips — may be their best bet. And when they find success, they can still stay vigilant for ways to innovate and leverage the work they've already done for ongoing, passive earning.
"One of my favorite stories on the show was a mechanical engineer in Chicago. His side hustle was repairing motorcycles," Loper said. "He set up a little camera and started filming himself doing the repairs. Nobody was paying him to do that, but over several years, he built up this library of video content, which turned into an income stream on YouTube. He started selling full engine rebuild videos as digital downloads. Over the years, what started as a service-based business was now completely time-leveraged."
Passive income is better than work, and work people enjoy is far better than work they despise. Side Hustle Nation helps people see the possibility of achieving both and advancing their journey toward financial independence.
Advertiser Disclosure
BadCredit.org is a free online resource that offers valuable content and comparison services to users. To keep this resource 100% free for users, we receive advertising compensation from the financial products listed on this page. Along with key review factors, this compensation may impact how and where products appear on the page (including, for example, the order in which they appear). BadCredit.org does not include listings for all financial products.
Our Editorial Review Policy
Our site is committed to publishing independent, accurate content guided by strict editorial guidelines. Before articles and reviews are published on our site, they undergo a thorough review process performed by a team of independent editors and subject-matter experts to ensure the content's accuracy, timeliness, and impartiality. Our editorial team is separate and independent of our site's advertisers, and the opinions they express on our site are their own. To read more about our team members and their editorial backgrounds, please visit our site's About page.