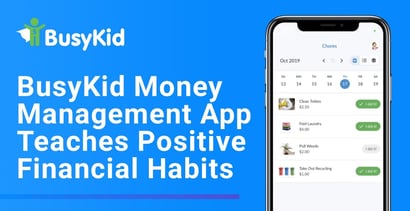 In a Nutshell: The BusyKid app helps parents prepare their children for the realities of earning and spending money. It allows parents to pay kids digitally for chores completed, reinforcing a strong work ethic and showing the value of a job well done. It also allows kids to receive payments for tasks outside the home, including jobs around the neighborhood. A Visa debit card also gives them hands-on experience with saving and illustrates the flow of money into and out of accounts. BusyKid provides broad, practical experience with money that will help prepare kids for more successful financial futures.
It's a Saturday in the Murset household. There's no school and no homework, but the kids aren't sitting on the couch. Instead, the Murset family is working on some home improvement projects. Two of the family's teen boys are ripping up carpet and tack strips. Later, one of them will go outside and change the oil in the family truck.
They are helping the Mursets save money by performing those tasks, and they're also getting paid for their work. More importantly, they're getting a lesson in the digital gig economy and learning how to avoid future debt.
That's because the Murset family uses the BusyKid app, which combines earning, spending, and investing into an intuitive interface. The app brings those financial tools together through a digital payment platform that provides crucial experience with money.

"I'm a certified financial planner by trade. I've been doing that for more than 20 years," said Gregg Murset, Co-Founder and CEO of BusyKid. "I have six kids myself. When you combine a bunch of kids and the guy who thinks about money, this is what happens."
BusyKid can help young people build work ethic and strong money-management skills that will enhance their ability to earn, save, and avoid debt in the future. Murset recognized the value of teaching kids about money early on when he saw the habits of successful professionals as a financial planner.
"I was in insurance and investments, and the clientele were typically very successful business owners," Murset said. "They always had two things in common. One, they worked really hard; and two, they were smart with their money. I thought, 'How do I get those two unique kinds of skill sets in my own kids?' Because what I want for them is for them to be successful."
Monetizing Chores Builds Work Ethic and Responsibility
One of the most significant advantages of BusyKid is its ease and speed. Parents can also send their kids out to wash the family car or mow the lawn without worrying about having enough money in their wallets to pay them after.
"It just makes it easy," Murset said. "No going to the ATM to take out $20 and then to a gas station to buy a pack of gum to break the $20. Now you just grab your phone, click on send bonus, and you're done."
The immediate return creates a direct, positive connection between reward and the work spent earning it. That connection is key to help establish a strong work ethic that will benefit children when they enter the workforce and start dealing with financial tasks, including saving and managing debt.
"You got hired, and then you got paid," Murset said. "That's a really important thing. I always say, 'The best thing you can do for your kids is hire them and treat them kind of like an employee.'"
That also means holding them accountable for hard work and high quality, which will be an expectation when they enter careers in the future. And the prospect of a fast payout can be a strong motivator.
"Hire your kids," Murset said. "Money motivates us as adults. Money motivates kids. And so why not just use it to your advantage and use it as a teaching tool?"
Kids Develop Initiative and Mindful Spending Habits
"BusyKid's primary objective is to teach kids how to work," Murset said. "And that is, naturally, through chores. That's just where kids can get that life experience. They can't get a real job until they're about 16 years old. So what better place to teach them than in your own house?"
Most homes have plenty of tasks, including vacuuming carpets, folding laundry, and washing dishes. Taking care of those chores is not only good preparation for adult life — when kids will have to do them alone — but it also keeps children engaged in household management. It can also motivate them to find things to do around the house and take initiative.
"They can earn some money," Murset said. "It is a practice-makes-perfect kind of idea."
Watch on
That practice extends beyond just the household chores. Once kids start noticing things they can do around their own homes to earn money, they often begin seeing outside opportunities as well. That includes work other people in the neighborhood may need.
"We facilitate it so they can go and mow the lawn or babysit for their neighbor," Murset said.
And those neighbors can pay the same way parents do — digitally. The BusyPay feature generates a QR code that anyone can scan with their phone and follow to pay electronically.
"We're trying to instill that entrepreneurial spirit within kids, and this is a great way to do it," Murset said. "They get paid, and they can do the balanced financial approach with BusyKid."
Debit Card Turns Spending into a Meaningful Experience
Just as important as gaining earning experience, BusyKid also provides experience spending online and in stores. Spending requires parent approval, but kids get experience in making decisions and using their own money.
"I always say that money is invisible," Murset said. "It's just numbers on a screen now for kids, and so you've got to teach them that way. So when they slide their own card and see what used to say $35 now says $20, that's how money works. And they know it took them two weeks of scooping dog poop, ripping out carpet, and washing the car to make that $35 bucks, and now they've only got $20 left."
Beyond the abstract mathematics of finance, BusyKid gives spending a physical aspect with its Visa debit card. The act of sliding the card to make a purchase is just as instructive as looking at numbers on a screen or placing an order with the click of a button. In a sense, it makes spending real and puts debt in a tangible context.
Murset likens it to learning any other task or activity. People can study it in the abstract, but in the end, they only master it through repeated performance.
"You can watch basketball all day long, you can read about how to shoot and how to dribble — but you're not going to get any better unless you practice," Murset said. "It's the same thing with money. You have to have them over and over and over."
BusyKid: Teaching Kids How to Manage Money Like Adults
Many parents have observed positive changes in their kids' financial behavior — particularly their attitudes toward spending — after using BusyKid. And Murset said he has seen the same results by using the app with his own kids.
"You can say, 'Hey, if you want those Nikes, they're $120. Knock yourself out. You've got your own card,'" Murset said. "And that changes the dynamic really fast. Because all of a sudden, they're not spending what I always call OPM — other people's money. When they're out spending OPM, it's a whole different deal. It's just like, well, I guess I don't need to get those shoes. Or I'll get the $80 version. That's the epiphany that parents want their kids to have."
That is especially important as kids approach the age when they're eligible for credit cards and loans. Having real-world experience with money puts them in a better position to understand debt and use it productively.
Of course, even with some income, certain things will still be out of reach on a kid's wages — for example, a car. But BusyKid allows them to purchase fractional shares of stocks in companies that produce the items they aspire to buy someday.
"It's like a whole new world opens up," Murset said. "I can't own a Tesla because that costs too much. But I like them, and I can own a little tiny piece of that stock. And when it goes up, I can participate in that."
The feature introduces children to investing, which can be just as important to financial security later in life as earning and saving. Murset's own children are examples of how well BusyKid can provide income in the short term and a sophisticated sense of finance that will benefit them in the long haul.
"I have a 23-year-old son, and when he went off to college, he decided, 'I'm not going to throw like four years of rent away. I want to buy a condo,'" Murset said. "He had some money saved up. He was able to buy the condo — and now, we're in a hot market, and it's up $30,000 in equity. Now he's going to graduate in December, sell it, and make $30,000. It's great timing and maybe some luck, but it also was because he had saved up some money and had some flexibility."
Advertiser Disclosure
BadCredit.org is a free online resource that offers valuable content and comparison services to users. To keep this resource 100% free for users, we receive advertising compensation from the financial products listed on this page. Along with key review factors, this compensation may impact how and where products appear on the page (including, for example, the order in which they appear). BadCredit.org does not include listings for all financial products.
Our Editorial Review Policy
Our site is committed to publishing independent, accurate content guided by strict editorial guidelines. Before articles and reviews are published on our site, they undergo a thorough review process performed by a team of independent editors and subject-matter experts to ensure the content's accuracy, timeliness, and impartiality. Our editorial team is separate and independent of our site's advertisers, and the opinions they express on our site are their own. To read more about our team members and their editorial backgrounds, please visit our site's About page.