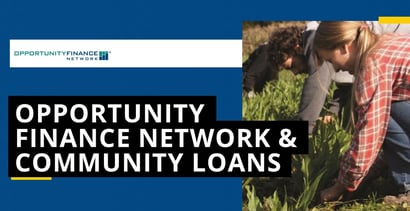 Experts share their tips and advice on BadCredit.org, with the goal of helping subprime consumers. Our articles follow strict
editorial guidelines
.
In a Nutshell: Wealth distribution in the U.S. is among the most disproportionate in the world, and organizations like Opportunity Finance Network (OFN) are working to close this wealth gap. The OFN is a network of community development financial institutions (CDFIs), including banks, credit unions, loan funds, and venture capital funds, that provide fair and transparent financing to underserved communities. By helping communities gain access to crucial funding, more opportunities to attain a higher standard of living will emerge. OFN membership financing has helped to create or maintain more than 1.75 million jobs and start or expand 448,541 businesses and microenterprises.
The United States may be the richest country in the world, but it also has a massive wealth gap.
Underserved populations, including low-income communities, rural communities, women, and people of color, often lack access to opportunities and resources afforded to affluent white populations in the U.S.

A number of institutions and policies have been created to address these inequities, theories on how to resolve financial disparities abound. Within the world of finance, Opportunity Finance Network (OFN) is leveraging public and private sector funding to improve the financial standing of communities across the country.
OFN is a leading national network of more than 340 community development financial institutions (CDFIs), according to the organization. CDFIs are community-based, private lenders — banks, credit unions, loan funds, and venture capital funds — that provide fair, transparent financing and financial services to people and communities that mainstream banks don't traditionally reach.
We recently reached out to OFN's Chief External Affairs Officer, Jennifer Vasiloff, to learn more about the network and how it delivers social justice through financial institutions.
She said there are more than 1,200 CDFIs working in rural, urban, and Native communities nationwide. They finance small businesses, home mortgages, affordable housing, and commercial facility projects.
"More than lenders, we like to say CDFIs are 'Capital Plus,'" Vasiloff said. "We tailor loans to fit people and not a credit box. We also offer training and other resources to help small businesses start, grow, and thrive, and consumers build wealth and credit."
How OFN Supports Community Development Financial Institutions Across the Country
"The CDFI industry began as a small grassroots movement to counter discrimination in banking and investing," Vasiloff explained. "CDFIs were created to provide financial services and support to people that banks wouldn't or couldn't serve."
Over the past 40 years, that movement has grown into a $222 billion industry that works to address long-standing disinvestment, the racial wealth gap, and persistent poverty by investing in people and communities whose potential has been underestimated by mainstream finance, she said.
As a membership organization, OFN supports community development financial institutions through data and research, capacity building, industry events, advocacy, and strategic communications.
"OFN also serves as an intermediary between CDFIs and private sector investors looking to support communities," Vasiloff said. "For example, last year Google invested $180 million in CDFIs, through OFN, to help minority and women-owned small businesses hurt by the pandemic."
OFN does not directly lend to small businesses, homeowners, or community developers, however, she said.
OFN provides fair, transparent financing and financial education to small businesses, community-based projects, and consumers that mainstream finance considers too risky or not profitable enough, according to the organization website.
"CDFIs invest in potential and promise, and support future successes — we lend where it counts," said Vasiloff.
CDFI products and services help individuals and community-based organizations create and maintain living-wage jobs, spark small businesses, and build quality, affordable homes, and vital community facilities, according to the OFN website.
OFN was founded in 1986 to support and enhance the work of individual CDFIs by offering a national perspective and a collective voice, according to the organization.
People interested in seeking out CDFIs that may be serving their region can visit the CDFI locator on OFN's website.
The Value of Low-Income Communities Having Access to Responsible Funding
Vasiloff discussed the ways in which underserved communities can benefit from gaining access to funding from CDFIs.
"All communities deserve access to fair, affordable capital regardless of their income level, heritage, race, ethnicity, gender, or sexuality," she said. "Equitable access to responsible capital is important for all communities to thrive."
Low-income, low-wealth communities, especially minority communities, have a harder time accessing small business bank loans, Vasiloff said.
"This is true even when there isn't a pandemic, and it's especially true now as these communities have been disproportionately impacted this year," she said.
When people are able to get financing, they are able to invest in small businesses that support their families and neighborhoods, according to OFN.
"They are able to buy homes and build wealth," Vasiloff said. "They are able to contribute to their communities and to lift local and national economies. So, it's vitally important for everyone that low-income communities have access to capital — it's a justice issue and an economic issue."
OFN maintains an array of programs that help CDFIs increase their impact and bring equity and opportunity to low-income and underserved communities.
Frequently designed in collaboration with partners, OFN's programs address issues that hold many American people, neighborhoods, and communities back from full financial health and well-being. With its work in small business financing, consumer financial products and services, CDFI talent development, and more, OFN helps its members, partners, and other opportunity investors deliver lasting change where it's needed most.
Current initiatives for CDFIs, in addition to the Grow with Google Small Business Fund and Google.org Grant Program that Vasiloff discussed, include the Finance Justice Fund, Native CDFI Awards, and a Renewable and Energy Efficiency Financing Grant Program.
Demonstrating OFN's Impact and Looking to the Future
Opportunity Finance Network membership financing has helped to create or maintain more than 1.75 million jobs nationwide and start or expand 448,541 businesses and microenterprises across the country, Vasiloff told us.
"Our members' borrowers are 84% low-income, 60% people of color, 50% women, and 28% rural," she said. "There are so many wonderful examples across the country of rural, urban, and Native businesses served by CDFIs."
OFN's website highlights a number of stories about the diverse, talented, and entrepreneurial people behind the small businesses financed by community development financial institutions, Vasiloff said.
She also discussed CDFIs' involvement in navigating the COVID-19 pandemic and OFN's future plans.
Watch on
"CDFIs continue to play a major role in the nation's economic survival and long-term recovery as Paycheck Protection Program lenders and allies and advocates for the community's hardest hit by COVID-19," Vasiloff said. "These are the communities we know and serve well, and we remain committed to fighting for them for a fair and equitable recovery."
She said OFN is also excited to have launched in late 2020 its $1 billion Finance Justice Fund, which will help accelerate financing.
As the intermediary in the fund, OFN works with investors to raise the capital for loans and grants CDFIs provide communities and disburses the Fund to OFN members working in rural, urban, and Native communities experiencing disproportionately high rates of poverty and disinvestment. Twitter is the Fund's first corporate investor with its $100 million commitment for long-term, below-market-rate loans.
"Our plans are to welcome more investors to the Finance Justice Fund, helping us reach more CDFIs with capital they will then invest in the people and places that have been underestimated and underinvested in for far too long," Vasiloff said.