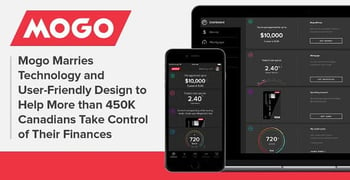 Experts share their tips and advice on BadCredit.org, with the goal of helping subprime consumers. Our articles follow strict
editorial guidelines
.
In a Nutshell: Introducing a unique concept to the world of consumer finance, Mogo is committed to providing quick and easy access to low interest loans from your smartphone. This innovative Canadian fintech firm believes that the future of consumer banking will look more like Airbnb and Uber than what banks look like today. With a range of products that includes personal loans, mortgages, prepaid Visa cards, and credit score management tools, Mogo is giving Canadian consumers what they're asking for, all with more flexibility and greater options for consumers with poor credit than what traditional banks offer. It's this new approach to providing easy and transparent financial services that has consumers so excited, and has traditional banks looking over their shoulders.
It wasn't too long ago when getting a ride to the airport meant either calling a cab or begging a favor from a friend. Now, it's as simple as tapping a screen on our mobile devices and waiting the 60 seconds or so it takes for an Uber or Lyft driver to show up at our doorstep. Mogo is looking to bring this same sort of accessibility to services to the world of personal finance.
Mogo is a Canadian lending and financial technology company that's introducing the convenience we love about ridesharing or vacation rental apps to the consumer finance industry. Its innovative and easy-to-use application and website have helped more than 450,000 Canadian consumers take a different approach to managing their finances.
From its origins as a low-interest rate lender, Mogo has grown its offerings to include competitively priced mortgages, low-fee prepaid Visa cards, tools for managing and monitoring credit scores, and other financial services.


We wanted to learn more about what sets Mogo apart from traditional banks and lending institutions in Canada, so we talked recently with Chantel Chapman, Financial Fitness Coach and a Financial Literacy Advocate with Mogo. We asked Chantel about the different loan options available to Mogo members.
"Our goal is to offer solutions to all consumers regardless of their financial situation, no different than how Uber offers different options based on budget," she said. "Unlike banks that only want to deal with consumers with good to great credit, our goal is to offer loans across the entire spectrum."
The Story Behind Mogo — How Financial Technology Benefits Consumers
The idea for Mogo grew out of a personal experience with credit card debt accumulated by David Feller, CEO of the company he co-founded with his twin brother, Gregory. After racking up more than $10,000 in credit card debt in his 20s, David realized there should be a better option for consumers who want to get out of the revolving card debt trap. He concluded that offering personal loans with lower interest rates would allow people to pay off debt more quickly and with less of their hard-earned cash going toward interest and fees.
From the outset, Mogo was designed as a financial technology company. Using deep and varied data sets, Mogo is able to assess the risk associated with a loan application without the traditional face-to-face meetings with a loan rep that most banks require. This helps to speed up the process and keeps costs lower.
Mogo uses innovative new technologies and tools to provide consumers a better experience as they shop for a loan or a mortgage, or manage their accounts. The personalized MogoAccount Dashboard is one such innovation, giving consumers an instant view of every active Mogo account they have, and the status of any applications they've submitted. Chantel had this to say about the unified-view dashboard
"It is meant to be your financial hub, and it will continue to evolve with more products, like eventually wealth management, savings, and more," she said. "Unlike a mobile bank app, you can see immediately how different the design is. It's meant to be engaging and simple, and that's what will help drive better financial behaviors."
Watch on
There's also Mogo's free credit score monitoring service, along with trending and tracking data that allows you to see your credit trends. Mogo's monitoring service sends users updated credit scores once a month. This is an invaluable service to anyone who is planning to submit a mortgage application or make a major purchase. A new feature the monitoring service plans to add soon will alert users when there is a new inquiry on their credit report, which can help detect fraudulent activity.
Mogo Hopes to Disrupt the Lending Industry
What began as an online lending platform in 2003 has grown into an award-winning financial services company. Mogo's intuitive and easy-to-use app lets members apply for a loan or mortgage from their smart device in mere minutes, and find out almost instantly whether they're approved.
That gives Mogo a distinct advantage over the competition as traditional banks typically take days or even weeks to process and approve a loan. Mogo also hopes to disrupt the payday loan business model by offering loans that even subprime borrowers can afford. This is what Mogo refers to as full-spectrum lending.
"We're a full-spectrum lender, meaning we want to offer you the best rate and product based on your situation," Chantel said. "If you're a prime consumer, we want to offer you a better mortgage rate than the bank, and a lower cost personal loan. But if you have less-than-perfect credit, we have lots of consumer data from doing over 1 million online loans in Canada. This gives us the ability to offer better rates and amounts to almost anyone, in most situations, than what they can typically get elsewhere."
Mogo loan rates have a wider range than most lending institutions, which allows the company to offer loans to members with even relatively poor credit. And its Level Up program allows borrowers to lower their rate over the life of the loan, simply by making timely payments. What's more, MogoMini and MogoZip loans are short-term offerings for poor credit borrowers who need a loan to see them through unplanned expenses.
Watch on
With Mogo's technology taking the place of the highly paid loan reps that traditional banks rely on, the consumer truly comes out ahead. Mogo also uses technology to cut down on fraud and to verify the identity of anyone making a loan request through its platform. This serves to further reduce costs and allows Mogo to pass along even more savings to members.
The Future of Mogo Will Remain Focused on the Consumer
With more than 1 million loans processed and 450,000 members in Canada, Mogo is rapidly growing the pace of its business. In 2016, revenue at the company climbed 122%, while loan originations soared by 137%. The company's objective for growth in 2017 is to process more than 30,000 loans per month.
Although business expansion is important, Mogo's focus remains firmly on the consumer, with the goal of helping people better manage their money and debt. Along with its dedication to delivering a better customer experience through its award-winning app, Mogo members can expect a continued focus on outstanding service.
New products and services are being planned for future release, although the company says it has no intention of becoming just another online bank. Founder David Feller has been quoted as saying, "We're not licensed as a bank, nor do we want to be one. It is tech platforms like ours, though, which will ultimately be the banks of the future."