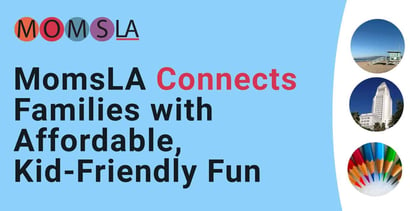 Experts share their tips and advice on BadCredit.org, with the goal of helping subprime consumers. Our articles follow strict
editorial guidelines
.
In a Nutshell: The city of Los Angeles is packed with opportunities for family-friendly fun — it's just a matter of determining where and when. MomsLA helps parents find the best things to do in the area with their kids year-round. With up-to-date info on what's open and guides for summer camps, party venues, and travel destinations, MomsLA helps busy SoCal working families hit the entertainment planning bull's-eye every time.
It's always a challenge for moms and dads to find something healthy and engaging to do with their children, and kid-friendly events and destinations abound in the sprawling city of Los Angeles. MomsLA helps SoCal parents cut through the clutter and choose entertainment and event options sure to bring delight and excite curiosity.
MomsLA presents a variety of curated, affordable attractions with year-round appeal by providing up-to-date information on museums and camps and guides for summer fun, celebrations, and family travel. More than 150,000 monthly visitors choose MomsLA to find entertainment or educational attractions that offer lasting value.

Sarah Auerswald co-founded MomsLA in 2011. The site initially chronicled the busy life she and her co-founder led as LA moms. But over time it focused more on ideas for family fun. Other mothers contributed their experiences, and in 2019 MomsLA partnered with additional sites and resources to create the comprehensive listing it is today of SoCal experiences for children.
"What resonated with our readers was summer camps and what to do with your kids," Auerswald said. "It's a perpetual thing when you have children — you need to get out of the house."
Fortunately for busy working families, MomsLA also focuses on free and inexpensive things to do. Although the site presents opportunities for parents to spend money, many enjoy a deal.
With that in mind, MomsLA partners with local businesses and brands, and provides tips and tricks to make the most of their available time and money. For SoCal parents who want to nurture the best in their children and make the most of their time, MomsLA delivers.
"There are lots of inexpensive and free things to do," Auerswald said. "If it cost you $500 every time you left the house, you could never leave."
Indoors or Out: Experience the Best of SoCal
Summer is a time when entertainment options for children are in high demand, and MomsLA offers a wide range of choices. One of the lures of summer for children is the opportunity to get outside, perhaps attend a summer camp. At camp, children learn new things and gain confidence from meeting new people and overcoming challenges.
The Summer Camp section of MomsLA lists more than 450 SoCal destinations. A map locates options by neighborhood, and quick links help parents find sleep-away camps, camps offering day passes, camps that provide transportation, and special needs camps. There are deals to be had in the Premium Summer Camp list.
The Summer Fun Guide includes additional outdoor entertainment and educational options, all ready and waiting for families. Beaches, beach playgrounds, public pools, splash pads, and ice cream scoop shops highlight the attractions. Also on the bill are outdoor concerts, movies, stadium tours, and much more.
"In summer, things just explode, and there's something to do every day," Auerswald said.

Los Angeles, for all its charms, is also in a hot desert climate, and MomsLA has indoor entertainment covered too. Since the pandemic, online summer camps are increasingly popular with children who enjoy screen time.
Befitting an area where higher education and pop culture are prominent, LA also hosts dozens of Kid-Friendly Museums featuring interactive exhibits and experiments, live animals, and play spaces. Parents and children can enjoy everything from outstanding art to enlightening science and culture, and the most entertaining music and motion pictures at LA's many museums.
"When it's too hot, or on the very rare occasion when it rains here, people need indoor spots too," Auerswald said.
Plan Events and Visit Destinations Year-Round
Summer isn't the only time parents need something to occupy their children, and MomsLA helps parents keep things under control all year.
Children who never seem to get enough of the outdoors will enjoy visiting one or more of the Snow Play areas located within a few hours' drive from Los Angeles. There, they'll ski and snowboard, and tire themselves out in general.
And, as Auerswald notes, holiday time around the turn of the new year turns out to be a time when readers flock to MomsLA.
"Summer's very big, but there's nothing like the holiday season," she said. "I would say holiday time starts around mid-September — or maybe even at the beginning of the month because Halloween has become one of the biggest consumer enjoyment opportunities of them all."
Watch on
MomsLA offers many ways to get a handle on what's happening around town at any given time, but two of the best are the Best Things to Do This Weekend list and the list of 100 of the Best Things to Do with Kids.
The weekend list receives a weekly update, so it's great to check in on short notice and find something awesome to do. Attractions run the gamut from free to somewhat pricey and appeal to children of all ages. Plus, MomsLA makes sure to find events and destinations across the SoCal area, so there's always something nearby.
Yvonne Condes, the other co-founder of MomsLA, curates the top-100 list. Based on her extensive experience as a family writer and editor, the frequently updated top-100 list features the best of the best for discerning parents and children looking to make memories any time of year.
MomsLA: Save on Family Entertainment
The Birthday Party Guide continues the year-round emphasis on MomsLA. From a list of top party vendors to ideas for party themes, cakes, and gifts, the Birthday Party Guide puts helpful information at parents' fingertips.
And the Family Travel guide assembles all the necessary road trip fundamentals in one place. From destinations to hotels, activities, and planning strategies, the Family Travel guide is a vacation planner wrapped in an entertainment guide for parents with children.
New parents comprise a significant part of the MomsLA audience, but parents with preschool- and school-age children are more frequent visitors thanks to their demand for family-friendly entertainment options.
Moms, including Auerswald, curate the site, but dads read it too. Advertisers strive to reach the site's audience with offers and deals. And MomsLA never forgets to include free and low-cost options.
"It's really important to have free options because kids are expensive," Auerswald said. "Being able to go out and do something and not pay a ticket price is great, and we want to give that to readers, for sure."
Auerswald recently published a book, "Los Angeles with Kids," that lists more than 250 ways to have fun entertaining children in the Los Angeles area. For SoCal newbies and longtime residents alike, the book offers a more portable way to stay abreast of happenings in this dynamic area.
And there's a weekly MomsLA newsletter, which Auerswald ensures goes out every Thursday to give harried readers time to make weekend plans.
Raising children isn't easy, but it's a labor of love. MomsLA helps SoCal parents decide how to show that love without breaking the bank.
"Think about the number of times you have to buy shoes as they're growing up," Auerswald said.