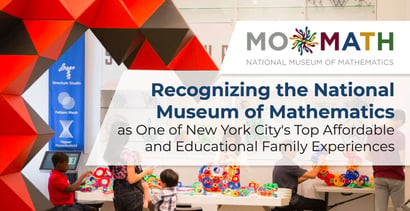 In a Nutshell: New York City's National Museum of Mathematics offers affordable, educational fun for the whole family. The nation's only math museum features interactive exhibits that bring math to life for visitors, illustrating how it provides the underpinning to many aspects of our lives and culture. The museum also hosts two free series: Math Encounters for high schoolers and adults and Family Fridays for children ages 7 to 12. For those who can't make it to New York, MoMath also maintains traveling exhibits that tour museums, schools, libraries, and community centers all across the country.
Math is everywhere.
Statements like that may make writer types like myself want to lock themselves away in a bunker, but it's true.
Math is more than just brain-numbing long division or complex algebra formulas. Math is responsible for countless works of art, musical compositions, and technological innovations. Numbers touch our lives in ways we never even consider.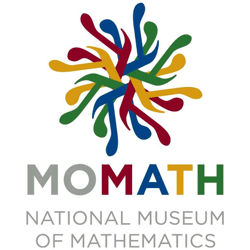 And in New York City, the National Museum of Mathematics (MoMath) can make even the most arithmophobic among us appreciate the beauty, practicality, and history of math through interactive exhibits and engaging discussions.
And here's some budgeting math that most families will appreciate: Entry into MoMath's exhibits and functions range from affordable to free, depending on the event and day.
As finance writers, we often explore products, services, and companies that can make people's financial lives easier, or help them get on the right financial path. But every now and then we like to simply highlight affordable trips or activities that may appeal to those on a tight budget or families simply trying to save money.
We're recognizing MoMath for offering unique and memorable experiences while making math fun for people of all ages — all at affordable rates.
We recently spoke to Cindy Lawrence, CEO and Executive Director of MoMath, to learn more about the museum and what it has to offer visitors.
She said that, while the museum charges admission fees ($18 for adults and $15 for children and seniors), there are many opportunities to see the museum for free or participate in free programming. With the help of sponsors, MoMath is able to offer multiple free museum days per year and works with certain schools to allow students free or reduced entry fees.
Become Immersed in the World of Mathematics through Interactive Exhibits
The National Museum of Mathematics launched in Manhattan in 2012 following the closing of the much smaller mathematics-focused Goudreau Museum on Long Island several years earlier. And when MoMath opened its doors, it was the only math museum in the U.S.
From the start, MoMath's goal was to demonstrate how math isn't a thing to be dreaded but something to celebrate.
"The mission of the museum is actually to change perceptions of mathematics," Lawrence said. "People think about math as being dry, boring, no fun, hard. And we're trying to highlight math as this aesthetic, beautiful endeavor, a world where you come in, and there's a certain amount of pleasure and delight that you get from what you're experiencing."
She likens it to someone falling in love with music and wanting to learn how to play an instrument. It takes a lot of hard work, memorization, and practice to learn how to read music and execute the notes on your instrument. But once you learn the basic pieces of the puzzle, you'll learn how to make beautiful music, Lawrence said.
"I like to say that at the Museum of Mathematics, we are sort of a symphony of math," she said. "Our goal is really to be a motivating force for people to say, 'Wow, I saw something really, really cool and now I want to learn more.'"
One of the museum's biggest attention-grabbing exhibits is its pair of square-wheeled tricycles (one adult-sized and one child-sized) that run on a special track. Lawrence said the riders feel like they are riding on a regular bike with round wheels.
"It seems surprising that it can even work. You shouldn't be able to ride something that has square wheels, and the fact that you can is only because of mathematics," she said. Visitors have come from all over the world and asked to ride the square-wheeled bikes.
Lawrence said other interactive exhibits, such as painting wallpaper patterns using mathematics, allow visitors to tap into their creative sides. The museum also features math puzzles, basketball challenges, motion activities, and many other exhibits that bring math to life in entertaining and educational ways.
Free Programs Feature Top Experts Discussing Math in Relatable and Fun Ways Pertinent to Everyday Life
"Our flagship presentation series is called Math Encounters," Lawrence said. "It runs on the first Wednesday of every month and it's entirely free."
The series, sponsored by the Simons Foundation, is primarily focused on high schoolers and adults and features some of the world's top mathematicians, she said.
"But it's not a math lecture; it's not a chalk talk," Lawrence said. "The presenters are very good at explaining what's interesting about what they do to general audiences."
She said the eclectic series has covered wide-ranging topics that illustrate how math is connected to people's lives. Previous lectures have explored data science and basketball, how mathematics connects with fiction, the mathematics of dance, and even how to cut cakes fairly.
"We hope that this series really brings out the sort of diverse and wonderful landscape of mathematics that you didn't see in school," Lawrence said. "There are so many different aspects of math. There's a lot of math in music related to rhythm, scale, notes, patterns, and structure. We've had a lot of math in music presentations."
The other free series is Family Fridays, sponsored by Two Sigma, which is geared toward children between the ages of 7 and 12 and their parents. Lawrence said Family Fridays offers more hands-on explorations of math through making or building something.
"The idea of the series is that whatever is being done should be just as much fun for the parents as the child," she said. "Everybody can participate, and we see that the adults are clearly having just as good a time as the kids. And there's always a mathematical underpinning to the activities."
Lawrence said Family Fridays are a great, affordable way to participate in a memorable and entertaining experience in the generally expensive New York City.
MoMath's Traveling Exhibit Brings the Museum to Those Who Can't Make it to NYC
Of course, traveling to New York City isn't a realistic prospect for many families outside of the region. But Lawrence said MoMath offers traveling exhibits so people in other parts of the country can get a taste of the museum's engaging and educational experiences.
"I would encourage anybody reading this who may not have a chance to visit New York City to talk to their local schools, libraries, or community centers about renting out our traveling exhibit," she said.
The primary traveling exhibit was Math Midway, which actually predated MoMath, having debuted in 2009 at New York's World Science Festival Street Fair. The exhibit has been seen at museums across the U.S. over the past decade.
"The Math Midway exhibition provided an interactive, hands-on tour of mathematical concepts, using a carnival style," according to the organization. "The individual exhibits included exciting and surprising activities that relate mathematical principles to games and events you would find at a typical carnival, fair, or circus."
Although the Math Midway has since been sold to the Science Center of Singapore, the smaller Math Midway 2 Go is a spinoff of the original attraction and features six interactive mathematics exhibits suitable for presentation at schools, science festivals, and libraries.
"Hands-on activities captivate and engage visitors, highlighting the wonder of mathematics," according to the Math Midway 2 Go webpage.
Lawrence said MoMath strives to have a national voice and a national impact with the work it is doing.
"We have been to many of the 50 states with our exhibits and we'd love to bring the exhibits to places near all of your readers," she said.
For families looking for affordable and entertaining activities in the New York area, the National Museum of Mathematics offers a great option for family fun that won't leave your child wanting to hide from math problems. Instead, the museum exhibits how the various pieces of the infinite puzzle that is mathematics come together to form symphonies on a daily basis.
Advertiser Disclosure
BadCredit.org is a free online resource that offers valuable content and comparison services to users. To keep this resource 100% free for users, we receive advertising compensation from the financial products listed on this page. Along with key review factors, this compensation may impact how and where products appear on the page (including, for example, the order in which they appear). BadCredit.org does not include listings for all financial products.
Our Editorial Review Policy
Our site is committed to publishing independent, accurate content guided by strict editorial guidelines. Before articles and reviews are published on our site, they undergo a thorough review process performed by a team of independent editors and subject-matter experts to ensure the content's accuracy, timeliness, and impartiality. Our editorial team is separate and independent of our site's advertisers, and the opinions they express on our site are their own. To read more about our team members and their editorial backgrounds, please visit our site's About page.