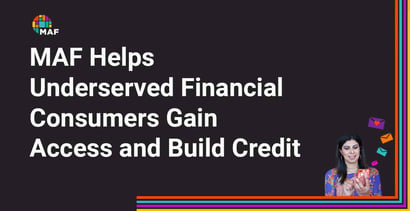 Experts share their tips and advice on BadCredit.org, with the goal of helping subprime consumers. Our articles follow strict
editorial guidelines
.
In a Nutshell: As pundits and politicians debate immigration policy, Mission Asset Fund (MAF) enables undocumented and underserved financial consumers to earn what they want most: an opportunity to make a positive contribution. The San Francisco-based nonprofit's innovative Lending Circle loans draw on informal borrowing practices in the Mexican tanda tradition to provide a safe, zero-interest pathway to credit building. Lending Circles and other MAF lending and educational programs walk the walk for financial inclusion while others talk the talk.
Latino roots run deep in San Francisco's Mission District, a meeting ground for old and new that has attracted more than its share of refugees and outcasts since the era of Spanish colonization.
Mexican Americans have called the Mission home since the 1940s, and an essential Chicano/Mexican-American character remains a cultural touchstone in the Mission even as the area gentrifies.

One of the many manifestations of that is the tanda tradition, an informal system of cooperative savings widespread in Latino societies. Friends, family members, or coworkers agree to contribute a set amount to a shared pool of funds collected weekly or monthly, with each receiving the entire amount in succession until every member has received funds.
With many Mission residents excluded from mainstream financial services, tanda allows them to collectivize their purchasing power.
It works, but was not visible to the mainstream financial system. San Francisco's Levi Strauss Foundation found in a 2007 survey that 44% of Mission residents lacked a credit score, locking them out of the opportunity to better themselves financially. The Foundation decided to boost financial inclusion in the Mission by partnering with community leaders to form the Mission Asset Fund (MAF).
MAF drew on the tanda tradition to create Lending Circles, which report on-time payments to the three major US credit bureaus. On average, MAF Lending Circle participants have increased their credit scores by 168 points. Through partnerships, MAF is spreading the Lending Circle idea to other communities.
"Lending Circles are 0% interest social loans to help people build credit," said Efrain Segundo Orozco, MAF's Financial Education and Engagement Manager. "We have a 99% repayment rate because people form a sense of trust with us when they see the authenticity behind it."
A Positive Financial Alternative Based on Trust
Trust is the hallmark of tandas. Every time a tanda collects money, the group agrees to distribute the entire pot randomly or through a schedule until everyone receives a pool. Sometimes, tandas even agree to modify their distributions to account for emergencies.
It works because people rely on each other. A tanda with eight individuals contributing $200 a month requires eight months to complete, with each member receiving a single $1,600 lump sum during the tanda's course.
Lending Circles work the same way, except that MAF manages and distributes the funds and reports on-time payments to the three major US credit bureaus. Six to 12 individuals participate in each Lending Circle, and loan amounts range from $300 to $2,400. Once a month, each Lending Circle member in good standing receives the prearranged lump sum in good faith.

Lending Circles circumvent the self-defeating cycle of resorting to payday loans or other exploitative financial solutions, and the impact can be profound. Nine in ten clients without a credit score establish one for the first time. Debt decreases by $1,000 per person, clients save about $360 on interest and unlock three additional credit tradelines on average. It's a portal to financial inclusion.
"We're on a mission to help people in the community feel visible, active, and successful in their financial lives," Orozco said. "We know our approach is good because, at the end of the day, we're helping people build on their own strengths."
One of the chief strengths of the program is that it works for individuals without a Social Security number. All that's required is an IRS-issued ITIN (Individual Taxpayer Identification Number), which ensures all Americans, including the undocumented, pay taxes.
"When people learn they can build credit through their ITIN, it creates an automatic pathway for them to become involved in the financial mainstream," Orozco said.
Partnership Network Reaches Nationwide
The tanda tradition isn't just a staple in Latino culture. Versions of tanda exist everywhere people need them as a traditional alternative to modern financial access.
But because circumstances vary and cultures have diverse value systems and behavioral patterns, MAF exports the Lending Circle idea to different communities through partnerships with more than 50 nonprofit providers in 17 US states. Partnerships work because they acknowledge cultural realities and seek to match the program's manner of outreach and success markers to local needs.

"MAF has always been community-centered, and we take pride in meeting people where they are," Orozco said. "It's been awesome to partner with nonprofits across the country because they know their populations better than we do and can adapt and pitch it in a way that's beneficial."
MAF provides implementation support, marketing tools, a platform to enroll and manage participants, loan management and credit reporting services, and access to MAF's professional Lending Circles provider team.

The possibilities are endless. One provider in the low-immigrant state of Minnesota works with people trying to better their credit to become first-time homebuyers. On the other hand, many California-based partnerships seek to serve immigrant communities directly because that's their reality.
The proof is in the pudding. All told, MAF Lending Circles have distributed more than $8 million in zero-interest loans to more than 9,000 clients. The program has also been responsible for distributing more than $2.5 million in grants and saving more than $1.6 million in fees and interest.
"Lending Circles is so malleable in so many ways — it's no wonder it's our flagship program," Orozco said. "Credit access has always been central to everything we do because we know how great a foundation credit can be to open other pathways in a person's financial life."
Enabling a Practical Vision for Financial Inclusion
MAF also understands the community value of entrepreneurship, and through zero-interest business micro-loans, it helps aspiring businesspeople develop their ideas and launch and grow their businesses.
Whether through converting an informal neighborhood business into an official profit-making enterprise or giving a growing company that extra boost into the mainstream, zero-interest MAF microloans of up to $2,500 can cover business-related costs while establishing or building credit.

"We just want to give more people access to more capital," Orozco said. "We're focusing a lot on the entrepreneur space now and hoping to help however we can."
Another way MAF helps new US immigrants is through zero-interest immigration loans that can fund everything from a citizenship application to applications for Deferred Action for Childhood Arrivals (DACA), travel permission for DACA, a Green Card, temporary protected status, and other authorizations. On-time payments also build a credit history for participants.
The other benefit MAF clients can count on is ongoing financial education and coaching from a team dedicated to seeing every client achieve greater success. MAF requires each new program participant to complete at least one hour of financial education.
After that, the many educational opportunities MAF offers are optional. However, many participants continue to benefit from Facebook Live and Zoom sessions that cover all the basics and dive deep into details, tips, and tricks.
The result can be clients with a more well-rounded sense of the possibilities inherent in financial services and the choices they need to make to get where they want to go.
"We always invite people to engage with us more deeply and make a financial coaching appointment," Orozco said. "Because if we can get you to speak with us, we guarantee we'll open up some brain cells in your head real quick."