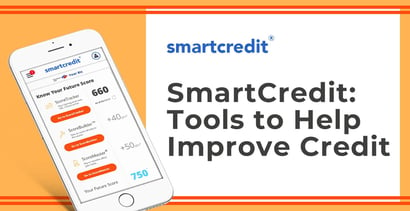 In a Nutshell: SmartCredit provides an interactive, engaging way for consumers to monitor and improve their credit scores. Its tools help people understand how credit and reporting work, and learn better money management habits. One important task is locating erroneous negative information and having it removed from reports so it doesn't adversely impact a consumer's score. Another is managing credit utilization ratios to ensure the lowest balance is reported to the credit bureaus.
Credit scores are a fundamental aspect of consumers' lives and can impact their ability to access financial products, including credit cards and home and auto loans. The scores also play a significant role in deciding the interest rates people pay for those products.
Despite their importance, many Americans don't know their credit score and don't check their reports for accuracy on a regular basis. They may not even know where to start to better their score.
That's why SmartCredit provides tools that enable consumers to monitor their score and learn steps to improve their financial situations.

"SmartCredit was designed to be a way for consumers to interact with their credit report," said Steve Reger, Senior Vice President of Sales at SmartCredit. "Most other credit reporting and monitoring products are more static and flat, and you just look at the information."
SmartCredit is not a credit repair site or service. It is a self-service portal that enables more meaningful interaction with credit information. It provides users with tools for checking and improving credit scores and managing their money in real time.
While the prospect of tackling those areas may seem daunting, SmartCredit makes the process easier and more accessible. The benefits for doing so may include improving low scores, qualifying for better rates on credit products, and maintaining high scores.
SmartCredit users can gain a deeper understanding of their credit and master their financial situations so they can enjoy greater stability and independence from debt.
Interactive Tools Enhance Financial Management
Consumers who want to dig into their credit, understand how it works, stay on top of it, and interact with their profile benefit the most from SmartCredit. Those people tend to fall into two categories. The first is the financially savvy consumer who wants to learn how to better manage their money.
"They may not necessarily have credit problems, but they don't feel like they understand finance as well," Reger said.
The second category is the credit-challenged consumer. These individuals are often carrying balances on their credit cards that they want to pay off. Some may also have negative information on their report that they need to address.
SmartCredit provides the insight and tools to help them. It can send notices to the data furnishers reporting inaccurate information to the credit bureaus. While consumers could carry out this action on their own, SmartCredit makes it easier, which is important for someone with a low credit score — even if it may not seem urgent at the moment.
"Most people, when they have credit issues, they put their head in the sand, and they want to pretend like it didn't happen," Reger said. "And then time goes by, and now they want to buy a car, or they have to get a place to live, and they're on the spot where they've got to try to fix something overnight. There are so many things in life, from insurance to jobs to where we live and what we drive, driven by credit scores. Whether we like it or not, that's what it is."
In short, it's best to be prepared. And SmartCredit provides the insight and tools necessary to do so.
Credit Insight Empowers Consumers to Improve Scores
Negative marks on a credit report can drag a good score down — sometimes significantly.
When marks are legitimate reflections of past missteps, there's no solution other than to wait for them to drop off the report and work hard to improve by other means. One of those steps may be to find and remove false marks.
"If you've got negative information, and you've got a poor credit score, you've got to work to get the negative information off," Reger said. "If you don't have enough good information, you've got to work to responsibly add information to the credit report through a loan here or a loan there. And if you've got high balances, you've got to pay them down."
Those are all proactive ways to improve credit scores, but it's just as important to focus on weeding out false, negative information. That information often finds its way onto reports one way or another, often through no fault of the consumer.
Watch on
When mistakes happen, it's crucial to find them and have them removed, so they don't unfairly damage a score. But the trick isn't disputing it with the bureau.
"If somebody identifies an inaccuracy, we're going to enable them to easily communicate directly with the source of that potential error," Reger said. "Just because you fix this error with the credit bureau doesn't mean that error's been fixed. If the bank thinks I was late 60 days last month and tells the credit bureau that, and then I get the credit bureau to change it, nothing has modified the bank's opinion that I was 60 days late last month. We try to encourage people to go directly to the source. And then if the bank says, 'We messed up, you never were 60 days late,' then they're going to tell the credit bureau, and the credit bureau is going to fix it."
Timing Payments Reduces Credit Utilization Ratio
Credit utilization is a ratio of balance to the credit limit on a particular account. It is calculated by dividing the existing debt by the total amount of credit available. A high utilization ratio can negatively impact scores, often significantly.
Even if a consumer is not carrying a balance on a card from month to month, the utilization ratio could still be hurting your score. For example, if the balance is reported to the bureau right before you pay it off, the score will reflect that balance but not that someone has paid it off.
"I pay my credit cards off in full every month," Reger said. "But what I used to do, I would just pay it off when I got paid. But I would often pay it off, and then over the next two weeks, I'd charge it back up with all my bills. And that's when it got reported to the credit bureau."
SmartCredit's Scoremaster tool is one solution to help resolve those tricky situations. It allows users to see when cards report to bureaus so they can leverage that same tactic of paying balances off right before usage is reported. That way, their utilization ratio is reported as lower, and their credit score will rise.
"It identifies the dates your credit cards will report to the credit bureaus," Reger said. "You can then start to time out your payments to just before they're reported to the credit bureaus. So you can be sure you have your lowest balance always showing."
SmartCredit: New Tools Expand Insight and Control
SmartCredit hosts a suite of tools that can help consumers improve their credit scores through proactive attention to their finances. And throughout SmartCredit's history, plenty of people have found success.
"We've done some studies on the average person that uses SmartCredit, and their score goes up about 97 points over the course of their membership," Reger said. "We also look at the lifetime value — the amount of time somebody stays enrolled with our product. We find that consumers enroll in our product a good 45 days longer than any of our competitor's products."
SmartCredit continues to improve its offering and develop innovative tools. One of those new features will debut in 2021, and it will enhance the way users can understand and engage with their credit reports across all three major bureaus.
"We have a big redesign of our three-bureau credit report that's coming out in another month or two," Reger said. "The traditional way to look at a three-bureau credit report is really dry and not interactive, it's just digitally unappealing. So, we put a lot of time into redesigning the way somebody can look at and interact with their three-bureau credit report. I think people are going to be excited about that."
Advertiser Disclosure
BadCredit.org is a free online resource that offers valuable content and comparison services to users. To keep this resource 100% free for users, we receive advertising compensation from the financial products listed on this page. Along with key review factors, this compensation may impact how and where products appear on the page (including, for example, the order in which they appear). BadCredit.org does not include listings for all financial products.
Our Editorial Review Policy
Our site is committed to publishing independent, accurate content guided by strict editorial guidelines. Before articles and reviews are published on our site, they undergo a thorough review process performed by a team of independent editors and subject-matter experts to ensure the content's accuracy, timeliness, and impartiality. Our editorial team is separate and independent of our site's advertisers, and the opinions they express on our site are their own. To read more about our team members and their editorial backgrounds, please visit our site's About page.