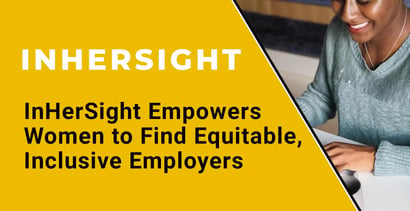 Experts share their tips and advice on BadCredit.org, with the goal of helping subprime consumers. Our articles follow strict
editorial guidelines
.
In a Nutshell: Even in 2022, women have yet to achieve equity in the workplace. Many women continue to look for companies that offer flexibility, inclusivity, and work-life balance to support long-term career success. Helping women find positions at supportive organizations is what InHerSight, a company reviews platform for women in the workforce, offers. Specifically, the platform lets women post reviews of their workplaces, thereby letting others know about an organization's women-friendly policies. Job candidates can also use the platform to be matched with open positions.
In 2021, research firm McKinsey released its seventh-annual "Women in the Workplace" report. It showed that women — especially women of color — were not equal to men in the workforce.
One area where women are not achieving equity is when it comes time to be promoted into their first management roles. Women do not enter management at equal rates as men, which can make it more difficult to achieve those senior positions later. By the time women make it to the C-Suite — if they do — they are underrepresented. Women of color make up only 4% of C-level leadership, according to the report. That compares with a 22% representation by white women and a 12% representation by men of color who hold the same C-level positions.
The pandemic has also taken a significant toll on working women.
"Women are even more burned out now than they were a year ago, and burnout is escalating much faster among women than among men. One in 3 women says that they have considered downshifting their career or leaving the workforce this year, compared with 1 in 4 who said this a few months into the pandemic," according to the McKinsey report.
That discrepancy between men and women in leadership roles and women's higher rates of burnout are significant concerns. InHerSight, a company reviews platform for women founded in 2014, aims to help women bridge that gap. The online media company does this by finding job opportunities at companies willing to support and foster women's success.
The platform encourages organizations to join and implement strategies that make them more inviting, inclusive and equitable. It also allows employees to submit anonymous workplace ratings to ensure potential hires have an accurate picture of an employer's commitment to their success.

Women who visit InHerSight for new opportunities can view companies based on a variety of factors and values, and can customize searches to match their ideal situations.
InHerSight Founder and CEO Ursula Mead launched the platform because she wanted to give women more research tools — and power. Then a new mom, she understood just how much a meaningful work-life balance matters to mothers and other caregivers.
"There was a big gap, or asymmetry of information in terms of what women specifically wanted and needed to know about a company to decide if it was the right place for them to work," she told us.
The website provides a list of its "50 Best Companies to Work For As Rated by the Women Who Work There." And each organization is rated based on a range of factors, including paid time off, equal opportunities for women, remote work options, and flexible hours, among others — all driven by research on what matters most to women at work.
InHerSight tools help women evaluate opportunities and employers on their own terms and find positions that align with their values and life goals.
Women Can Rate Current Employers Based on Values
Before InHerSight, women searching for employment didn't have many resources to research potential employers with what mattered to them during the process. For example, they may have wanted to work at a company with friendly, diverse colleagues and a fair compensation structure, but they couldn't easily find the organizations that fit that bill.
Mead started by collecting information about companies from the source — women who already worked there. Early on, InHerSight data identified many companies that had work to do on the equity and inclusion front. After identifying areas for improvement, many of those companies have improved significantly.
"Now, some of the best opportunities for women are at companies that had work to do. That isn't always true, because you can have a company that has work to do around supporting women and isn't interested in doing that work," Mead told us. "But our job is to help women find companies, whether they are just figuring out how to start supporting women across these areas, or they have some things that they're excelling at and need to work on others or they checked all the boxes."

Part of InHerSight's effectiveness is that it isn't just applicant- or employee-facing. Companies can learn a lot about how their organizations treat women by reading their own reviews on the platform.
That can spur plenty of internal conversations about an organization's direction and allow it to identify more inclusive values to attract top talent moving forward.
"Women are a talent segment that is critical in so many areas of a business' performance. And there are needs that need to be met that, in some instances, companies weren't even aware of," said Mead.
Users Search for Jobs That Match Personalized Criteria
Many women realized their positions did not match their personal or professional values during the COVID-19 pandemic. Others acknowledged they didn't want to spend time commuting to the office or working standard 9-to-5 hours.
Some of those women sought flexible employment as part of what has been dubbed The Great Resignation. About 80% of InHerSight users who create candidate profiles say they are seeking fully remote or hybrid work situations.
And those candidates often enjoy using InHerSight's most popular feature: a profile matching tool that pairs job seekers to compatible open postings. Women can create candidate profiles to connect with organizations that have the career positions they desire.
"People are shifting values and how they think about work and what they prioritize. And I think having these types of resources is more important than ever for job seekers as they are looking at work through very different lenses," Mead said.

Women can choose three to five must-haves — essential aspects, values, or offerings — to elevate in their job search when creating their profiles. They typically choose things that make them feel supported, including a combination of professional needs, goals, and company culture.
"Say you are looking for a retail opportunity at an organization that supports learning and development and where you'll be satisfied with your pay. When we see women interested in leadership, we look through all of our opportunities and our company data and make recommendations of which jobs and companies to explore," Mead said.
Employers can also use parameters to search for candidates. InHerSight's tools are job-seeker friendly, and candidates can send a Quick Apply application — a pre-filled application based on their candidate profile — to a company if they find a position that fits their needs.
The job postings are also tailored to provide women with information about what the job entails and the required skills while encouraging them to apply. Companies can include a message at the top of their listings that speaks to the InHerSight audience. These messages help dispel preconceived notions about a certain industry or identify reasons why candidates should send in an application. InHerSight calls these Equity Boosters.
"There's a big data point that shows women only apply to jobs when they feel they're 100% qualified, but men apply or when they feel 60% qualified," said Beth Castle, InHerSight Managing Editor. "Including that messaging encourages them to read the job description differently, and say, 'Based on my skills, I could possibly do this job. It might be a leap, but I should go for it' in the same way a man might."
InHerSight: Encouraging a More Balanced Workforce
One of InHerSight's goals is to help women realize they can work in positions in which they would need to learn and grow. Mead said the Quick Apply feature can encourage women to apply for jobs they may feel less-than-qualified for.
"It's almost like a preapproval, you can see if you're a good fit, or if they think you're a good fit without having to apply. And that would probably make more women go after those positions," she said.
Women may also feel more confident when InHerSight tells them they have the skills to apply for an open position at a particular organization.

Mead also advises women not to rule out working at a company just because it doesn't have a great rating. That's because organizations that have work to do are often highly motivated to improve.
"When companies learn about us, they're interested in understanding their scores and what they can do with that information," Mead said. "In other cases, they immediately see the opportunity to start building their brands with this talent segment. And they're looking for ways to recruit from our audience."
Since 2014, InHerSight has been an instrumental force in helping women find employment opportunities that promote their advancement. Now, the website has data on around 200,000 companies in the United States, with tens of millions of data points about women's experiences at work.
"We are the largest company ratings platform for women, but we're also the most intersectional. So when you go to a scorecard, you can filter by career level, race, ethnicity, gender, sexual orientation, or parental status. You don't see that on other platforms," Mead said.