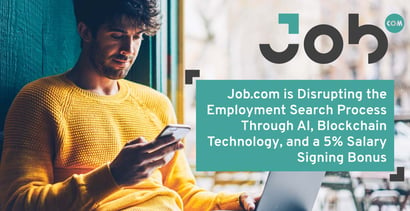 In a Nutshell: Job.com is a mainstay of the online employment search industry but is taking a bold new approach to recruitment in the United States. Its innovative system now leverages sophisticated AI to match candidates with employment opportunities and uses blockchain technology to automate the hiring process. And, when candidates find a new job through its platform, Job.com rewards them with a signing bonus equal to 5% of their annual salary, helping them pay down debt and build savings.
In 2004, Arran Stewart bombed his first job interview. As he continued to hone his skills and improve his interviewing prowess in hopes of landing an ideal job, Stewart managed to work himself into considerable debt. At one point, he was on welfare and in a debt recovery program.
Ironically, that journey led him to a successful career in the industry that had frustrated him at the outset: recruitment and employment. Through it all, he remembers the struggle of finding worthwhile employment and reclaiming his financial independence.
Now, as Co-Founder and Chief Visionary Officer (CVO) at Job.com, Stewart hopes to help others who are struggling through difficult financial situations find gainful employment.
Job.com takes an innovative approach to the online job search as the platform uses sophisticated AI to connect job seekers to ideal positions. And blockchain technology helps automate the hiring process by formalizing routine interactions with prospective employers. But perhaps most attractive of all, Job.com pays a signing bonus to candidates hired through its platform.
"Our use of blockchain technology coupled with artificial intelligence is a unique model. And any job seeker that gets a job through Job.com actually takes the lion's share of the fee we charge to the company advertiser," Stewart said. "When a company hires, it pays out 7% of the candidate's base salary to us as a fee, and we split the fee in two. We keep 2% and the remaining 5% is given to the job seeker as a signing bonus."
For those who are between jobs or seeking to advance their careers, Job.com offers a reliable and efficient way to discover new opportunities. And, with its targeted results and signing bonuses, it helps users find employment and reclaim their financial well-being.
AI Matching Removes the Hassle from the Job Hunt
Job.com's method originated with MyJobMatcher, a U.K. company also headed by Stewart. The site requires no searching; users simply upload their résumés, and the platform returns open positions from across the internet that match their experience and skills. This innovative approach quickly grew the platform's user base to more than 7 million job seekers.
After the success of MyJobMatcher, Stewart rallied venture capitalists and purchased Job.com. Previously a standard online job board, the site now brings MyJobMatcher's breed of matching to employment seekers in the United States. Today, the site has more than 60 million registered users — roughly equivalent to a third of the nation's working population.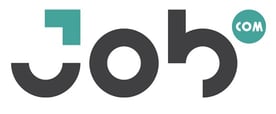 This new approach leverages advanced technology to eliminate recruitment middlemen, shifting instead to a reward-based approach. Gone are the days of sifting through seemingly endless job postings, most of which are irrelevant to a given candidate. Instead, job seekers see premium possibilities, allowing them to put their effort into landing an ideal position.
After U.S. users upload their résumés, Job.com's AI automatically searches its comprehensive database to provide the most optimum matches. A more accurate matching process improves the user's chances he or she will find a job that is a good fit.
This service is free to job seekers. There is no fee to register, upload a résumé, or start receiving job matches. Job.com earns a fee from client companies, with a substantial amount of that fee going back to its users.
A 5% Salary Bonus Rewards Diligent Employment Seekers
Landing a new job, in and of itself, is often reward enough — whether you're transitioning out of unemployment or a lower-paying job. But Job.com gives users even more cause for celebration when they get hired.
"Not only do you get a job, but you also got a 5% salary signing bonus. That is really a life-changing situation — definitely for the average person. We've built our model around that," Stewart said.
His rationale for introducing this new model is simple. The job seeker is the person putting in all the hard work and effort to write cover letters, send out résumés, apply for positions, and prepare for interviews. They've also put in the time to acquire valuable skills through education or on-the-job experience. It didn't make much sense to Stewart that a third party earns a hefty fee just for having the right domain name and maintaining its infrastructure.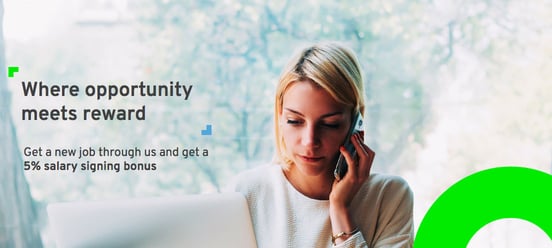 "When you think about it like that, it dawns on you that the job seeker did most of the work and they get zero out of the deal. It just seems counterintuitive," Stewart said.
Job.com's candidate-centric business model inverts the traditional job search structure in favor of the job seeker. The latter keeps the majority of the hiring fee, which rewards people for making an effort to find employment while helping them achieve or maintain financial stability.
"Through your normal efforts — which are valuable and have made other people a lot of money — you actually get a decent share of the spoils," Stewart said. "There's a tremendous benefit to that. When you have the buy-in of the job seeker, they go the extra mile during the hiring process. It increases the quality of the candidate, which then benefits the client."
Using Blockchain to Establish Contracts with Employers
Typically, a recruitment consultant manages the process of searching for candidates, a hands-on task that incurs a substantial cost.
"That person sitting in the middle, managing the process, is the person making 20%," Stewart said. "We remove that person."
Job.com replaces the middleman with blockchain technology, which is the foundation of cryptocurrencies like Bitcoin and Verge. In this capacity, blockchain records every transaction in a unique block of data. Each block connects to the one generated before it. These blocks cannot be removed, inserted, reordered, or tampered with in any way, which creates a reliable ledger of financial interactions.
Watch on
The blockchain is used similarly on Job.com by automating the process of bringing the best-suited employers and candidates together. It does so through their normal interactions, such as messaging on the platform to discuss the employment opportunity, negotiating details, and arranging interviews. Blockchain keeps track of all these nuances in the background without any extra effort on the part of the job seeker or the client.
"There's a recorded ledger between both of you. And it legally entitles you, without the need for a third party, to that signing bonus," Stewart said. "And it's not just verified by Job.com; thousands of other sites verify it."
When candidates confirm they've been hired and input their start date, the Job.com system logs that information. Later that day, the new hire gets a congratulatory email, and Job.com bills the employer. Job.com earns nothing unless it successfully connects workers with employers, and the new hire receives his or her earned salary signing bonus 90 days after starting work.
Resources Help Candidates Land Premium Positions
Stewart has extensive experience on both sides of the job market spectrum, and Job.com plans to post free articles featuring his advice to help job seekers. Topics will include how to get through hard times while looking for work, navigating the search, and speeding up employment efforts.
"As a person who's been from absolutely broke to doing well — and who has lived an entire life in the recruiting stream — I offer no-nonsense advice," Stewart said.
Stewart also shared some helpful tips about how job seekers can expedite their search by creating a résumé suited for Job.com's AI platform.
"You need to include content that's relevant to where you want to go. We're working on prediction at the moment, but we can't necessarily predict that a sales manager wants to be a sales director." — Arran Stewart, Co-Founder and CVO at Job.com
First, he said candidates should ensure their résumé is sharply focused. The majority of the content should be devoted to the last three years of employment. That is because Job.com's AI doesn't weight content; if users treat every item in their work history equally, it will do the same. That's why it's important to emphasize recent work experience as it feeds into your future career objectives, helping the AI and future employers understand your professional goals.
"You need to include content that's relevant to where you want to go. We're working on prediction at the moment, but we can't necessarily predict that a sales manager wants to be a sales director," Stewart said. "If you have 'sales manager' written throughout your résumé, you're going to match with sales manager jobs. You'd have to put that you've been a sales manager, but your objective is to become a sales director."
Stewart also advises job seekers to provide specific employment dates. The AI weights experience based on the number of days a person has worked in a given role, so feeding it more specific dates will allow it to assess your work history accurately.
By heeding this advice, job seekers can craft exemplary résumés that will help Job.com's AI match them to ideal roles. This innovative, candidate-focused process helps workers connect with employers that desire their skills, and the newly hired can enjoy all of the financial and personal benefits of productive, gainful employment.
Advertiser Disclosure
BadCredit.org is a free online resource that offers valuable content and comparison services to users. To keep this resource 100% free for users, we receive advertising compensation from the financial products listed on this page. Along with key review factors, this compensation may impact how and where products appear on the page (including, for example, the order in which they appear). BadCredit.org does not include listings for all financial products.
Our Editorial Review Policy
Our site is committed to publishing independent, accurate content guided by strict editorial guidelines. Before articles and reviews are published on our site, they undergo a thorough review process performed by a team of independent editors and subject-matter experts to ensure the content's accuracy, timeliness, and impartiality. Our editorial team is separate and independent of our site's advertisers, and the opinions they express on our site are their own. To read more about our team members and their editorial backgrounds, please visit our site's About page.