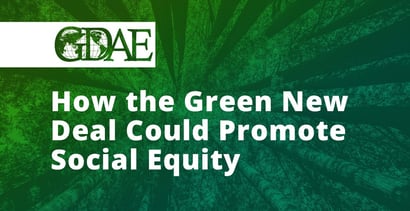 In a Nutshell: While some still deny climate change, the consensus is in — the data shows that climate change is real and experts say it's time to do something about it. Not only does climate change paint a dire picture for the future of the planet, but it adversely affects low-income individuals at a higher rate. We spoke with Jonathan Harris, Senior Research Associate at the Global Development and Environment Institute at Tufts University, to learn more about this issue. The Green New Deal is proposed legislation that offers hope not only for the future of the planet but also in helping to reverse negative health and financial impacts on those in low socioeconomic areas. The Green New Deal offers the potential for a cleaner, sustainable future and many new job opportunities across a number of green industries.
You may have heard talk over the past couple of years about the Green New Deal. But, while this eco-friendly sounding package is name-checked often in the media, many people may not be sure what the Green New Deal is actually about.
Essentially, it's a plan for how to address climate change in the coming months and years, from moving away from fossil fuels to opening up new job opportunities in a greener economy.
The ideas behind the Green New Deal have been floating around for a while, but in 2018, Representative Alexandria Ocasio-Cortez of New York and Senator Edward J. Markey of Massachusetts officially introduced a Green New Deal legislative proposal.
The legislation has been slowly making its way through the halls of Congress, but it has gained new attention amid the COVID-19 pandemic. Just as the pandemic has forced conversations about the failings in areas like jobs and the economy — it has illuminated the fact that now may be the perfect time to really talk about climate change.
We recently spoke with Jonathan Harris, Senior Research Associate at the Global Development and Environment Institute at Tufts University, to learn more about the Green New Deal. We discussed not only how it relates to the pandemic but how it could benefit the health and economic outlook for those in low socioeconomic brackets.
Harris said he believes the Green New Deal got a bad rap when it was first introduced but has gained more widespread acceptance in its current form.
"I would say the Green New Deal in a fairly moderate format has become significantly more prominent on the political scene," he said. "It could obviously be a significant issue in the election. The Biden campaign proposal is a somewhat more mainstream version, and I think that's good."
Looking at How Transitioning to a Green Economy can Lead to a More Stable, Sustainable Future
Harris said that the Democrats' current version of the Green New Deal is politically realistic, but is still ambitious.
"For example, the calls for decarbonizing the electric sector by 2035, which is ambitious but not impossible," he said. "And that's the range I think you want — ambitious but not impossible — as opposed to either being completely unrealistic or not ambitious enough."
Harris touched on several other key points in Biden's Green New Deal plan, which includes a target of net zero emissions by 2050 as well as a list of immediate executive actions such as aggressively increasing methane pollution limits. This is important, he said, because methane has several times the global warming impact of carbon dioxide.
"To control methane requires, basically, policies and regulations applied to the oil and gas sector that compel them to control methane emissions and methane leaks," Harris explained. "The Trump administration has been going in the opposite direction, relaxing many regulations."
Turning around Trump's policies would make a significant difference.
Agriculture is also an important factor when it comes to creating a more sustainable future.
"A healthier soils approach to agriculture, which is also in the Green New Deal Plan, is a bit of a sleeper — that and energy efficiency are my favorite sleepers," Harris said. "Today, nobody pays much attention to them because you can't see them the way you can see a wind turbine or solar panel. But there is enormous potential in both."
Harris calls it "lowering the ceiling and raising the floor," which means lowering the demand through greater energy efficiency while raising the floor through greater supply of alternative energy and through increasing "carbon sinks" such as absorption of carbon in agricultural soils.
"You can squeeze the carbon emissions in between the two," he said. "So, if you lower the ceiling by a third, raise the floor by a third, then you've lowered overall emissions by two-thirds."
How the Green New Deal Would Benefit Those in Lower-Income Brackets
"People in lower socioeconomic brackets are more severely affected by the impact of climate change as well as air pollution," Harris said. "But also with the current crisis, you have very high unemployment."
This factor makes the Green New Deal significantly more relevant because the original New Deal came during a time of high unemployment, he said. And the Green New Deal holds a lot of potential for creating new jobs.
"One of the goals of the whole Green New Deal approach is to promote employment," Harris explained. "Employment in the renewable energy industry, for example, is something like 3 million but could be 10 to 15 million with a significant expansion."
Harris said there are numerous areas where federal investments could help the U.S. lead the way, including in research and development.
"And also in supporting the development of a whole range of clean industries in addition to renewable energy, healthy soils approaches in agriculture, and improved forestry techniques," he said.
All of this would open up new jobs and promote employment opportunities in the U.S.
Additionally, training programs for job skills that are rapidly expanding, such as wind turbine mechanics, solar installers, and investing in infrastructure, like grid improvements, would also benefit those in the lower socioeconomic brackets, Harris said.
"Also, while it's not directly part of the Green New Deal, one of the significant gaps now is the lack of attention to cybersecurity," he said. "A lot of the modernization of industry and renewable energy is going to depend on an improved grid and on improved web use with greater cybersecurity."
Other job opportunity potential lies in constructing new buildings in a more eco-friendly manner and retrofitting existing infrastructure, he said.
"It's also worth mentioning that as in the original New Deal, an important component is the emphasis on greater equity, greater power for low-income workers," Harris said. "Strengthening unions and redistributing income from the top to the bottom."
The COVID-19 Pandemic has Brought Green New Deal Topics into Sharper Focus for Some
The COVID-19 pandemic has made it very clear that, as with the original New Deal, Americans would benefit from a quick response and strong federal leadership, Harris said.
"State governors have been struggling to deal with the COVID crisis without much federal support," he said. "They've also been trying to take the lead on renewable energy, energy efficiency, and carbon emissions reductions without much federal support."
Support and promotion at the federal level of response efforts to the COVID-19 pandemic as well as to the climate crisis would make a huge difference, Harris said.
A recent "New York Times" article also highlighted the connections between the current pandemic and climate change. In the article, climate policy director and an architect of the Green New Deal Rhiana Gunn-Wright said that, in some ways it's actually easier to talk about climate change now because of COVID-19.
"That's because the connections between the pandemic and climate crisis are clear, starting with the fact that people of color — Black and Latino folks — are dying at far higher rates from COVID," Gunn-Wright said in the article. "And there's already at least one study showing how COVID deaths are correlated with exposure to toxic air pollution."
The article points out that there have been several eco-friendly shifts in people's habits over the last few months due to decreased air and car travel.
But Gunn-Wright said these aren't long-term improvements because they will return to prepandemic levels eventually. Like Harris, she said lasting reforms will come through policy changes.
"Climate policy is often thought of as a very long-term thing, so we're making the case for how it can be used for immediate stimulus and fit into our plans to rebuild the economy," she said.
Ultimately, Harris said he believes the COVID-19 pandemic can bring about positive change when it comes to climate change policies.
"There are other major developments on the climate front which are not getting the attention that they should be getting," Harris said, "but which perhaps could get more attention as part of a joint recovery from COVID and a green recovery — that would be the optimistic take on it."
Advertiser Disclosure
BadCredit.org is a free online resource that offers valuable content and comparison services to users. To keep this resource 100% free for users, we receive advertising compensation from the financial products listed on this page. Along with key review factors, this compensation may impact how and where products appear on the page (including, for example, the order in which they appear). BadCredit.org does not include listings for all financial products.
Our Editorial Review Policy
Our site is committed to publishing independent, accurate content guided by strict editorial guidelines. Before articles and reviews are published on our site, they undergo a thorough review process performed by a team of independent editors and subject-matter experts to ensure the content's accuracy, timeliness, and impartiality. Our editorial team is separate and independent of our site's advertisers, and the opinions they express on our site are their own. To read more about our team members and their editorial backgrounds, please visit our site's About page.