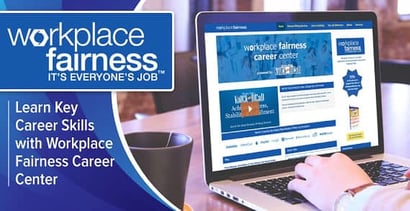 In a Nutshell: From the résumé to the interview (and everything in between), finding a job can be a stressful process. When you're unsure of your next steps or simply failing to get noticed, that process can become overwhelming. A volunteer-driven organization dedicated to promoting, protecting, and preserving employee rights, Workplace Fairness has put together a host of resources designed to help smooth your journey down the career path. Built on career expert Martin Yate's "Knock 'Em Dead" program, the Workplace Fairness Career Center provides access to résumé writing, career coaching, and reference checking services that can propel your job search to the next level.
In my opinion, few things are as aptly named as the "job hunt." While we've all heard the stories of someone or other being recruited right out of school (or the mall, or the sports field), for the rest of us, finding a job is most definitely a hunt.
While on that hunt, many of us must face a few universal truths, as well. For instance, no matter how many résumés you send out, you're probably never going to hear from at least half of the people you contact. Additionally, you will either be under- or over-qualified for the majority of the jobs you want (regardless of your actual qualifications).
No, at the end of the day, not only is finding a job a hunt, but it's a very difficult one, at that. But it may not have to be; the "information age" is another thing quite aptly named. Today's connected society has placed tons of information at your fingertips that can smooth your path throughout the job hunt, including a bounty of resources from Workplace Fairness.
"Workplace Fairness is an organization that provides education and assistance to individual workers, and their advocates, nationwide," described Heidi Allison-Shane, a member of the Board of Directors for Workplace Fairness. An organization made up primarily of volunteers from around the country, Workplace Fairness works to promote, preserve, and protect employee rights.
And its members are dedicated to the cause. Dominated by volunteers, even the members of the board wear many hats, including Heidi. While she works as Managing Director of Shane and Shane PR full time, she also volunteers her free time as the Head of Public Relations for Workplace Fairness.
"The whole mission of Workplace Fairness is to help people having a rough time in the marketplace," said Heidi, "because a lot of people don't know where to turn. They don't realize you need an entire portfolio of assets to help you find a job, keep that job, and get promoted."
Watch on
To provide the resources job hunters needed, the team at Workplace Fairness partnered with experienced career coach, Martin Yate, to develop a platform based on his Knock 'Em Dead program. In the Workplace Fairness Career Center, users can find career coaching, résumé writing services, and even reference checking services all designed to help them excel at the job hunt.
Get on the Right Path with Career Coaching Services
Of those who seem to have a strong dislike of their jobs, the problem often seems to be that they simply don't know what else to do, or where else to go. As with any other type of path, however, the best way to avoid getting lost down the career path is to get the help of a good guide.
As a career coach, Martin has been helping individuals find their way along the career path for decades. He's also written dozens of best-selling books and eBooks on finding, and getting, the job — and career — you really want. Unemployed on your job hunt? Martin will discount his career coaching by 10%.
"The career coaching is completely interactive," explained Heidi. "No one can put together a résumé for you without hearing your hopes and your dreams, and what you think are your accomplishments and your skill set. Martin speaks to issues the job seeker has on their agenda. How to get that raise and/or promotion, how to make a transition from one company to the next for a higher position. How to re-engineer oneself for a career change."
With his years of experience, Martin is as much an expert on people as careers. According to Heidi, he is skilled at drawing out the accomplishments and skills people may not even be aware they have.
"How many people say, 'I did this at work today,' every day or every week? How many people keep a list?" said Heidi. "One of the things a person like Martin, who can expertly evaluate you, can do is extract from you all of those accomplishments you never made that list of."
Start on the Right Page with Résumé Writing Services
If you queried a hundred random young people about the most difficult thing to write, I think two things would consistently make the top of the list: dating profiles, and résumés. And with good reason; they're often quite similar.
"In today's market, you're up against a lot of different people," Heidi described. "In most cases, you don't get a chance to meet until they've looked at your résumé. It's kind of like Match.com — though there, at least, you get to see a photo and get to know a little bit more about the person. This is just a piece of paper that they're seeing online."
To make matters worse, Heidi said, many companies and hiring firms now rely on software to weed through applicants. "More than likely, they have a tool where they say, 'We want a person who has these particular skills,' and the software then filters the résumés. The human resources person may only be sent 10 matches that actually have all the keywords."
Watch on
Another stumbling block to getting eyes on your résumé? Using the same one for every job application.
"A lot of people are just using one generic résumé," Heidi explained. "But you can't do that. If you're going into three or four different areas, you're going to need three or four different résumés, each with an emphasis on the skill set that matches the job for which you want to apply."
According to Heidi, failing to properly list your accomplishments on your résumé is another big mistake that can keep you from even getting an interview.
"Putting your résumé on paper can be really hard because it feels, to some people, a lot like boasting, and people don't often like to also brag about themselves," said Heidi. "On a résumé, you really want to sing your own praises, and it's hard for people to do. That's why I think everyone should have professional résumé writer."
Count on the Right Rep with Reference Checking Services
In the modern digital world, it can be easy to disregard the importance of personal communication. However, despite the increasing role of social media and other digital sources, the good old-fashioned verbal job reference is still a key factor in many hiring decisions.
"You can do a background check online, but do you really know how that person performed on the job?" posed Heidi. "Anybody today can put a reference on paper; we can all search up a logo and it would look like it was real."
Watch on
The problem with relying on a former employer for a good reference is it's hard to know what they'll actually say when they get the call. Just because they say they'll give you a good reference, will they actually? When Heidi's college friend was changing jobs, they considered that very question.
"We got into the legalities of it," she described. "You can't have a friend call or anything like that. We realized if somewhat was wrong, it would never stand up in court if it was dishonestly obtained. That person would also need to go to court for you, if it got there."
As it turns out, they were right to question. When Heidi's new reference checking service started, she was surprised by the things they heard from former employers. Even today, Heidi's reference checking company, Allison & Taylor, regularly comes across shady references.
"General company policy is, essentially, 'name, rank, and serial number.' That's what they're supposed to do," said Heidi. "People don't do that. They get jealous, or envious. You move on, you get a promotion, or people just don't' like you. You cannot believe what people say. We get bad references every day."
Change Your Life for the Better with the Workplace Fairness Career Center
Many things in life seem to be misnamed: we park on driveways, drive on parkways, and rarely laugh when we hit our funny bones. One thing is for sure, however: most of us definitely have to hunt for the right job. And, just as with hunters in the wild, capturing a job can often be a matter of survival.
A dedicated cohort of members and volunteers, Workplace Fairness promotes, preserves, and protect employee rights. The group also provides the resources to help individuals in a rough job market. With the help of Martin Yate and the Workplace Fairness Career Center, individuals can improve their job hunting skills and find their way successfully down the career path.
Advertiser Disclosure
BadCredit.org is a free online resource that offers valuable content and comparison services to users. To keep this resource 100% free for users, we receive advertising compensation from the financial products listed on this page. Along with key review factors, this compensation may impact how and where products appear on the page (including, for example, the order in which they appear). BadCredit.org does not include listings for all financial products.
Our Editorial Review Policy
Our site is committed to publishing independent, accurate content guided by strict editorial guidelines. Before articles and reviews are published on our site, they undergo a thorough review process performed by a team of independent editors and subject-matter experts to ensure the content's accuracy, timeliness, and impartiality. Our editorial team is separate and independent of our site's advertisers, and the opinions they express on our site are their own. To read more about our team members and their editorial backgrounds, please visit our site's About page.