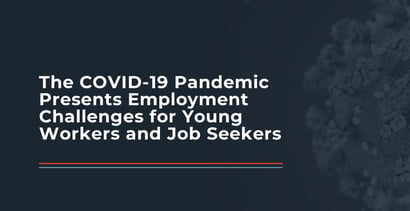 In a Nutshell: The COVID-19 pandemic has left the U.S. reeling in a number of ways, including some of the highest unemployment rates ever. The unemployment rate is even higher for young people in the labor market. We recently spoke with Eliza Forsythe, Assistant Professor at the School of Labor and Employment Relations and Department of Economics at the University of Illinois, Urbana-Champaign, about just how young workers are being affected by the pandemic. Forsythe also addressed the shifting expectations of office workplaces as employees transition to work remotely.
The U.S. unemployment rate had been on a steady decline since about 2010, when the job market recovered from 2008's Great Recession. Then came COVID-19.
The pandemic swept across the country in the early months of 2020. As schools, restaurants, and many brick-and-mortar businesses quickly shut down, millions were left without a job or with slashed wages.
In fact, the unemployment rate in April reached 14.7% — the highest it's been since the Great Depression when unemployment in the U.S. reached 24.9%. The unemployment rate has slowly declined since April, but July's rate of 10.2% remains well over double the rate than at the beginning of the year. And millions of Americans are still out of work.
Of course, economic turmoil wreaks the most havoc on people in low socioeconomic brackets, minorities, people with disabilities, those with lower educational achievement, and young people.
We recently spoke with Eliza Forsythe, Assistant Professor at the School of Labor and Employment Relations and Department of Economics at the University of Illinois, Urbana-Champaign, to learn more about how COVID-19 is affecting young workers.
Forsythe's research includes business hiring behavior and management of human resources during economic downturns. Her expertise in these areas has led to her being quoted recently in publications such as The New York Times and the Chicago Tribune to address unemployment issues.
People Just Starting Out in Their Careers are Hit Especially Hard by Recessions
"I have some previous research that's looked at past recessions, and young workers — people who are new to the labor market and just getting started — those are workers that are especially hard hit by recessions," Forsythe said.
A major reason for this is that when employers are looking to hire, candidates with a lot of work experience are appealing for a number of reasons.
"You could hire someone that's experienced, and you don't have to do as much training," Forsythe said. "And they can hit the ground running."
This means that younger workers who are just trying to get their foot in the door are more likely to be left out during times when there are a higher than usual number of job seekers in the market, she explained.
"This would be a time like that," Forsythe said. "We're in a recession, and, again, there are a lot more job seekers than there are open positions. That means that most likely, young workers get left behind."
It's not only young workers, however.
Forsythe said non-white workers, people with less education, and other underserved groups also have more difficulty during times like these.
"Where there's a lot of unemployment, it's a hard market in which to get hired," she said.
Forsythe's statements are backed by data released by the U.S. Bureau of Labor Statistics.
"The unemployment rate for youth was 18.5 percent in July 2020, down from 26.9 percent in April but still about twice as high as a year earlier," according to the bureau.
Unfortunately, such high rates of unemployment may result in young people taking on debt they otherwise would not have.
Navigating the Pandemic, Modern Technology, and Shifting Workplace Expectations
Since the pandemic began, scientists and health care professionals have recommended that people maintain their distance and wear a mask when possible. Because social distancing is the new norm, many companies shifted to allow their employees to work remotely when possible.
Twitter, Facebook, Nationwide Insurance, and Microsoft are just a few of the many notable companies that have shifted to a work-from-home model.
"Right now, employers are a lot more willing to let their current employees work from home during the pandemic," Forsythe said. "In the past, there's been some businesses that have played around with letting people work from home and then move back to making everyone come into the office."
That's because they realized that by not coming into an office, employees can miss out on important interactions and cohesiveness that leads to teams working well together, she said. It really depends on the business and the management philosophy driving it.
"Some businesses are open to it and some are less so," Forsythe said. "So, we'll see how this experiment plays out of having a lot of offices being forced to let people work from home."
She said it's hard to predict which way the tide will turn when the pandemic is over.
"You can see them saying, 'OK, well, we don't actually need to be in person to get what we need to get done just fine, and we'll let people work from home,'" Forsythe said. "Or it could turn out that they say, 'This works terribly, this was not a good experiment.'"
Of course, working from home is not possible with every job — but it's increasingly possible for more jobs now than it ever has been.
"I feel like a lot of people are going to be ready to go back to the office and get out of their house. There are a lot of different factors, and it's really going to come down to what people's preferences are, and also how the work is done," Forsythe said. "I can imagine that different businesses will go in different directions."
Forsythe said with so many companies working from home, some businesses may want to delay new hires until after the pandemic. This approach lets employers avoid having to train people remotely. So, unless a position is absolutely essential, businesses may not be rushing to fill it.
"They might push it off, and that's going to be hurting younger workers — people that are entering the labor market," she said. "If you're someone that is less experienced and might require more hands-on training, employers may take the position that they'd rather hire someone they don't have to spend as much time training."
With offices switching almost immediately to working remotely, many workers have struggled to catch up to the technology necessary to make it all happen. This is where some young people may have an edge because they may be more comfortable with the technology used to work from home, Forsythe said.
Searching for Opportunities During an Economic Downturn
Forsythe said that, since COVID-19 poses a higher risk to older workers — based on the evidence available — some of those workers may decide to retire earlier than they would have otherwise. This would open up positions in the workforce for younger employees.
"Usually for older people, their decision about retiring has more to do with their investments," Forsythe said. "So, the fact that the stock market is actually doing pretty well right now, I think would help encourage people that are thinking about retiring to maybe go ahead and do that."
She said it will be interesting to see how things play out; if the job market will see more retirements than would be expected in an average year.
"There's a lot of uncertainty, and, if you have a job you might want to hold on to it just in case things get worse," she said.
Forsythe said it's too early to tell if this will hold true due to the pandemic, but in past recessions, people have taken it as an opportunity to go back to school.
"If you have a hard time finding a job, you might as well spend that time in school gaining new skills, and then by the time you come out, the recession's probably over, and you'll be able to enter into a much better labor market," she said.
This is a fairly common strategy, Forsythe explained, and she said she wouldn't be surprised if people are taking this approach in the current situation.
So, while young people may be more likely to be passed over when it comes to the current labor market, the potential for positive outcomes are there whether young workers can fill the place of retiring workers or leverage their tech skills to land a desirable position.
Advertiser Disclosure
BadCredit.org is a free online resource that offers valuable content and comparison services to users. To keep this resource 100% free for users, we receive advertising compensation from the financial products listed on this page. Along with key review factors, this compensation may impact how and where products appear on the page (including, for example, the order in which they appear). BadCredit.org does not include listings for all financial products.
Our Editorial Review Policy
Our site is committed to publishing independent, accurate content guided by strict editorial guidelines. Before articles and reviews are published on our site, they undergo a thorough review process performed by a team of independent editors and subject-matter experts to ensure the content's accuracy, timeliness, and impartiality. Our editorial team is separate and independent of our site's advertisers, and the opinions they express on our site are their own. To read more about our team members and their editorial backgrounds, please visit our site's About page.