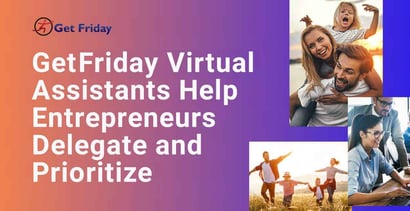 Experts share their tips and advice on BadCredit.org, with the goal of helping subprime consumers. Our articles follow strict
editorial guidelines
.
In a Nutshell: Time is money, but not every task is worth the same amount. When small-business founders and entrepreneurs get bogged down in minutiae, they may under prioritize the valuable, creative work they do that inspired them to go into business in the first place. GetFriday assistants use the power of the internet to perform any task that doesn't require a physical presence. With GetFriday, busy entrepreneurs can focus on what they do best while delegating other important duties to an efficient and dedicated outsourcing team.
People outsource work every day. Specializing in what one does best and delegating the rest is the foundation of the modern economy.
The problem is that small-business founders and entrepreneurs tend to forget that. The drive that motivates a person to risk everything and start a business can lead to a do-it-all-myself mentality of 20-hour days and micromanaging.
It's one thing to have a dream and act on it, but when business people try to do it all, they may end up shortchanging themselves and their business, not to mention neglecting family members and friends. Improperly delegating and prioritizing tasks may contribute to the premature demise of many small businesses.

GetFriday virtual personal assistants are a modern solution to this age-old problem. For small businesses to grow, founders must focus on how they can do the most good and find the best team to accomplish everything else.
Entrepreneurs gain a dedicated account representative with the GetFriday virtual assistant. Behind the scenes, a team of experienced professionals is always ready, willing, and able to get things done.
From all-rounders who can make office and administrative tasks more productive to specialized providers who can act as bookkeepers, create content, and build web pages, among other tasks, GetFriday professionals do the necessary work while the founder concentrates on the big picture.
"Business involves not just the things you love to do but also the things that must be done," said Sunder Prakasham, GetFriday's CEO. "We can help you focus on what you should be doing and what only you can do."
Assess Task Values & Improve Work-Life Balance
GetFriday gets its name from the 18th-century novel by Daniel Defoe, "Robinson Crusoe." In the story, a marooned sailor meets a native person he calls Friday, who becomes his companion.
Like Crusoe's Friday, who understood more about survival in the book's island environment than Crusoe did, GetFriday assistants may have the experience to perform some tasks better than founders may.
"If you'd rather have someone else do it, then you should probably consider virtual assistance," Sunder said.

For example, a creative design entrepreneur who excels at web illustration and working with customers may dread sending invoices and following up on payments. Nevertheless, collecting money on time is necessary for the business to survive.
Onboarding is straightforward. After signup, account holders can send tasks via email, chat, or phone. The GetFriday platform automatically passes those requests to the assistants assigned to receive them, who perform them individually or coordinate with other team members as may be needed.
Adding to the value GetFriday provides are factors such as the desire for work-life balance. Business people who may be highly effective at what they do may tend to forego life responsibilities, including family. When personal decision-making spirals in the wrong direction, business decision-making may follow.
That's why some entrepreneurs who are also parents actually use GetFriday's virtual personal assistants to remind them to stay connected. A life that's all work and nothing else is probably not sustainable over a lifetime.
Sunder said the best way for founders to grow a business is to increase productivity through being more effective at their work. And this can be possible only through effective delegation.
"If you check the value of your time versus what you would pay for a virtual assistant, it's well worth it," Sunder said.
Flexible & Affordable Outsourcing Resources
Key to understanding GetFriday's value proposition is comparing the dollar value of that necessary work to the cost of the labor GetFriday provides.
The arithmetic on GetFriday's end is simple — depending on the plan, hourly rates range from $8 to about $15 on a pay-as-you-go or project basis. Clients who choose a plan with a fixed number of monthly hours see costs drop to about $8.
Pay-as-you-go plans and monthly allotments fit various work scenarios. 
What founders receive from their investment differs according to the unique needs of every business. GetFriday virtual assistants tap into a workforce capable of rising to the occasion when needs arise.

That commitment extends to clients in the same business category. Because one real estate agent, for example, may work differently from another, the GetFriday platform preserves and adjusts client preferences so workers understand how to respond and get better.
"How each person does things may be slightly different, and it's important for the assistant to understand that," Sunder said. "We master the aspects we can be good at."
GetFriday also excels as an alternative to hiring in-person workers for full-time or part-time roles because assistants have a steady labor supply.
For example, many eCommerce entrepreneurs need extra hands during the year-end holiday season to handle shipping logistics, customer service, and other tasks. But when demand wanes, they want to return to a more normal employment pattern. GetFriday makes that easy and predictable with the right amount of labor primed to do those tasks.
"We buffer our load balancing and planning against thousands of clients," Sunder said. "But if you're hiring one employee, you either overload the employee or the employee doesn't have enough work."
Consistency & Accountability Through a Single Contact
Using the GetFriday platform means a dedicated virtual assistant is always available. The company operates on a 24/7 basis with four shifts to accommodate businesses in Asia, Europe, and North America. Assistants are available on weekdays during business hours and there's a special team on weekends to handle urgent requests.

The assistant is a single point of contact and communications anchor, accountable for output quality. Managers monitor and supervise groups of assistants, and a dedicated quality team checks all work and relationships against standards.
Meanwhile, every assistant has a backup to ensure continuity, with the GetFriday platform serving as an information hub and knowledge base. In contrast to dedicated in-person labor or freelancers that may be unstable, GetFriday's protections are handy when work continuity, reliability and respecting preferences makes a difference.
Suppose a client needs to book travel, for example, and their dedicated assistant is unavailable. In that case, the backup will know the client's travel preferences down to the last detail — whether the client prefers an aisle seat, a late-night flight, or business class versus first class.
"All of these things are in the system, so it's easy to transition at any point," Sunder said.
Sunder recommends starting slow with GetFriday because founders often overestimate the work available to outsource. He recommends experimenting with the service to learn how to fit what it offers into the business's needs.
Because GetFriday's virtual assistant model has more flexibility than other labor models, scaling up when the time is right is a breeze.
GetFriday services are tailor-made for small businesses, including small eCommerce businesses with growing logistical challenges. GetFriday virtual assistants fit where needed to help founders and entrepreneurs succeed and small businesses grow.
"We've created an efficient system that makes securing labor seamless for the customer," Sunder said. It is effective, affordable, and available to clients globally. "Basically we are democratizing talent availability and remote working to all", he concluded while signing off.