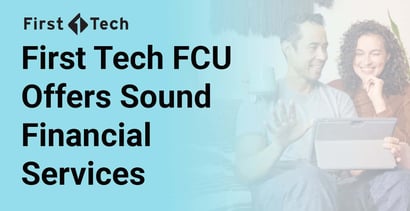 Experts share their tips and advice on BadCredit.org, with the goal of helping subprime consumers. Our articles follow strict
editorial guidelines
.
In a Nutshell: First Tech Federal Credit Union is a full-service institution with comprehensive product and service offerings that is built on a solid member foundation. First Tech serves the employees and families of more than 900 tech firms, including Amazon, Intel, and Microsoft across eight states. It also takes a people-centered, and technology-driven, approach to service that meets a diverse and globally dispersed member base at all stages of their financial journey.
First Tech Federal Credit Union was built from the ground up as a credit union for tech employees. It originated in 1952 from an association of employees at Tektronix, an Oregon company famous for producing the first oscilloscopes, and Hewlett-Packard, headquartered in California with operations in Oregon.
The tech landscape looked very different in 1952, but optimism that tech could solve the world's problems was even higher than it is today. The US had emerged from World War II with a booming economy and a conviction that global leadership was America's destiny. Many 1950s employees at firms like Tektronix and Hewlett-Packard undoubtedly shared that viewpoint regarding their financial futures.

First Tech continued to reflect those aspirations as it expanded its partnerships with the tech industry. As of 2023, First Tech offers membership to employees and family or household members of more than 900 tech firms, including some of the biggest names, such as Amazon, Intel, and Microsoft.
It also offers membership to Oregon state employees and families, people who work or live in Lane County, Oregon, where the credit union is based, and members of the Computer History Museum and the Financial Fitness Association.
Although it embraces digital banking and offers cutting-edge mobile and online banking services, federally chartered First Tech supports a branch presence in eight states: California, Colorado, Georgia, Idaho, Massachusetts, Oregon, Texas, and Washington. First Tech members also live and work in 94 countries.
"We're the tech-employee credit union," said Matt Hicks, VP of Deposit Products and Member Insights at First Tech. "As much as we serve tech employees with the best and most relevant products we can produce, we're also a community partner."
Serving Members at Every Stage of the Money Journey
Hicks is the executive leader in developing products and services for First Tech's checking, savings, and certificate operations. Given that diversity and flux are long-standing realities about tech employment, First Tech has learned to take members as they come and work individually with them on a strategy for moving forward.
While many First Tech members come to the institution with ample assets, others may arrive — sometimes from outside the US — with little or no credit history or experience with US financial services.

First Tech's approach to getting members up and running reflects that. Customers who make 20 card transactions totaling a minimum monthly spend of $500, have monthly direct deposits of at least $1,000, and enroll in eStatements, can earn up to 4% on the first $15,000 in checking and up to 4% on the first $25,000 in savings, as of spring 2023 with First Tech Rewards.
The accounts also come with ATM rebates of up to $15 per month (First Tech links to 30,000 surcharge-free ATMs), an additional 0.5% cash back on up to $15 per month in spending, a $10 streaming subscription rebate, and 0.25% cash back on FirstTech minimum loan payments of up to $15 per month.
With Start Up checking and savings, children of any age with caregivers who are members may earn up to 5% on savings balances up to $1,000 and an additional 0.1% on checking deposits.
Hicks said there's no dedicated credit-builder checking or savings product because First Tech uses all its accounts that way.
"We say, establish your First Tech Rewards checking and savings, meet with a First Tech professional virtually or inside a branch, have a conversation around your spending, carve out a little bit in savings, and lean into the power of compounding," he said.
An Omnichannel Approach to Financial Education
Rewards at 4% add up quickly, even with relatively low-dollar accounts. The setup comes with check overdraft protection that leverages savings so members can avoid fees. Further, rebates are not based on balances, so members can earn regardless of their excess cashflow.
Because of its sizable foreign-national relocation population from its tech partners, there's no credit-score qualification on First Tech checking and savings products. Instead, the credit union works on introducing new foreign-national members to US banking through those products before it makes additional lending products available to them.
It even works for folks with no US credit score working with a brand-new Social Security number. Many in that situation first encounter US financial services when an institution declines their credit application or burdens them with an exorbitant interest rate.

"First Tech is different — we acknowledge you as the quality member we know you are," Hicks said.
Extensive financial education resources from First Tech, including financial calculators, help members along the path. Calculators help members plan for auto loans and college expenses and manage credit cards, mortgages, and savings.
Educational resources tackle a host of topics from budgeting and credit scores to home lending and investing. Articles, videos, and calculators organized by topic encourage members and the public to dive into the subjects they care about most.
"We're there for members when it's 2 AM, and they have questions about managing their debt, paying off a credit card, or improving their FICO score," Hicks said.
Article and video galleries add information about First Tech's community outreach, and a security center features timely resources for account and identity protection. First Tech also holds virtual and in-person webinars for employees of partner tech firms.
"Then there's the in-person way, where you schedule an appointment, and we do a financial consult," Hicks said. "We'll go end-to end on everything and set you up with the products that make the most sense for whatever your plans."
Protecting Members and Investing in Communities
First Tech follows its flagship checking and savings product with a credit card lineup that includes the Choice Rewards World Mastercard®, which earns 2x rewards points on gas, groceries, household goods, and other items.
"Most of our cards have a 0% zero fee balance transfer offer," Hicks said. "We have various products to put you in a better position from a debt perspective."
First Tech is also a community servant with a legacy of grants, scholarships, and employee giving. First Tech helped found Credit Unions for Kids, a national movement benefiting children and families served at Children's Miracle Network Hospitals.
Additionally, First Tech recently launched its Youth Villages Foster Youth Savings Program, which allows foster care children 13-18 years of age in Oregon and Southwest Washington to open a bank account without requiring an adult co-signer.
As rumors swirled in early 2023 around notable tech bank breakups, including Silicon Valley Bank, Signature Bank, and First Republic Bank, First Tech needed to communicate more vigorously with members about its sound financial status.
"After the collapse of those institutions, we had our share of members with questions about general banking safety and soundness," Hicks said.
Messaging from top credit union managers went out to employees and members. The team prepared talking points for frontline staff to ensure a consistent member approach and held employee training sessions.
Outreach covered trusts, joint accounts, and ways members could increase their share insurance through the National Credit Union Administration (NCUA). First Tech also educated consumers and members about the differences between NCUA and the Federal Deposit Insurance Corporation, which ensures bank deposits.
"Just because you're maxed out at Bank of America doesn't mean you can't join First Tech and gain access to an entirely separate pool of insurance coverage," Hicks said. "We're doing our level best to have everyone understand that First Tech is a sound institution significantly different in its construction from Silicon Valley Bank, Signature Bank, or First Republic."