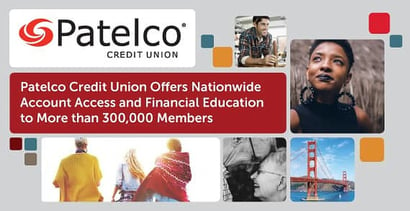 In a Nutshell: One of the oldest credit unions in the US, Patelco Credit Union is also one of the most accessible. With 36 branches, more than 6,000 shared branches nationwide, and mobile and online banking technology, Patelco's services and products are never out of reach for members. Membership is open to Northern California-area residents and employees or members of more than 1,100 companies and professional trade organizations. Patelco's interest rates and account offerings are positioned to increase the likelihood of success for anyone repairing or building their credit profiles. Additionally, the institution's Financialocity program is designed to educate anyone — member or otherwise — on ways they can improve their credit and economic well-being.
While banks and credit unions were once simply places where you stored your money and took out an occasional loan, those roles have since evolved. Consumers are more involved in their own finances, and tools once available only to accountants and money managers are now accessible from smartphones and web browsers. Big banks, long thought to be a vastly superior choice for financial technology over credit unions, are no longer the only option.
Michelle Anderson, VP of Consumer Lending and Card Services at Patelco Credit Union, calls it a "credit union movement." Patelco Credit Union and other not-for-profit credit unions nationwide reinvest revenue into lower rates, new products, and technological innovations to make managing finances easier.
"Our mission is to serve our members and enrich their financial health and well-being," she said. "Our team members are not pushed to offer solutions or any products unless they assess that it's really the right thing for the member. There is no incentive for them to offer anything other than what members need. Hopefully, our members walk out feeling like they've had a high-integrity experience and we've earned their trust."
Patelco opened its doors to employees of Pacific Telephone & Telegraph Company in 1936. In 1983, other Northern Californians became eligible for membership. While the institution's main branches remain in Sacramento and the San Francisco Bay Area, membership is open to employees or members of more than 1,100 businesses and professional trade organizations. With more than 6,000 shared branches, Patelco's 300,000 members have access to its services all over the country.
Patelco offers banking accounts, loans, credit cards, and investment products with better than average rates and terms. Numerous online tools for increasing financial literacy, setting monetary goals, and learning more about your economic well-being set Patelco up as a favorable option for those with credit that is new or not yet established.
Financialocity and BALANCE Programs Help Patelco Members Reach Their Goals
The first step in rebuilding your finances can be the hardest one to take. Many start with a budget, but quickly feel overwhelmed by the numbers on the page. Most people don't have a money manager programmed into their speed dials, so balancing those figures becomes yet another hat we have to wear.
Patelco's online tools and educational courses put more power into your decision-making, providing both virtual and live resources to walk you through the steps to clear the financial fog.
Financialocity is the company's latest educational offering. Open to anyone, even non-members, its modules guide users through important financial tasks, including setting up an emergency fund, preparing for large purchases, managing credit scores, collecting social security, and planning an estate.
Financialocity is designed to take advantage of the latest fintech trend of gamified educational programs, meaning they're designed to feel like a video game instead of traditional financial software. Each Financialocity lesson is quick and to the point, so you can digest the knowledge in small increments, or sit and learn for hours if your schedule permits.
"We're really excited about it," Michelle said. "It's a new tool for us, but it really is about empowering our members to gain financial health. It's made for people who don't have the time or ability to get on the phone with a counselor."
For those with the time to talk with a counselor, debt management programs, including a partnership with BALANCE (formerly Consumer Credit Counseling Service of San Francisco), give members the opportunity to review a free credit report, then create a budget with a counselor. Daily, weekly, and monthly sets of goals are aimed at helping members erase debt faster.
Patelco also provides resources for those who need to consolidate or refinance their debt. Consolidating multiple debts with a single loan can make payments more convenient, and obtaining a lower interest rate will reduce monthly payments. Patelco's debt consolidation loans are available in amounts up to $25,000 and periods as long as five years, with rates lower than typical credit card APRs.
"Look at the interest rate on your debt," Michelle said. "Is it high or is it at market rate? If it's high, you may want to look at consolidating that into a debt consolidation loan with a lower fixed rate, a fixed term, and a fixed payment.That gives you the opportunity to pay off that debt as quickly as possible."
Combining consolidation loans with Financialocity's resources and BALANCE counseling could be an ideal pairing for those navigating credit card debt. Because consolidation loans are only a tool, they should be paired with a proper budget and financial education to form an effective financial plan and avoid falling back into bad habits.
Competitive Rates on Accounts, Loans, and Credit Cards
While educational tools and counseling are helpful, Patelco's deposit products are still at the core of its business. Interest rates on the company's checking and savings accounts rank among the strongest in their respective classes, with a breadth of opportunities for holdings of all sizes.
For those with a smaller amount to put aside, or anyone just getting into long-term savings, the money market account has no minimum balance and APRs as high as 3%. A $500 deposit can begin compounding interest and earn $15 in its first year. Growing your money without the risk that comes with investing in volatile commodities, money market accounts can be a good way to build a sustainable emergency fund that will only get larger the longer it remains untouched.
For revolving lines of credit, Patelco partnered with Mastercard® for a series of cards that meet the needs of most members. The Pure Mastercard®, available as a secured or unsecured option, is the top choice of offerings for rebuilding your credit profile. The card boasts a no-to-low annual fee and interest rates between 6.95% and 10.95%. Offering 0% APR for six months on balance transfers, this card can be a good choice for lowering your debt load if you can pay off transferred balances before the end of the introductory period.
The Progress Student Rewards Mastercard® offers students the chance to earn reward points, including a 2X bonus on a pair of their biggest expenses — school and groceries — while paying a low 9.15% to 13.15% on balances. Other cards are geared toward cash back or travel bonuses with rates similar to other rewards cards. With all of the options available, Michelle says each consumer needs to prioritize which card works best for them.
Watch on
"You need to pause and understand what your needs are for the card and for your lifestyle, and how it is going to fit into your financial plan," she said. "In doing that, you should really look into the interest rate on the credit card, as well as introductory rates. Before you start carrying a balance on any credit card, it's important that you really understand what you're being charged."
And that advice applies to any financial product, not just credit cards. For instance, all of Patelco's traditional consumer loans are equipped with the company's loan protection program, which charges 20 to 40 cents per $100 borrowed, with the amount lowering as the loan matures. Unlike interest fees, however, loan protection costs can pay off if members experience a dramatic life event.
"It's an agreement between the credit union and the member," Michelle said. "The member pays a small monthly fee, and the credit union agrees to cancel payments if certain events occur in their life. Disability, death, and unemployment are some of those events that could occur.
"It's something that we should be talking about a lot. Like any insurance policy, or any insurance that you think about, people don't anticipate these things happening, but they happen to people. We want them to know we're going to care for them in that situation, and they won't have to worry about this debt."
Patelco Offers Credit Union Rates with Big Bank Access
As with any business that's been around more than 80 years, multiple generations of customers have walked through Patelco's doors. Michelle says that many of its members have children who have gone on to become account holders.
To meet the needs of its changing client base, the credit union expanded its consultation services to include student loan debt. A Facebook program is in the works that will help younger members learn about fiscal responsibility before debt begins to accrue.
"It's our way of giving back and helping the next generation get a clean start," Michelle said. "We want them to learn good habits before bad ones can set in."
The Financialocity program is available to anyone, and the partnership with BALANCE gives members a chance to resuscitate their finances. With account access available in nearly every state through shared branches, Patelco offers services and access once exclusive to big banks.
Michelle says the programs are in place not only to help members make their way out of debt now, but to see them thrive under a fresh start and help their goals become reality.
"Debt is a part of everyone's financial health," she said. "The really important thing about debt is paying it on time. If you have a good credit profile and a history of paying things on time, the likelihood of getting good interest rates down the road is very high."
Advertiser Disclosure
BadCredit.org is a free online resource that offers valuable content and comparison services to users. To keep this resource 100% free for users, we receive advertising compensation from the financial products listed on this page. Along with key review factors, this compensation may impact how and where products appear on the page (including, for example, the order in which they appear). BadCredit.org does not include listings for all financial products.
Our Editorial Review Policy
Our site is committed to publishing independent, accurate content guided by strict editorial guidelines. Before articles and reviews are published on our site, they undergo a thorough review process performed by a team of independent editors and subject-matter experts to ensure the content's accuracy, timeliness, and impartiality. Our editorial team is separate and independent of our site's advertisers, and the opinions they express on our site are their own. To read more about our team members and their editorial backgrounds, please visit our site's About page.