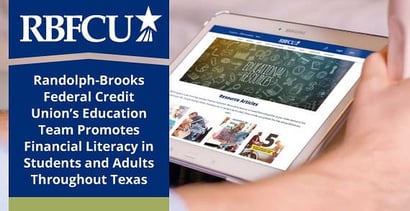 In a Nutshell: Most credit unions recognize the importance of financial literacy among members and their communities, and that's doubly true of Randolph-Brooks Federal Credit Union. The institution, which is headquartered in Live Oak, Texas, maintains a team dedicated to providing financial education that addresses the specific needs and concerns of members, as well as those of area students. This involves presentations for students on building savings and credit, while adult members are invited to attend seminars on topics like mortgages and growing a business. RBFCU offers specialized products that establish and improve credit histories and scores for young adults just starting on their financial paths and for others with past credit mistakes. This allows them to put their newfound knowledge into practice and build a strong foundation for a more secure financial future.
People find themselves with less-than-perfect credit scores for a range of different reasons.
Sometimes, it's an unexpected medical emergency that causes bills to go unpaid and credit scores to sink. Other times, someone makes a series of poor decisions with their money because they never learned the ramifications of not budgeting properly and racking up more debt than they can afford to repay. Even those who have a decent handle on their credit score can always benefit from learning more about money management, which is why financial literacy resources are so important.
For instance, if you've never been through the process, buying your first home can seem like more trouble than it's worth. You may not know details like how important it is to plan ahead and save up for a down payment because it makes a significant impact on the total cost of a home by reducing interest paid.
A Texas couple realized this when they started to get serious about buying their first home. One evening, they sat down, created a budget, and realized they were spending an excessive amount of their income at restaurants. After some soul-searching, they agreed to spend less on their food budget, and they're now allocating those funds toward a down payment on a home.
They didn't get there on their own, though. The wife is a sign language interpreter for a school, where the financial education team from Randolph-Brooks Federal Credit Union (RBFCU) gave a financial literacy presentation that covered best practices on budgeting.


RBFCU was organized in 1961 to serve airmen at the Randolph and Brooks Air Force bases. It later changed to a community charter so it could reach more people, serve underserved Texans, and provide education and products to a larger population.
"We cover quite a few regions," said Michelle Herrera, who partners with Jennifer Crawford to spread the gospel of financial literacy to the communities RBFCU serves. "We're in the San Antonio area, Austin, Dallas, and we're about to go into the Corpus Christi area."
RBFCU's goal is simple: Give members and their communities the information they need to make better financial decisions. Because of this commitment, we're recognizing Randolph-Brooks Federal Credit Union with our Editor's Choice™ Award.
Academic Outreach Supports Schools and Prepares Students for Financial Success
RBFCU understands that area schools need all the help they can get when it comes to empowering students with an understanding of money concepts. With this in mind, the credit union sponsors public schools by providing Cemark's financial educational materials at no cost.
"We offer it to all high schools in our region," Herrera said. "It provides a free curriculum for the teachers." This outreach helps to compensate for the lack of formal financial education requirements in state and national education standards, filling an important gap in student financial literacy.
Herrera and Crawford also visit schools to provide additional information and education to classes. "We do presentations on budgeting, saving, basic financial services, and also classes on credit," Crawford said.
Sometimes, though, teachers will turn the reins over to the students. These question-and-answer sessions let the students learn more about the topics that are most relevant to their financial concerns.
Watch on
"For the high school seniors, we're usually covering credit and budgeting," Crawford said. "They're turning 18, so they're starting to get pre-approvals for credit. Some of them are potentially starting in the workforce and will have their own money, and some of them are already working and having to help pay bills or pay their own bills."
Crawford and Herrera both believe credit is a crucial topic to address with students. "A lot of these young people who are coming into credit now grew up during the time when the housing crisis was going on. They saw their parents lose a house. It's a little bit harder to convince them that credit is something that can be used for positive things," Herrera said.
The results of these sessions speak for themselves, as is the case with one student who had been working and saving money. She put $500 from the wages she earned through her job and decided to open up a secured credit card and use that money as her credit limit.
"Se's in the process of building credit, and she's barely 18," Herrera said. "That's a very responsible way to do it."
Offering Targeted Adult Education and Assistance Through Seminars and Online Resources
Unfortunately, many adults didn't have the benefit of a financial education team coming to their schools and answering their questions when they were younger. That's why RBFCU provides them with information through seminars and webinars geared toward adult audiences.
"We have an array of classes, depending on what the members are looking for," Herrera said.
As with students, Herrera and Crawford have found that people reap the most benefit from financial education when the subject has a direct impact on their immediate interests and goals. Learning tends to take hold when people can put the concepts into action directly after absorbing the information.
Therefore, the team tailors its seminars to focus on topics relevant to members and their communities. Seminar subjects include understanding Medicare, estate planning, the real estate market, and growing a business, to name a few examples.


To better accommodate busy schedules, RBFCU has partnered with GreenPath, a well-respected credit counseling and financial education nonprofit that has formed partnerships with financial institutions all over the nation. This strategic partnership provides members with additional online resources, such as GreenPath University, a suite of information and tools that can be accessed at the user's convenience.
Through GreenPath, RBFCU members also enjoy personalized assistance with budgeting and money management, paying off debt, understanding and improving credit, and avoiding financial pitfalls like bankruptcy, foreclosure, and repossession. GreenPath also provides information to help readers make the most of products like the checking and savings accounts they access through RBFCU.
Helping Members Build Credit and Make Smarter Choices
While financial education is crucial, understanding money concepts is just the first step to financial wellness.
RBFCU takes the next step by letting its credit-challenged members put their knowledge into practice with specialized products. These are effective products that help members with current and previous financial issues build and maintain, these for building and maintaining a positive credit score.
A secured credit card, like the one mentioned above, helps members develop positive habits and improve their financial track record. And members are more likely to be approved for secured cards than for unsecured cards because, with secured cards, credit limits are set by how much a consumer sends the issuer in advance, meaning much less risk for the credit card issuer.
"They can come in with $500 or less, put that down, and within six to 12 months, if they show they're using the card, we release that money to them, and then they now have an unsecured Mastercard," Herrera said. "Even though you're starting out with a $500 availability, you can then negotiate the interest rate and the amount available as your credit history builds."
One important point for anyone taking out a secured line of credit is knowing how much available credit you're using since that is one component used to determine your credit score. The major credit bureaus recommend not using 30% or more of your available credit. If you only have a $500 credit limit, you wouldn't want to have $150 or more of debt on your card at any one time.


Another option is a credit builder loan, which simultaneously improves credit and accumulates savings. Members can request between $300 and $2,500 on a credit builder loan and set up a payment plan between six and 36 months. Making regular payments through one of these loans helps establish a positive debt repayment history.
"They're getting any additional money after the interest is paid that's just being held in the savings account," Herrera said. "At the completion of the loan, they get that money back."
Maintaining a Member-First Mentality
RBFCU's specialized suite of products and services and its work in educating members and communities demonstrates the credit union's focus on community and member well-being.
This respect and commitment to a higher quality of life are evident not just through its offerings but in its interactions with members, which is especially clear when you see the role RBFCU played in the lives of the aforementioned Texas couple, who is now on its way to homeownership.
"We're a very conservative credit union. We do a lot of loans, but we don't approve loans for people if we don't think they can't afford to borrow," Herrera said, pointing to RBFCU's low attrition rate on loans as evidence.
Sometimes, unpaid debts will have to go to collections, but RBFCU is determined to have debts repaid without the harassment that's often associated with collections.
"If they're successful in paying, then we're successful in doing what we're supposed to do," Herrera said.
Advertiser Disclosure
BadCredit.org is a free online resource that offers valuable content and comparison services to users. To keep this resource 100% free for users, we receive advertising compensation from the financial products listed on this page. Along with key review factors, this compensation may impact how and where products appear on the page (including, for example, the order in which they appear). BadCredit.org does not include listings for all financial products.
Our Editorial Review Policy
Our site is committed to publishing independent, accurate content guided by strict editorial guidelines. Before articles and reviews are published on our site, they undergo a thorough review process performed by a team of independent editors and subject-matter experts to ensure the content's accuracy, timeliness, and impartiality. Our editorial team is separate and independent of our site's advertisers, and the opinions they express on our site are their own. To read more about our team members and their editorial backgrounds, please visit our site's About page.