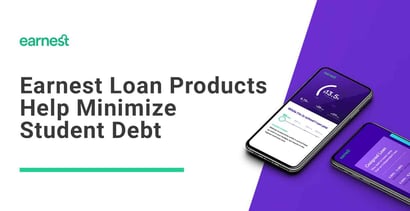 Experts share their tips and advice on BadCredit.org, with the goal of helping subprime consumers. Our articles follow strict
editorial guidelines
.
In a Nutshell: Earnest is a student loan origination and refinancing platform that takes a fresh approach to financing higher education. Instead of evaluating applicants purely by credit score, it looks at the borrower's complete financial picture, which increases eligibility for college funding. Its proprietary loan product and lending options also have reasonable interest rates, which can reduce the repayment burden students face after graduation. As college tuition costs and student debt continue to rise, Earnest is committed to providing access to loans that will help rather than restrict financial prospects after graduation.
Student loans help many young people attend college and earn degrees so they can qualify for better-paying careers. But with the cost of tuition continuing to rise and greater competition in the labor market, that career may not afford the quality of life borrowers anticipate.
Instead, student debt may lead to a lower quality of life — especially closely following graduation. Monthly payments can eat into money allocated for day-to-day expenses and savings for future financial milestones, including buying a home or retirement investments. For many, student debt improves career prospects at the cost of a sizable chunk of future earnings.


Those issues can even impact the economy as a whole. For example, as more money goes to pay student debt, less may circulate in local economies. And with people needing to work longer before retirement, it could exacerbate the problem of a crowded labor market, holding wages down in the future.
Earnest was founded in 2013 to help mitigate the financial challenges that often come with student debt. The company aims to offer more effective loan products to student borrowers using technology, data, and better design.
"Earnest disrupts traditional lending practices and tackles the nation's $1.6 trillion student debt balance," said Scarlett Li, General Manager of In-School Student Loans at Earnest. "One in 5 adults is affected by student loan debt, and Earnest is on a mission to help borrowers take control of their financial wellness and empower them with the capital they need to live better lives."
Data-Driven Analysis Fits Loans to Student Needs
Credit scores are a significant factor for lenders considering loan applicants. They reflect a borrower's credit history or, in many cases, the lack thereof. A low credit score may reflect a history of financial missteps, including missed payments and defaults, which represent a greater risk for the lender.
However, a credit score is only a small piece of a borrower's financial profile. It may not reflect more recent, positive trends in a consumer's financial habits, including a renewed dedication to making timely payments. It also doesn't reflect income, a lack of which may have contributed to the consumer defaulting on previous debts. Credit scores may not reflect a recent pay raise that could allow the consumer to responsibly pay the loan back.
Watch on
That's why Earnest doesn't exclusively look at an applicant's credit score, as many lenders do. Instead, it examines a potential borrower's entire financial picture and uses that broader view to make its lending decisions.
"In terms of our vetting process, Earnest looks at the borrower's overall customer profile, not just their FICO score," said Lena Chukhno, General Manager and Head of Student Loan Refinance at Earnest. "Data points that we take into account include income, savings, other debt someone may have, and history managing your finances. All our decisions are data-driven, and we are constantly working to find the best solutions for borrowers in various circumstances."
Loans and Refinancing Offers to Deal With Debt
Refinancing can offer an opportunity to lower monthly costs and get some much-needed breathing room for those struggling with student debt. In many cases, the difference in payments can be life-changing.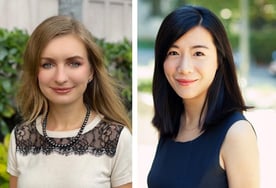 "By refinancing, many of our clients can shorten their payback period, consolidate multiple student loans into a single loan with a lower interest rate, and save money over the life of the loan," Chukhno said. "One customer recently shared that by refinancing, they not only saved a significant amount of money but also got out of student debt three times faster. Another recently told us how they cut their interest rate by more than 50% through Earnest."
Earnest started by refinancing student debt, but in 2019, it started offering its own private student loan product. It was based on 300 hours of user research with students, cosigners, and student financial aid officers. The result is a loan product that addresses the actual pain points that consumers experience.
One popular feature is the rapid eligibility check, which tells students within two minutes whether they are eligible for the product. Another is the transparent checkout process, which summarizes each loan before signing, ensuring the borrower understands the deal.
"Clients can customize their loans according to their individual financial needs with easy-to-understand terms and a clear understanding of their monthly payments after graduation," Chukhno said.
Cosigners Can Improve Eligibility and Rates
Earnest offers the opportunity for applicants to bring on a cosigner if they can't qualify on their own. A cosigner can mitigate the lender's risk by acting as a guarantor for the primary borrower; if the borrower doesn't pay, the cosigner covers the debt.
"Borrowers are, on average, six times more likely to be approved with a cosigner," Li said. "Overall, having an eligible cosigner increases the odds of being approved and likely helps borrowers get a better rate compared to those who are applying by themselves."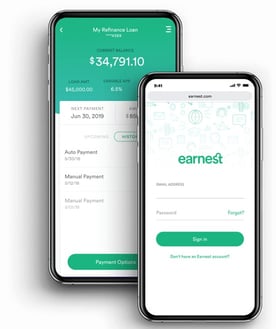 Most private student loans require a cosigner — often a parent or other family member — to qualify. With Earnest, international students can also qualify for a loan if they have a domestic cosigner.
Cosigners are required to provide information, including income and credit score. Rather than having the student gather that information, Earnest invites the cosigner to provide information confidentially, making the process smoother for both parties.
"Earnest also offers both a cosigned loan and a parent loan, so parents wishing to financially support their student's education can choose the option that works best for them," Li said. "One positive benefit we've seen is that some parents have used this as a financial literacy education opportunity. Having a cosigned loan on the student's credit report also helps build a profile from a young age."
Earnest: Low Rates and High Volume Help More Students
As of August 2021, Earnest serves more than 164,000 clients, and it has refinanced nearly $15 billion in student loans. Since 2019, Earnest has launched its industry-leading private student loan product, doubled its refinancing origination volume, and grown to be the largest lender by volume in the student loan refinancing space. In addition, it has started its own scholarship program and earned recognition as Top Place to Work by the Salt Lake City Tribune.
Those accomplishments also help consumers carrying student loan debt. With the national student loan debt at about $1.6 trillion, and the nation still struggling with the aftermath of the COVID-19 pandemic and the ensuing recession, student debt isn't going anywhere.
It represents a significant financial and economic hurdle for current borrowers and those seeking to finance their higher education so they can compete in a crowded labor market.
"As we look forward, we're excited to advance Earnest's vision, mission, and values during such an important time for student loans. And we know that we are positioned to best serve students looking to fulfill their educational aspirations in an affordable way," Li said.