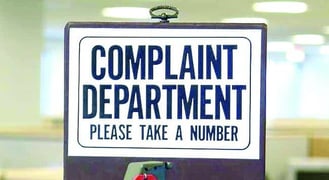 BadCredit.org publishes personal finance studies on the latest trends in the subprime marketplace. Our articles follow strict
editorial guidelines
.
In a recent study, at least one nonprofit public interest group found the majority of complaints made to the Consumer Financial Protection Bureau revolve around bank checking accounts.
The Public Interest Research Group In Michigan (PIGRIM) looked at approximately 19,000 complaints made to the CFPB since March 2012 and found almost all involved checking accounts.
In addition, the majority of complaints involved accounts held at large banking institutions.
The list of big banks with the most complaints overall was dominated by the institutions you might expect. Wells Fargo, Bank of America, JPMorgan Chase, PNC and U.S. Bancorp topped the report.
To be fair, these banks have the most depositors and the highest number of active checking accounts in the country.
"Big banks receive more

complaints on a per customer basis."
According to a credit union executive, one of the reasons for this is the big banks are not locally owned. Therefore, they are not as forgiving of local customers.
"They are also for-profit financial institutions that prioritize shareholder interests above their customer interests," said Scott Burgess, President and CEO of Rivermark Credit Union.
According to the study, the reasons most often given for bank checking account complaints were high fees and poor customer service. Fees charged by credit unions are typically less than those charged by big banks.
The PIRGIM study was intended to identify the issues and suggest solutions to them, according to the group's spokesman, Eric Mosher.
"The point of the report is to give an overview of what the CFPB has found and to give some sort of critique of what the CFPB would do better," he said. "Databases like these will make it so consumers will be more informed going into relationships with banks."
Source: creditunionsonline.com. Photo Source: www.heetebrij.net