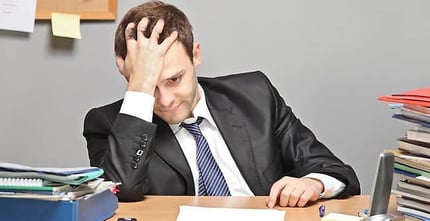 BadCredit.org publishes personal finance studies on the latest trends in the subprime marketplace. Our articles follow strict
editorial guidelines
.
About or aboot? Sorry, Canada. We had to do it.
According to a recently released FICO survey, bankers in Canada are more pessimistic than those in the U.S. when it comes to credit card delinquencies.
The survey included bankers across North America and showed pessimism has increased for the fourth straight quarter.
The study showed 54 percent of Canadian bankers believe credit card delinquencies will continue to increase in the coming quarters. This is compared to 44 percent of American bankers who believe the same.
Concerns about delinquencies have been creeping up in the past few quarters, according to Dr. Andrew Jennings, chief analytics officer at FICO and head of FICO Labs.
"Fifty-four percent of Canadian bankers, 44 percent

of American, believe delinquencies will increase."
"We've seen concerns about delinquencies creeping up for a few quarters. This can be interpreted as a healthy sign after lenders spent much of the past five years constricting credit availability and being risk-averse," he said. "These numbers mean more people are gaining access to credit, but we need to keep a close eye on the risk levels of these new loans. If delinquencies reach an uncomfortable level, we may see lenders pull back again."
The survey also found more American bankers than Canadian bankers believe consumers will be requesting a credit line increase in the coming six months. The number of American bankers expecting credit increase requests was 61 percent compared with 59 percent of Canadian bankers.
According to Robin Findlay, senior director and head of FICO Canada, many major lenders have recently reduced their rates in an effort to generate new business.
"In Canada, results show that 59 percent of respondents believe consumers will request more credit in the next six months. This is the third consecutive quarter in which the Canadian respondents believe consumers will request an increase," he said. "This adds an interesting layer as some of our major lenders have recently lowered their rates in order to generate interest in additional credit. However, as our survey has found, delinquency rates continue to rise, which may make for a compelling next couple of months as Canadian lenders react to the increased risk levels."
Source: biv.com. Photo source: resources3.news.com.au