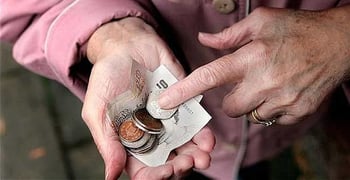 BadCredit.org publishes personal finance studies on the latest trends in the subprime marketplace. Our articles follow strict
editorial guidelines
.
Are you still asking your parents for money? What about your grandparents? They may be more broke than you.
A recent study shows middle-income Americans over 50 carried more credit card debt than young people in 2012.
The over-50 crowd carried an average of $8,278 in credit card debt. Americans under 50 carried just $6,258.
That's a big change from just four years ago, when both groups carried nearly $10,000 in debt.
The study, titled "In the Red: Older Americans and Credit Card Debt," is part of a year-long Middle Class Security Project by the AARP Public Policy Institute.
Both age groups average three to four credit cards and a canceled card they are still paying off.
Both groups are paying about 16 percent interest and have dropped overall credit card debt.
"The over-50 crowd carried $8,278 in credit

card debt. Americans under 50 carried $6,258."
So why are older Americans deeper in debt than younger generations?
Those over 50 use credit cards more often as a safety net, covering necessary expenses like medical bills.
Six in 10 older Americans said they were currently paying off medical bills, mostly for prescription drugs and dental work.
More than 30 percent said they skipped tests, treatments or prescriptions to reduce medial expenses.
Here's what else older Americans are putting on plastic:
49 percent car repairs
38 percent home repairs
34 percent basic living – housing, food and insurance
The recession left many people out of work, but it took a bigger toll on the older generation that found it difficult to find comparable jobs.
Fifteen percent of those surveyed said their credit card debt is the direct result of a job loss in the last three years. Twenty-five percent said unemployment contributed to their debt in some way.
The market crash also dropped housing values, shrank investments and destroyed  pensions – a tough situation for anyone. It's even tougher for those on fixed incomes.
The report concludes that credit card debt among older Americans is a direct reflection of hard economic times.
Researchers found older generations are far less likely than those under 50 to put non-essentials on their cards, like eating out, movies, entertainment and clothes.
The over-50 crowd isn't just letting credit card debt linger.
They make higher monthly payments than younger Americans and are more likely to use retirement funds or take equity of out their homes to pay credit card bills.
Older Americans also said they are more likely to go into debt to help a family member.
Twenty-three percent added to their own credit card debt or gave away money to help relatives in financial need. Only 11 percent of people under 50 surveyed said they did the same.
The credit card survey is just a small part of the Middle Class Security Project by the AARP Public Policy Institute.
The comprehensive report recommends the best way to protect older Americans is to widen access to affordable health care and sustain Social Security levels.
Source: demos.org. Photo source: telegraph.co.uk.