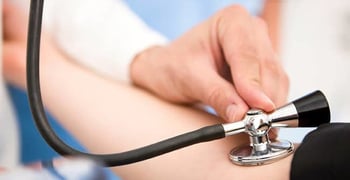 BadCredit.org publishes personal finance studies on the latest trends in the subprime marketplace. Our articles follow strict
editorial guidelines
.
Too much debt is more than just a financial issue.
According to a study from the Northeastern University Feinberg School of Medicine, high levels of debt also appear to cause serious health problems for young people.
For this study, researchers looked at the health and financial situation of 8,400 young adults between the ages of 24 and 32.
Participants rated themselves as having a high amount of debt if he or she had more in total debt than in total assets.
This means that even if these participants sold everything they owned, they still would be in debt. Twenty percent of participants were in this category.
The researchers then measured the blood pressure of the participants. On average, the high debt group had diastolic blood pressure 1.3 percent higher than the ideal level.
"The high debt group self-reported

having worse general health."
To put that in perspective, a blood pressure level two percent above the ideal level increases a person's chance of hypertension by 17 percent and their chance of stroke by 15 percent.
Researchers stressed the significance of these results because the participants were so young, yet debt was already causing them health problems.
This study shows just how stressful managing high levels of debt can be, especially when you consider that beyond these health problems, people with a lot of debt are more likely to be depressed and commit suicide.
Regulators should keep this information in mind as debt levels for young people, especially student loans, continue to go up.
Since young people were already suffering from health problems due to debt, there is a good chance the impact is just as bad, if not worse, for older Americans.
Use this as one more motivation to avoid debt. It is best for your health.
Source:post-gazette.com. Photo: istock.