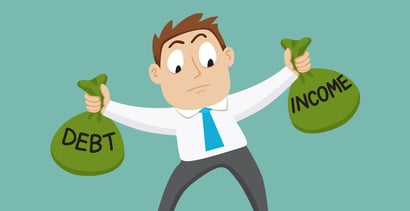 Having a steady income is great, but only if it exceeds your spending. That's a truth well-known to lenders, who routinely calculate a borrower's debt-to-income ratio (DTI) when considering loan applications. All the lenders reviewed here offer loans for high debt-to-income ratio borrowers.
DTI is defined as total monthly debt (house payments, child support, credit cards, student loans, auto loans, etc.) divided by gross monthly income (income before withholdings, taxes, and expenses deducted from your paycheck).
For example, your DTI is 66.67% if your monthly debt is $2,000 and your monthly gross income is $3,000. While DTI is an important consideration to lenders, it is not explicitly included in your credit reports and must be calculated separately.
Personal Loans | Debt Relief | FAQs
Personal Loans for High Debt-to-Income Ratio Borrowers
The following loan-matching services work with networks that will lend to consumers with bad credit and/or high DTI ratios. All seven can link you to one or more lenders that promise quick decisions and rapid funding, often on the next business day.
None of these services collect fees from borrowers. Rather, network lenders pay finder's fees to the matching services.
Eligible borrowers usually must be a U.S. citizen or resident, age 18 or older, have a checking account, valid email address, and work and/or home phone numbers.
Short-term loans up to $5,000
Online marketplace of lenders
Funds available in as few as 24 hours
Simple online form takes less than 5 minutes
Trusted by more than 2 million customers
| Loan Amount | Interest Rate | Loan Term | Loan Example |
| --- | --- | --- | --- |
| Up to $5,000 | Varies | Varies | See representative example |
The MoneyMutual network provides personal loans ranging from $250 to $5,000. To be eligible, you must have a checking account and earn at least $800 per month.
The lenders use your checking account to deposit the loan proceeds and collect your payments. MoneyMutual can find you a lender even when you have negative factors such as a high DTI ratio, a low credit score, or a history of collections or bankruptcies.
24/7 Lending Group may be able to connect you with a direct lender after you answer a few questions on its website. Doing so won't hurt your credit, and you can easily compare loan offers in minutes.
While you don't need a high income to qualify for a loan, you do need to show you can afford the loan payments. The network won't run a credit check, but the lender you choose to work with may.
CashUSA.com facilitates ranging loans from $500 to $10,000 from its network of high-DTI-ratio lenders. The loans have repayment terms of three to 72 months.
You must earn an after-tax income of at least $1,000 per month to be eligible. If you qualify, you will be linked to a lender that will specify the loan terms, including interest rates and fees. We like the CashUSA.com website because it offers solid information about various financial topics.
The CreditLoan lending network offers personal loans that range from $250 to $5,000 with terms of three to 72 months. The loan amount, interest rate, and other terms are set by the recommended lender.
To qualify, your income must be at least $1,000 per month. Expect a quick approval decision and funding, with the money electronically deposited into your checking account by the next business day. CreditLoan has helped more than 750,000 borrowers obtain loans since 1998.
Since 1998, Bad Credit Loans has been matching lenders with borrowers who have high DTI ratios and bad credit. The lenders on its network provide personal loans of $500 to $10,000 with payment terms of three to 60 months.
The lenders recommended by Bad Credit Loans will disclose the actual loan interest rate and payback period. As with all these matching services, you are under no obligation and the service is free.
PersonalLoans.com can line up a loan for you that ranges from $500 to $35,000, repayable in periods ranging from three to 72 months. To be eligible, you must receive regular income or benefits of at least $2,000 per month.
PersonalLoans.com is unusual in that it can facilitate loans in all 50 states. The process of applying for a loan and receiving funding is quick, with your money available as soon as the next business day.
The CashAdvance.com network will consider you for a short-term loan of $100 to $1,000 without checking your DTI ratio. To be eligible, you must have at least three months on the job and a monthly income of at least $1,000.
CashAdvance.com, a member of the Online Lenders Alliance, has been helping borrowers get loans since 1997. Its large lender network welcomes borrowers with bad or thin credit. Expect funding of approved loans by the next business day.
Debt Relief Options
If you're robbing Peter to pay Paul, maybe it's time to reevaluate your loan needs and instead focus on reliving yourself of your debt. The following three companies offer debt relief services to consumers with high DTI ratios.
This service can negotiate with your creditors to lessen the amounts you owe, which can help free up funds to pay for other things. You'll then make one monthly payment to the debt relief company, which will then distribute the funds accordingly to your creditors.
This is typically a multi-year process, ranging from 24 to 48 months until you're debt free, and is not without consequence; Your credit score will suffer, and you will damage your relationship with your existing creditors. But it just may be the fresh start you need.
Requires $10,000 or more in credit card debt
Free, no-obligation debt analysis
Specializes in credit card and medical debt
Also handles debt from personal loans, private student loans, lines of credit, and collections
Does not handle IRS, utility, federal student loans or mortgage debt
Long-term program to relieve debt over 24-48 month period
| Better Business Bureau | In Business Since | Free Consultation? | Reputation Score |
| --- | --- | --- | --- |
| A+ | 2009 | Yes | 9.5/10 |
National Debt Relief can help if you owe at least $10,000 in unsecured debt. It's been in business since 2008 and has helped more than 100,000 borrowers pay off more than $1 billion in unsecured debt.
The company offers a free debt analysis to see whether you would benefit more from a consolidation loan or some other type of debt relief. The company handles debts arising from credit cards, medical costs, private student loans, and personal loans, but not IRS, mortgage, or federal student loan debt.
CuraDebt offers debt counseling and other services to consumers with high unsecured debts. It has helped more than 180,000 customers since its founding in 2000.
CuraDebt does not offer debt consolidation loans. Rather, it provides customers with 100% confidential consultations regarding debt consolidation loan options and debt relief, including tax debt. One of its debt professionals will be happy to analyze your unique requirements and recommend the most appropriate course of action, including ways to lower your monthly debt payment.
Freedom Debt Relief specializes in debt relief services, including debt consolidation assistance. The company works with an external lender to provide debt consolidation loans to qualified customers with at least $10,000 of existing debt.
The company has helped more than 600,000 clients resolve $5+ billion in debt since 2002. Freedom Debt Relief doesn't handle collateralized debt, but rather concentrates on debt from credit cards, medical bills, personal loans, and other unsecured debt.
Can I Get a Personal Loan with a High DTI Ratio?
Personal loans are available from private networks of lenders, such as the seven reviewed above. All serve a wide swath of consumers, including folks with bad credit and/or high DTI ratios.
In other words, whether you have too much debt or a low credit score, your less-than-perfect handling of debt is not automatically disqualifying.
That being said, you should understand how debt affects your credit scores. You may be surprised to learn that your income isn't part of your credit report, and, therefore, doesn't figure into your credit score.
Indeed, you can have a high credit score and a high DTI ratio, or a low score and ratio. However, the most likely scenario for consumers with low credit scores is to have an uncomfortably high DTI ratio.
Otherwise, you would be in a position to increase your score by paying down your debts and reducing your credit utilization ratio (CUR), which is the total amount you owe on all your revolving accounts compared with your total credit available. Since CUR makes up 30% of your FICO score, reducing it can significantly impact your credit.
If your DTI is so high that lenders won't approve your loan applications, you can consider a secured loan in which your home or car serves as collateral. Secured loans are much easier to obtain, as they put the lender at much less risk.
In fact, using a secured loan to consolidate your other debt can help you reduce your monthly debt payments and perhaps your interest rate. On the other hand, secured loans can backfire if you default, as you will probably lose your collateral through foreclosure on your home or repossession of your car.
Naturally, a default will also damage your credit score and remain on your credit report for seven years. In the long run, your goal should be to improve the balance of your income to expenses so that you have some money left over each month to pay down your debt.
What is a Good DTI Ratio for a Personal Loan?
To understand how lenders view a good DTI for a personal loan, it's useful to first learn how DTI ratio figures into mortgages. There are two types of DTI in the mortgage market:
Front-end ratio: This is the percentage of your monthly gross income allocated to fixed housing expenses, including mortgage payments, homeowner's insurance, property taxes, and HOA fees. The ideal front-end ratio should not exceed 28%.
Back-end ratio: The percentage of your income to cover all your debt obligations, including housing costs, student loans, car loans, credit card payments, child support, and other debts. The ideal back-end ratio is no higher than 36%.
Although the exact definition of a good DTI ratio varies with each personal loan provider, it's a good bet that the 36% value is key.
However, mortgages are secured, and personal loans are not. It stands to reason that a provider of unsecured personal loans would consider only a lower DTI ratio to be "good" since the lender assumes more risk when a loan is not collateralized.
Therefore, a good DTI ratio for a personal loan is probably 15% or less.
How Can I Lower My DTI Ratio Quickly?
This is where credit consolidation can be most helpful. To the extent that you can consolidate loans and credit card balances, your monthly payment should decrease and therefore, lower your DTI ratio.
Remember, the DTI ratio is based on your monthly debt payments. It is NOT your total debt divided by your annual income. Therefore, smaller monthly payments result in a lower DTI ratio.

Bear in mind that debt consolidation is not without its disadvantages. If you pay less each month (without a corresponding decrease in interest rate), your loan will take longer to pay off and probably cost you extra interest.
If you do take a consolidation loan, you should swear off new credit until you repay the loan, lest you be caught in a debt spiral that ends in bankruptcy. Naturally, paying down your debt will immediately improve your DTI ratio.
If you have unused assets you can cash in, you may be able to make a dent in your current debt. Perhaps you have a valuable stamp or coin collection gathering dust, or an antique or art piece you'd be willing to sell. Some folks may decide to downsize their homes to lower their monthly bills.
Whatever steps you can take to economize on your monthly expenditures can help you pay down your debt.
The other half of the equation is your monthly income. Can you increase it?
Many folks looking for extra income develop side hustles, such as freelance work, Uber driving, or Airbnb rentals. Many gigs can be done at home, for example, when you are a writer, graphic artist, programmer, bookkeeper, and so forth. Or, perhaps you can get a raise at work.
Using extra income to pay down your debt will certainly improve your financial health and make it easier for you to obtain a personal loan.
Can I Get a HELOC With High Debt to Income?
A home equity line of credit is unlikely with a DTI above 43%. Lenders need confidence you have the financial capacity to pay your debt as agreed. This is particularly important with any home loan that uses the property to secure the loan, as is the case with a HELOC or home equity loan.
If you stop making your monthly mortgage payment, HELOC payment, or home equity loan payment, the mortgage lender will forclose on your home, and you will be kicked out. In addition to being homeless, your credit score will plunge, making it extremely difficult to find a new place to rent. And you likely won't qualify for another mortgage for a couple of years.
That is why secured loans that leverage your home are difficult to qualify for with a high DTI — things can get real messy when borrowers default on home loans.
Find Ways to Improve Your DTI
We've reviewed several sources of loans for high debt-to-income ratio consumers. The loan matching and debt relief services in this article can help you obtain loans despite a high DTI ratio, either directly or through credit counseling.
Arranging a personal loan is easier if you can first pay down some of your debt and reduce your DTI ratio. You can also improve the ratio by finding ways to increase your monthly income, perhaps through a raise, a new job, or a side gig. Economizing your monthly spending, if possible, may allow you to pay down existing debt and keep it low.
Advertiser Disclosure
BadCredit.org is a free online resource that offers valuable content and comparison services to users. To keep this resource 100% free for users, we receive advertising compensation from the financial products listed on this page. Along with key review factors, this compensation may impact how and where products appear on the page (including, for example, the order in which they appear). BadCredit.org does not include listings for all financial products.
Our Editorial Review Policy
Our site is committed to publishing independent, accurate content guided by strict editorial guidelines. Before articles and reviews are published on our site, they undergo a thorough review process performed by a team of independent editors and subject-matter experts to ensure the content's accuracy, timeliness, and impartiality. Our editorial team is separate and independent of our site's advertisers, and the opinions they express on our site are their own. To read more about our team members and their editorial backgrounds, please visit our site's About page.