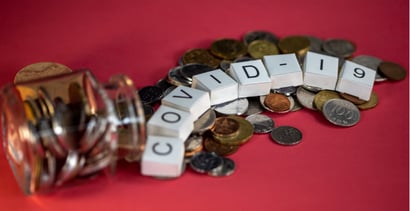 In this article, we review available loans during the COVID-19 pandemic for bad credit. There's no doubt that the devastation visited upon us by COVID-19 has resulted in the loss of life, loss of income, and loss of some social freedoms we've always taken for granted.
While folks with bad credit have had a particularly tough time these last two years, loan options are available to help them make it through these awful times.
Cash Loans For Bad Credit
Cash loans are short-term loans that you repay in full all at once. Payday cash advances are a prime example of this kind of loan. These three online loan networks facilitate bad credit cash loans based on your income more than on your credit history.
Even if you can't work or lost your job due to the pandemic, you can still qualify for a small cash loan if you can demonstrate a reliable income from alternate sources, including benefits, investments, insurance, and savings.
Personal Loans For Bad Credit
Many personal loan companies have introduced COVID-19 hardship loans, a small personal loan with a lower-than-normal interest rate. The following three personal loan services work with networks of direct lenders, some of which may offer COVID-19 hardship loans to folks with all types of credit history.
Personal loans are installment loans that you repay over a period of months or years. These loan networks can prequalify you for a personal loan that may be available to bad credit consumers that have a COVID-19 financial hardship.
You will have to demonstrate some source of income to get a personal loan, even a hardship one. As with cash loans, income can come from alternate sources, and it will determine how much you'll be allowed to borrow.
Auto Loans For Bad Credit
If you own a car, you may be able to cash out your equity in it in the form of an auto loan. Basically, your equity is equal to the car's current value minus any outstanding loan balance. The following three lender networks work with auto dealerships and other lenders to arrange various car loan options, including cash-out refinancing.
The advantage of cash-out refinancing is that it is independent of your credit score. Your car serves as collateral for the secured loan, which makes a car loan riskier to you than a personal loan. If you default on the auto loan, you'll face the loss of your car, so approach these loans with caution.
Home Loans For Bad Credit
If you own your home, you have an asset that may help you get through tough times. A home equity loan or home equity line of credit (HELOC) unlocks the equity in your home, and the following three sources may be able to connect you with a provider of home loans with your preferred loan term.
You build home equity in three ways — by paying off your mortgage (by making a larger mortgage payment regularly or from time to time to your mortgage lender), renovating your home, and increasing home prices.
In any case, the excess of your home's current value minus your outstanding mortgage can collateralize a home equity loan, regardless of your credit score. You must subtract fees, such as an origination fee, if you plan to refinance with a mortgage lender. An origination fee may reach 1% or higher.
Be aware that you may face foreclosure if you default on your home equity loan or miss one or more monthly payment. That will cause a situation already made bad by COVID-19 to mushroom into a much larger problem.
Can I Get a Loan During the COVID-19 Pandemic With Bad Credit?
As the pandemic spread to the U.S. in 2020, many sources of credit became less available. Many a bank or financial institution stopped issuing new credit cards, and some lenders curtailed their operations.
Things have normalized somewhat since then, although the spread of virus variants is a continuing threat. The biggest difference now is that some lenders, principally credit unions, have initiated coronavirus hardship loan programs to help folks who've been economically impacted by the pandemic.
Another source of loan money is through a credit card cash advance. You may be able to negotiate credit card payment forbearance with a customer representative.
In some cases, providers of hardship loans are offered subprime borrowers deferred payments — which suspends a monthly payment for up to three months. Hardship loans are also characterized by lower interest rates.
Unfortunately, credit scores do play a role when applying for deferred payments.
If your credit is bad, you may have the most luck applying to lenders that normally don't demand good credit scores, as is true of the lenders reviewed in this article.

Collateralized loans are perhaps the easiest to get, but only if you happen to have the required collateral — a home, auto, or some other valuable property. You'll always find a bank or other financial institution that will accept collectibles, jewelry, and securities as loan collateral.
You can go to a pawnshop for smaller loans, but you won't receive a good deal. Most pawnshops charge high interest and fees, and you may only be offered 20% to 30% of the item's value. But pawnshops do not pull your credit report from a credit bureau.
The problem with collateralized loans is that you can lose your property if you default on your payments. That's a good reason to consider taking an unsecured personal loan or cash advance.
The six cash advance and personal loan lender networks reviewed above all routinely work with consumers who have bad credit. These loans are still available, and prequalifying for one will not hurt your credit score.
Payday loans are problematic if you lost your job due to COVID-19. However, many online payday lenders will consider other forms of income, such as government benefits, when underwriting a loan.
Remember, payday loans from an online lender or a payday loan store carry high interest rates and are meant for only short-term use. On the positive side, a payday online lender will not pull your credit report from a credit bureau.
Are Coronavirus Hardship Loans Available Through the Government?
The federal government has provided intermittent financial assistance during the pandemic, mostly in the form of stimulus checks, tax breaks, the PPP loan program, and unemployment benefits.
Government loans have been largely limited to businesses. Three rounds of Economic Impact Payments have been delivered, the last one in March 2021 for $1,400 per eligible person.
Child Tax Credit advance payments began in July 2021 and continue for the remainder of 2021. Monthly payments to the families of each qualifying child range from $250 to $300, depending on age.
A student loan payment pause continues until Jan 31, 2022. Until then, an eligible student loan can qualify for:
A 0% interest rate.
A suspension of loan payments.
Stopped collections on defaulted loans.
This forbearance is free — you do not have to pay for it, so avoid student loan scams that try to fleece you by touting loan forgiveness.
Folks with immediate money needs may find help through local charities and nonprofits.
Some states have organized crisis relief loans, such as the Capital Good Fund sponsored by Delaware, Florida, Illinois, Massachusetts, Rhode Island, Colorado, and Texas. If approved, you can borrow from $300 to $1,500 for 15 months at a 5% interest rate. Repayment starts after three months but can be deferred further if necessary.
Can I Get a Small Business Loan During the COVID-19 Pandemic?
The Small Business Administration (SBA) is lending money to businesses and nonprofit organizations that have lost revenue due to the pandemic. The original Paycheck Protection Program (PPP loan program) has expired, but you may qualify for a COVID-19 Economic Injury Disaster Loan (EIDL) of up to $500,000.
These 30-year loans charge an interest rate of 3.75% for businesses (2.75% for nonprofits) with no prepayment penalties or fees. You must submit Form 4506-T, giving the IRS permission to share your business tax transcripts with the SBA.
What Happens If I Can't Repay My Loan?
There isn't a single policy that covers the repayment of various types of loans. Your repayment options depend entirely on the source of the loan.
For example, you may qualify for mortgage forbearance or other mortgage relief by contacting your mortgage servicer. COVID-19 forbearance allows you to pause or reduce your mortgage rates or monthly mortgage payment, or it provides other types of mortgage relief, including partial loan forgiveness.
According to the Consumer Financial Protection Bureau, "If your loan is backed by HUD/FHA, VA, USDA, Fannie Mae, or Freddie Mac, you only need to explain that you have a COVID-related financial hardship, directly or indirectly related to the pandemic. Even for those loans not backed by Fannie Mae, Freddie Mac, or the federal government, mortgage servicers are generally required to discuss relief options with you."
Even with forbearance on mortgage rates and loan payments, you are still required to pay your property taxes, insurance, and HOA fees, if applicable. The rules may differ depending on whether your mortgage includes an escrow account.
If you have trouble repaying a loan, it's best to discuss the matter with your lender. Many lenders are willing to accommodate victims of the COVID-19 crisis rather than force subprime borrowers into default. But if you can't repay your auto loan, your car may be repossessed.

Folks having trouble repaying home loans may have better luck working out an arrangement rather than forcing the lender to foreclose on the property.
There is no consistent rule for how providers of personal loans and cash advances will handle missed payments. You may face late fees and collection actions from some lenders, but other lenders may offer you options.
For example, personal loans from Wells Fargo may be eligible for up to three months of deferment. Upstart, an AI-driven lending platform, offers loan modification options to some customers impacted by the pandemic.
Missed payments can wreak havoc on your credit score, so don't be discouraged from contacting your loan servicer as soon as possible.
Can I Get Approved For a Loan While Receiving Unemployment?
It may be possible to get a personal loan when you are unemployed by demonstrating another source of income. That alternative source may be unemployment insurance as well as other government benefits, pensions, retirement accounts, annuities, and so forth.
Lenders may consider several factors when deciding whether to offer you a loan when you are receiving unemployment benefits:
Income of spouse: Many lenders allow you to include your spouse's income on your loan application. The key is whether you can use that income to repay the loan. Be prepared to have your spouse co-sign the loan if you include his or her income.
Retirement payments: Lenders may look at your Social Security benefits or retirement account withdrawals as they try to justify your loan.
Alimony: You may be able to include alimony as an income source, especially if you pay taxes on it. Child support is more problematic, as some personal loan lenders may not want you to use it to repay a loan.
Investment income: You can demonstrate the ability to repay a loan by having income-producing investments, including stocks, bonds, and real estate. Recurring dividends and interest income, as well as rent you collect through rental properties or REITs, may be approved as a source of income by the lender.
Realistically, being unemployed does not enhance your access to loans. But it is not necessarily disqualifying either if you can show other income or post collateral on a secured loan.
Acquiring Loans During the COVID-19 Pandemic
We've laid out a dozen sources of loans during the COVID-19 pandemic for bad credit. Each is actively operating in the subprime loan niche, even during the pandemic.
It would be foolhardy to disregard the impact of the coronavirus on your ability to borrow money. But it would also be wrong to paint too bleak a picture. Try working with one or more of the lenders evaluated in this review as well as with your local credit union — you may be pleasantly surprised.
MoneyMutual & Other Resources
We hope you've found our guide "12 Loans During COVID-19 Pandemic For Bad Credit (Sep. 2023)" to be helpful in meeting your financial needs. To learn more about MoneyMutual, our top recommendation in this guide, be sure to visit the MoneyMutual website for full details about the offer.
Our experts rate MoneyMutual as one of the best options in personal loans for those with bad credit, giving it a 4.8/5.0 rating overall. Among its features:
Short-term loans up to $5,000
Online marketplace of lenders
Funds available in as few as 24 hours
Simple online form takes less than 5 minutes
Trusted by more than 2 million customers
For more resources similar to this "12 Loans During COVID-19 Pandemic For Bad Credit (Sep. 2023)" guide, see our other popular picks for those with bad credit:
Whether you choose MoneyMutual or any other option in our personal loans category, be sure to read and understand the terms before signing up. You'll find that taking the time to fully understand personal loans is one of the smartest financial decisions you can make.
Advertiser Disclosure
BadCredit.org is a free online resource that offers valuable content and comparison services to users. To keep this resource 100% free for users, we receive advertising compensation from the financial products listed on this page. Along with key review factors, this compensation may impact how and where products appear on the page (including, for example, the order in which they appear). BadCredit.org does not include listings for all financial products.
Our Editorial Review Policy
Our site is committed to publishing independent, accurate content guided by strict editorial guidelines. Before articles and reviews are published on our site, they undergo a thorough review process performed by a team of independent editors and subject-matter experts to ensure the content's accuracy, timeliness, and impartiality. Our editorial team is separate and independent of our site's advertisers, and the opinions they express on our site are their own. To read more about our team members and their editorial backgrounds, please visit our site's About page.