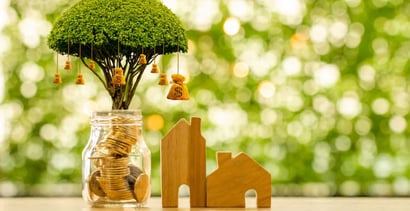 Refinancing a mortgage is a big deal. You'll have to contend with up to 6% in fees, a new appraisal, and a fresh title search. Having bad credit doesn't make the ordeal any easier. 
But refinancing a bad credit mortgage has many advantages that motivate homeowners with subprime credit to take the plunge. Our review of home refinance loans for bad credit should help you choose the conventional or government-insured loan that best suits your needs.
Best Conventional Home Refinance Lenders
The following home lenders provide conventional loan refinancing to consumers of every credit description. Although many also offer government-insured loans, these lenders often deliver better proprietary products. They demonstrate that you needn't use a government program to get the best home loan.
Rocket Mortgage is America's Number One mortgage lender. It can provide you with a home refinancing loan even if you don't have good credit. You can earn valuable Rocket Rewards by joining the program, reading articles, exploring calculators, and working on your application. 
The company periodically offers its Rate Drop Advantage program, ensuring the current or lower loan rate when you lock the initial rate between 120 days and 36 months from closing. The program pays credits to cover the appraisal fee, credit report, tax certification, mortgage recording fee, flood certification, and particular notary, processing, and underwriting fees.
JD Power has ranked Quicken Loans #1 for mortgage origination customer satisfaction in the last 12 out of 13 years. Quicken Loans is a service mark of Rocket Mortgage and offers cash-out refinancing to prime and subprime homeowners.
You can use the surplus from a cash-out loan similar to a home equity loan — to pay bills, consolidate debt, update your home, or for any other use. The company's website offers helpful tools, including a loan calculator, current mortgage rates, and an online refinance guide. 
eMortgage doesn't originate loans; it finds them. It works with a lender network to find bad credit mortgage loans for subprime borrowers looking to buy a house or refinance their existing mortgages.
You can receive multiple offers by submitting a single online request form without cost or obligation. You must provide the loan amount, property value, state, and credit rating to participate.
The FHA Rate Guide is neither a part of the Federal Housing Administration nor an FHA loan provider. It is an online source of editorial content and information directory on mortgages and refinancing loans. The company's lender network can provide you with multiple loan offers in minutes. 
Each FHA Rate Guide lender sets its APR, fees, and payment schedule after verifying your information, credit history, location and type of property, and other factors.
Bank Of America Mortgage can prequalify you for a bad credit refi loan at no cost. Its Digital Mortgage Experience quickly walks you through the process. Following prequalification, you can provide additional information to the bank for a final review and approval.
The bank's online calculator uses your home's ZIP code and other data to find current refinance rates and closing expenses.
CitiMortgage offers standard and cash-out refinancing through an online application process. The bank frequently has promotional offers, such as special pricing for Citi customers and credits toward closing costs. 
The online CitiMortgage Refinancing Calculator estimates your new monthly payments before you close on the loan. The bank's website also provides calculators to compute your debt-to-income (DTI) ratio and your home equity.
Government-Guaranteed Home Refinance Loans
Uncle Sam, in the guise of federal agencies and government-sponsored enterprises (GSEs), can help you refinance your home mortgage by guaranteeing homeowner loan payments. The following agencies help reduce lender risk and thus make it easier for consumers to obtain home loans.
7. FHA Refinance Loans
The Federal Housing Administration collects mortgage insurance premiums from borrowers via lenders. It uses this income to operate its mortgage insurance programs to benefit homebuyers, renters, and communities.
The FHA, which is part of the US Department of Housing and Urban Development, offers several programs to help homeowners refinance their properties, including the following:
Streamline Refinance: This program lets you refinance your existing FHA-insured mortgage with limited borrower credit documentation and underwriting. To qualify, you must keep your mortgage payments up to date, the loan must provide a net tangible benefit to the borrower, and the homeowner can cash out no more than $500.
Simple Refinance: This is the FHA's most straightforward refinancing program, allowing FHA mortgage holders to refi a fixed- or adjustable-rate loan. You must satisfy the program's credit, income, and asset requirements to qualify. Cash-outs aren't allowed, but the refi loan can include all your closing costs and prepaid items, up to a 97.75% loan-to-value (LTV) ratio.
FHA Cash-Out Refi: This program allows you to pay off your current mortgage with the proceeds from a new, larger loan and pocket the excess cash. After a fresh reappraisal, you must have at least 20% equity in your home.
203(k) Rehab: The Limited and Standard 203(k) loans let you improve your home by refinancing the mortgage. The two refi loans differ in size, contractor requirements, inspections, and the types of improvement allowed. You must submit to a new FHA appraisal and pay for mortgage insurance.
Home Equity Conversion Mortgages (HECMs) for Seniors: These are FHA-insured reverse mortgages available to senior homeowners (62 and older) who wish to turn their home equity into a stream of cash flows. To participate, you must live in a qualified home and be up to date on your mortgage.
8. Fannie Mae
The Federal National Mortgage Association, or Fannie Mae, is a GSE offering refinancing loans to eligible Fannie Mae mortgage holders. Its RefiNow Program accepts homeowners with:
Income at or below 100% of the local median income
No missed payments on their current mortgage loan in the past six months
No more than one missed payment in the past 12 months
A mortgage with a loan-to-value ratio of up to 97% and a debt-to-income (DTI) ratio of 65% or less
The program has no minimum credit score requirement and offers a $500 lender credit for appraisals. You must own your home for at least 12 months to apply. You can cash out up to $250 with this loan. Standard mortgage insurance and coverage levels apply.
Fannie Mae also offers its HomeReady limited cash-out refinance program. It accepts homeowners with Fannie Mae mortgages if they have an LTV no higher than 97%. You can cash out up to $2,000. The program accepts high-balance loans, limits the maximum DTI to 50%, and requires a low credit score of 620 or above.
9. Freddie Mac
The Federal Home Loan Mortgage Corporation (Freddie Mac) offers two cash-out refinancing programs to homeowners with eligible mortgages who want to renovate their homes. The CHOICERenovation and CHOICEReno eXPress programs allow you to finance various repairs and renovations. To qualify, you must have a maximum LTV ratio of 97% and a minimum credit score of 620.
Freddie Mac also offers its Refi Possible limited-cash-out refinance loan. The maximum cash-out amount is $250. To qualify, you must:
Own a one-unit primary residence for at least one year with a fixed-rate Freddie Mac mortgage 
Have a maximum DTI ratio of 65%
Have a maximum LTV ratio of 97% on your mortgage
Have a total annual qualifying income not exceeding 100% of the area median income (AMI) for the location of the mortgaged premises
Have standard or custom mortgage insurance
Avoid delinquencies exceeding 30 days
Refi Possible loans do not have a minimum credit score requirement.
10. USDA
The United States Department of Agriculture offers three versions of its Single Family Housing Guaranteed Loan Program for refinancing: Non-Streamline, Streamline, and Streamline-Assist. 
The most popular version, Streamlined-Assist, allows homeowners to refinance properties with little or no equity. The program doesn't require a home appraisal, inspection, or a minimum credit score (although a score above 640 helps win approval). 
To qualify, you must:
Use the home as your primary residence
Currently have a USDA mortgage with at least 12 consecutive payments
Reduce your total monthly mortgage payment by at least $50 after refinancing
The FHA Streamline Refinance version adds income and DTI ratio requirements. You must have made timely mortgage payments for the last six months.
USDA loans offer up to 100% financing. Although properties must be located in rural areas, the USDA includes small towns, suburbs, and exurbs of major US cities.
11. VA
The Veterans Administration (VA) offers refinancing loans to veterans, service members, and survivors. You can refinance up to 100% of the home's value. The VA doesn't set a minimum credit score requirement, but VA lenders generally look for scores of 580 or higher. 
There is no limit on VA loan size If you qualify for full entitlement. You can choose between an Interest Rate Reduction Refinance Loan (to refinance VA and VA-backed mortgages) and a Cash-Out Refinance Loan (for VA and non-VA loans). 
The maximum cash-out amount is limited to 100% of the home's appraised value. Generally, VA lenders want applicants to have a maximum DTI ratio between 41% and 50%, but the VA does not set a DTI threshold.
What Is Bad Credit Home Refinancing?
Bad credit home refinancing is simply home refinancing from a lender that works with subprime borrowers. The reasons to refinance a mortgage include the following:
Reduce your interest rate: Lower refinance rates can save money on your mortgage, especially if you also shorten your loan term. But the best rates are reserved for borrowers with good credit.
Reduce your monthly payments: With or without an interest rate reduction, you may lower your monthly mortgage payment by lengthening the loan term. But your overall borrowing costs may increase.
Consolidate high-interest debt: You can cash out some of your home equity to pay down loans and credit cards. This can save money even if you don't reduce your mortgage interest rate. 
Cash out some of your home equity: You can siphon some of your home equity and use the money for any purpose. But you cannot take a tax deduction on the cash exceeding the loan balance if you don't use the money to improve your home.
Eliminate mandatory mortgage insurance: You may be able to eliminate mortgage insurance, such as the 0.85% policy premium on FHA-backed home loans. You usually must wait until you have at least 20% equity in your home to eliminate private mortgage insurance.
Consider the possible disadvantages before refinancing your mortgage. You usually pay fees of at least 2% to refinance an existing mortgage, meaning you will need a few years to break even. You may lose money if you move into a more expensive home before breaking even.
Sometimes, homeowners refinance a 30-year mortgage after 15 years. That isn't good because, by this point, the bulk of your monthly payments on your existing mortgage go to principal rather than interest. If you refinance, you restart the amortization schedule, in which interest charges predominate during the first half of the loan term.
How Do I Apply For a Conventional Refinance Loan?
Almost all conventional loan sources operate online, which means you can apply from the comfort of your favorite easy chair. That can help compensate for the lengthy application process, in which you must disclose facts about yourself, the property and current mortgage, and your income, employment, and debts. 
Before applying, consider what type of loan you'd like to replace your current mortgage with. You could convert to a longer or shorter term, flip between a fixed and adjustable rate, or cash out some of your home equity. Knowing the type of loan you want can make it easier to compare apples to apples when rate shopping.
If you use a loan-finding service such as eMortgage, it will share your loan request form with multiple lenders. Ideally, this will save you some time comparing quotes and result in you getting the best available loan terms.
You must submit various documents with your loan application, such as pay stubs, tax returns, and bank statements. You may also have to pay upfront fees.
Refinancing an existing mortgage is typically less complicated than taking a new one. The lender will provide a checklist of activities guiding you through the loan application, approval, and closing processes. 
How Do Government-Guaranteed Loans Work?
Several government agencies and sponsored enterprises offer to guarantee payments to mortgage lenders should the homeowner default on the debt. Sometimes, these agencies also provide direct loans, but most of their assets insure external loans.
To begin the process, research the different government-backed loans and decide which will work best for you. Check out the requirements on the agency's website, including:
Type of property
Homeowner's income and DTI ratio
Current LTV ratio and home equity
Cash-out availability
Credit history and minimum credit score
Unique requirements, such as veteran's status for a VA loan
You also will want to compare the refi loans from banks and other financial institutions eligible to work with the agency of choice.
Usually, you submit an online or in-person application form to the lender, along with any up-front fees and required documentation. The application should specify that you want a government-guaranteed loan. 
The lender will review your application and, if it meets its standards, apply to the government agency's guarantee program. You may have to submit additional documentation at this point.
If the agency approves your guarantee, the process can continue similarly to a conventional loan. But the guaranteeing agency may impose some special requirements that could slow the process.
For example, you may need to obtain mortgage insurance. When you've satisfied all the requirements, you will close on the new loan, retire the old one, and accept any cash-out money.
How Do Cash-Out Refinancing Home Loans Work?
To qualify for cash-out (which resembles a home equity loan), your home's value must exceed the balance on your current mortgage — that is, your home equity. You may be able to collect up to 125% of your home equity, although most lenders set an LTV cap of 95% to 100%.
Some cash-out refi loans specify that you must use the money to pay for eligible home renovations and repairs. Other loans place no restrictions on how you use the cash-out funds. 

A possible disadvantage of cash-out refinancing may occur if you use the proceeds on spending that increases your debt, such as a down payment on a vehicle. This will increase your debt twice – once on the home loan and again on a new car loan. You want to avoid the financial turmoil from overstretching your budget and possibly damaging your credit score.
How Do I Increase the Odds of Loan Approval?
You can increase your refinancing loan approval odds by increasing your income, reducing your debt, sprucing up your house, improving your credit score, or recruiting a cosigner.
Increasing your income: You reduce your DTI ratio when you increase your income. Mortgage lenders typically look for DTI ratios below 43%, although some allow a value up to 50%.
Reducing your debt: You can also reduce your DTI ratio by paying down your debt. If you prearrange with the lender to use the cash-out proceeds to consolidate existing debts, you may increase your approval chances. 
Sprucing up your house: Lenders use another important ratio, LTV, when approving loans and determining loan size. You can increase your home's value by repairing and renovating it before applying for a refinancing loan, as this will reduce your LTV ratio. Alternatively, you can apply for rehab refinancing, which may be easier to get.
Improving your credit score: Each lender sets its loan policy, which includes the minimum credit score. While government agencies generally do not require a minimum credit score, lenders do. You can raise your score and improve approval odds by paying your bills on time, reducing debt, and removing derogatory errors from your credit reports.
Recruiting a cosigner: Adding a cosigner increases the income available to pay the loan. It also may increase the credit score tied to the application. 
Generally, obtaining government-guaranteed loans is easier, so you can apply for one if you find it challenging to get a conventional home loan.
Don't Let Bad Credit Prevent You From Refinancing
You may have several reasons not to refinance your home, but poor credit need not be among them. The 11 reviewed refinance home loans for bad credit provide multiple ways forward. 
Consider all the pros and cons of a refi loan before proceeding. They can be an immense boon to your finances but might be a dreadful mistake if you don't perform your due diligence first. You may want to consult a professional advisor to ensure you understand all the tradeoffs.
Advertiser Disclosure
BadCredit.org is a free online resource that offers valuable content and comparison services to users. To keep this resource 100% free for users, we receive advertising compensation from the financial products listed on this page. Along with key review factors, this compensation may impact how and where products appear on the page (including, for example, the order in which they appear). BadCredit.org does not include listings for all financial products.
Our Editorial Review Policy
Our site is committed to publishing independent, accurate content guided by strict editorial guidelines. Before articles and reviews are published on our site, they undergo a thorough review process performed by a team of independent editors and subject-matter experts to ensure the content's accuracy, timeliness, and impartiality. Our editorial team is separate and independent of our site's advertisers, and the opinions they express on our site are their own. To read more about our team members and their editorial backgrounds, please visit our site's About page.