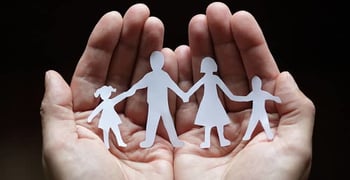 Our popular "How-To" series is for those who seek to improve their subprime credit rating. Our articles follow strict
editorial guidelines
.
If you find yourself with bad credit and are uncertain what to do about it, the last thing you probably want to do is explain it to your family.
Financial problems in general are hard to talk about, and when it comes to telling your family about something that impacts them as well, it can be overwhelming. In fact, you're not alone — 64 percent of families can't agree on a good time to discuss finances.
However, it's one of those things that have to be done. So where do you even start? Although it may be difficult, making the decision to explain your bad credit to your family is the right thing to do.
Here are some pointers that will help to make it easier for you to clearly talk about the problem and solutions. By explaining it thoroughly and enlisting the help of your family, you will be better off emotionally and financially.
Follow the suggestions in this guide and take the first steps toward turning things around:
1. Don't feel guilty
The first thing you need to do is remove any feelings of guilt or anger with yourself. This is a difficult but important part of the process.
Remind yourself your credit score isn't a reflection of who you are as a person. It simply represents your current financial state.
Maybe you experienced a drop in your income due to economic conditions. Maybe you overextended your credit. Regardless of how you got here, it doesn't make you a bad person.
2. Figure out your income, expenses and savings
Prepare yourself by making sure you understand the extent of your current financial condition and credit status. This means itemizing all current income, expenses and savings.
You want to be able to answer any questions your family may have in a way that is confident and reassuring. Tell them you need their understanding and their help in developing a plan to get things back on track.
"The first thing you need to do is remove

any feelings of guilt or anger."
3. What bad credit means
When you do sit down to explain your bad credit to your family, begin by explaining just what it means. Explain what a credit score is and how it's used.
Also, do your best to explain credit card interest payments and how they can overwhelm you unless you are careful. This is an opportunity to teach everyone about financial responsibility and good money management.
4. Ask for their opinions
Using the research you learned in step two, write out your family's current income and debt obligations for them to see. Ask where they think the family can begin cutting back in order to make things better. Listen to them and share your thoughts.
By explaining that having bad credit is an expense in itself, they may feel more likely to want to help you fix it. Be sure they know you are serious about turning things around.
5. Get the family involved
Enlist the help of your family in implementing the plan. Make sure each of you holds the others accountable for getting things back in order. And be sure to share successes and positive results with them. Creating a budget is much easier when you have everyone's participation.
Most of all, reassure them the family will be better off financially by doing this.
One last thing to remember is good credit is built up over time. Give yourself enough time to get yours back to where you want it. If all else fails, you could contact a credit repair service for additional help.
Once it's there, remember to practice good credit habits.
Photo source: understandmymind.com.