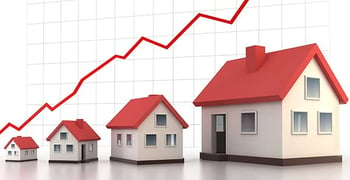 BadCredit.org publishes personal finance studies on the latest trends in the subprime marketplace. Our articles follow strict
editorial guidelines
.
We are all aware home values took a big hit during the recession, but some areas were hit harder than others.
A recent study by the American Community Survey shows the most populated areas of the country suffered far more than less populated areas.
The study used demographic and financial information gathered from the Census Bureau, as well as state and local municipalities to compare various regions.
In looking at the 50 least populous and 50 most populous counties in the nation, the disparities were surprising.
It turns out only four of the 50 least populous counties saw significant decreases in home values in the years following the recession.
"Forty-three of the most populated

counties experienced decreases."
The study looked at home values and home ownership rates in cities and counties in the three years prior to and after the recession.
When looked at from the city level, the differences were less severe but still heavily favored smaller cities.
Only 17 of the 50 smallest cities suffered significant home value declines, while 35 of the 50 largest cities did.
The differences at the county-wide level can be partially explained by higher land valuations in less populated counties offsetting decreases in home valuations.
More populated counties have less open and rural land and more houses to experience devaluation.
Source: realestate.aol.com. Photo source: www.vegasvalleyinvestors.com