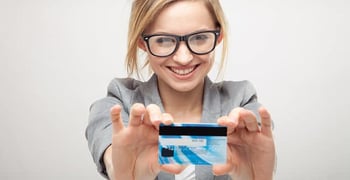 BadCredit.org publishes personal finance studies on the latest trends in the subprime marketplace. Our articles follow strict
editorial guidelines
.
The numbers are in and this year's holiday retail spending increase was pretty decent after all.
The expectation for moderate or slow consumer spending never materialized, and it seems people may be getting back into the habit of pulling out their credit cards once again.
Both the overall spending levels and the amount per transaction grew at a better than expected rate for the 2013 holiday period.
Projections by groups such as the National Retail Federation suggest credit card spending will continue to rise in 2014.
Much of the increase can be attributed to rising consumer confidence.
"The increase can be attributed

to rising consumer confidence."
As the U.S. unemployment rate continues to fall and home prices continue to rise in almost every area of the country, consumers are beginning to breathe easier.
This translates into more willingness to spend and a greater confidence in the ability to pay off credit card purchases.
Projections for an 8 percent rate of growth in credit card spending come from a survey by the Gallup Group of Americans' expected purchases for 2014.
In addition to overall purchase amounts, the study found more consumers were expecting to use credit cards for purchases in the coming year.
With recent economic conditions beginning to look rosier than they have in a while, consumers may be willing to take the good news at face value.
If so, rising consumer confidence could equate to better retail sales numbers and even better economic numbers, which will justify the good mood of the consumers in the end.
Source: totallymoney.com. Photo source: bp.blogspot.com