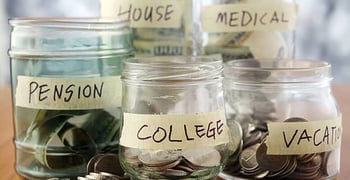 Experts share their tips and advice on BadCredit.org, with the goal of helping subprime consumers. Our articles follow strict
editorial guidelines
.
Believe it or not, there is a right way and a wrong way to save your hard-earned money.
In fact, there is a right and a wrong philosophy when it comes to saving, and many Americans have the wrong saving philosophy.
To most of us, saving means taking a portion of what we earn and putting it into a savings account.
But what is our money doing once it is in the bank? With savings account interest rates at well below 1 percent and the inflation rate at nearly 2 percent, our money is in fact shrinking, not growing.
What should we do? The first thing we need to do is to change the way we think about saving money.
Here are some examples of saving the wrong way, followed by suggestions for how to save the right way.
Wrong ways to save:
Impulse buying or buying something just because it is on sale
That is not to say you should not look for sales. Just be sure that what you are buying is really necessary.
Allowing your paycheck to determine your savings
It should be the other way around. Save what you have determined you need to, and the rest is available for expenses.
Putting all of your money in the bank
I have already mentioned the fact that savings accounts lose money. A better use of your savings is to pay down any debt you have. Paying off a credit card that has a 15 percent interest rate is the same as saving 15 percent.
You should always keep at least six months of cash as insurance against losing your job or some other catastrophe.
Remaining loyal to an insurance company
By shopping for insurance each time your premium is due, you could save hundreds each year. If you really like your current insurance company, then give them an opportunity to match the great rates you have found by shopping.
Americans lose out on billions of dollars each year by not taking all of the deductions they are entitled to. Sure, the tax code is complex, which is why a good tax adviser is well worth the expense.
"By changing how we view saving,

we can use money more effectively."
Right ways to save:
Create a budget and follow it.
The best way to save money is to know where you are spending it. There is no other way I know of to successfully meet your financial obligations and still save money.
It will be here faster than you think.
Consider buying lightly used rather than brand new.
Every new purchase you make, whether it is a car, television, gas grill, will depreciate as soon as you take possession of it. Why not buy used from someone who has already suffered the depreciation?
Every purchase you make should be a well-researched decision.
Never pay retail prices and always compare various sources.
Americans spend billions of dollars each year on consumer interest charges. This is money that is wasted because it does not need to be spent. Instead, pay cash or pay off credit card charges in full each month.
Track your expenses using software or another automated tracking method.
There are tools that can run on your smartphone and will help you monitor your spending, expenses and saving. Find one that works for you and use it to help you stay on track and on budget.
By changing how we view saving, we can use our money more effectively.
The first step is to take control and get organized. The next thing is to make a plan and follow it.
By using the examples above for the right and wrong ways to save, you can learn to stop wasting and start saving effectively. Change your approach and watch your savings grow.
Photo: eliminatedebt101.com